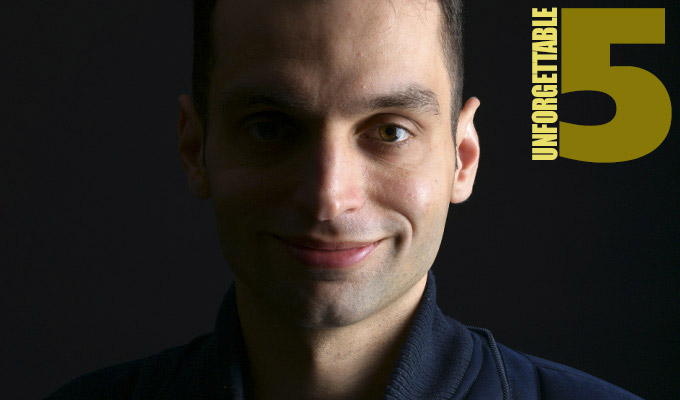 'It was the least enjoyable hour of my life'
Gig that changed my life
I had a particularly bad gig on a compilation show at the Fringe - I knew it was going to be tough when a 50-strong hen night of women in their 40s from Yorkshire filed in and took up half the room. Everyone died horribly.
Anyway, I was walking down the street, feeling sorry for myself, when I saw one of my favourite comics, Shazia Mirza, walking towards me. I had seen her latest show about Isis and jihadi brides the day before and thought it was the bomb (waheeey).
Not sure what possessed me but I randomly said, 'Hi Shazia.' She stopped, we chatted for a bit, and as we were parting ways, I said: 'You're the comic I most respect on the circuit - I hope one day we perform on the same stage.'
That's a bit like meeting your favourite footballer and saying, 'I hope one day we get to play on the same team' or meeting Tony Blair and saying, 'I hope one day we get convicted by the same War Crimes Tribunal.' Not realistic.
She smiled politely, I regretted being so presumptuous and off we went.
Later that night I had a midnight gig. Edinburgh late-gigs have a reputation for being rowdy, drunk crowds (not my ideal audience). It felt like the day was only going to get worse.
When I turned up, my suspicions were confirmed, the people at the bar all looked like they were part of a competition where you have to drink ten pints and then see who can stay vertical. Not all of them were succeeding.
As I was waiting to go on, I noticed that the audience were really up for a laugh and not even drunk. The host introduced me as the 'international guest'. I did my stuff, people laughed and my love for comedy was instantly restored. Walking off stage, I could hear the host say: 'That was great. Now, please welcome to the stage, it's... Shazia Mirza!'
First gig (and worst gig)
My first ever gig was scary, exhilarating and scary: a two-minute performance at the end of a brief crash course with a supportive audience of friends and family. People laughed, clapped and laughed again. It was one of the best days of my life.
A month later, I booked my first 'proper' five-minute spot at a comedy club. When I arrived, still full of enthusiasm from a month earlier, something felt odd.
The stage had a stripper pole in the middle. The audience area was empty. The other comedians were busy avoiding eye contact and talking to themselves.
The MC opened with: 'I bought my fish a new tank. Now he's going 'round shooting all the other fish. BOOM.' No one laughed. He called us 'cunts' and told the audience (other comics and a few hostages) he didn't care if we found him funny.
What followed was a procession of eight comedians. The ongoing topics of the evening were wanking, child porn, wanking, normal porn, wanking and wanking. It was the least enjoyable hour of my life... and I once spent an hour locked in a dark public toilet not knowing if I'll ever get out.
Towards the end of the 'show' one of the comedians did a particularly disgusting bit about child rape. I involuntarily shook my head. Perhaps since this was the biggest response he had received all evening, he asked me if I liked the joke. I tried to amicably suggest that he move on. He called me a 'cunt' and accused me of heckling him. The room was tense - a football commentator would have said "you could cut the atmosphere with a knife". I was secretly hoping someone would cut me with a knife and get it over with.
I was on next. My 'tried and tested' two minutes plus three minutes of new material were received with a level of silence I have rarely experienced not just in comedy but in life in general. It was the kind of silence astronauts experience in movies when they are sent spinning off into space by an asteroid, but without the promise of a quick death for reassurance.
I stumbled off stage in a daze. This had been one of the worst experiences of my life. It was about to get worse: the comedian who I'd 'heckled' approached me and told me 'we needed to have words'. Stuck in some kind of trance, I followed him to his seat like a sheep. He told me I'd 'ruined his set'. Then he tried to headbutt me.
As I write this, I am not sure how this is physically possible but... he missed. Suddenly people appeared out of nowhere and started pulling us apart. I just stood there watching him scream and struggle in their arms. I don't remember how I got home.
For the next six months, I pretended comedy didn't exist. Every time I saw the word 'comedy', I felt a knot at the pit of my stomach. I stopped watching stand-up on TV. When friends asked how comedy was going I said 'great' and changed the subject. I couldn't tell them that every time they asked, I was magically transported back into that room, feeling scared and confused.
After six months, I finally summoned up the courage to try again. I got to the stage, picked up the mic and told my first joke - people laughed. I was a comedian after all...
Strangest audience member
There is a regular at a London club I used to play who would shout out random heckles that made no sense at every comedian, then when you tried to respond he'd loudly announce that he was "mentally ill" and therefore invulnerable to heckle put downs.
Best heckle
I was talking about how Britain is welcoming and tolerant towards immigrants. Someone shouted out: 'It used to be... until all the immigrants showed up!'
Best gig
About a year and a half into my career, shortly after Brexit, I did a gig in a remote part of Kent. When I arrived, I noticed that the pub was decked out in England flags. Early into my set, which at the time was all about being an immigrant in the UK, I said 'You look like a Brexity kind of crowd, right?' and there was a huge roar. While the audience were cheering and applauding themselves, I decided to just go for it.
I made fun of British people for being terrible at foreign languages, I talked about silly things people say to immigrants etc. They loved it! I have played big clubs with much bigger audiences since but that is still my favourite gig because it taught me not to judge an audience.
•Konstantin Kisin: Orwell that Ends Well is at Gilded Balloon Teviot at 19:00
Published: 14 Aug 2019
What do you think?