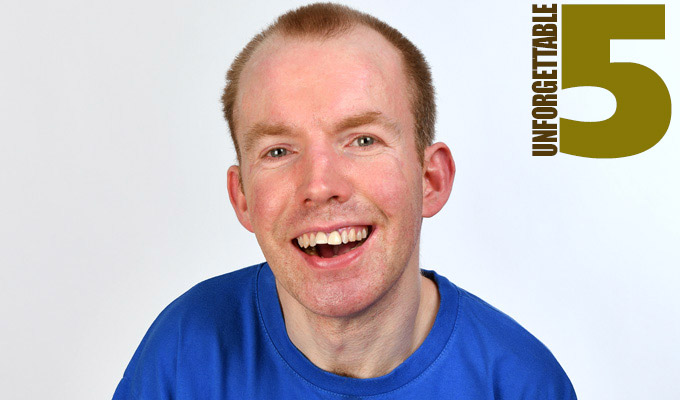 'Clearly by choosing to be disabled, I have taken the easy way out'
First gig
My first gig was in Sunderland, which was an experience in itself. To be honest, I was very nervous beforehand because I just didn't know how it would go. I was worried that people wouldn't be able to understand me, and that I'd just be standing there telling jokes to myself. But, once my first few jokes were out of the way, I began to relax and enjoy myself a bit more.
It just felt so great to be standing up on that stage and having people laugh at stuff that I'd written myself. By the time I walked off stage, I didn't want it to end at all. I was on a massive high for the rest of that night. In fact, I didn't get any sleep that night because I was still so excited about what had just happened. In that moment, I knew that I wanted to be a stand up comedian, and I couldn't wait to get up o that stage again.
Best gig
I remember supporting Ross Noble at the Stand Comedy Club in Newcastle as if it was yesterday. Getting to be the support act for my favourite comedian in my favourite venue, which was sold out, was a very special moment indeed. Especially as he'd asked me to do it himself via a message on Twitter, which came totally out of the blue.
I'd been watching comedy at The Stand as a punter ever since the venue opened a few years previously, and always enjoyed performing there. From the moment I stepped into that green room for the first time, I was treated with so much respect and decency. The staff were so helpful and friendly that it really did feel like home straight away.
For me, that's a sign of a really good comedy club, and I think their positive attitude towards both comics and customers alike is why it's my favourite venue in the country. The audience was lovely as well (it turns out they always are); everything was just perfect. The Stand in Newcastle really is my second home.
Most unusual location
The strip club in Birmingham. This is the only time I've ever been to a strip club in my life. Honest, Mam. And after this particular experience, I'm in no hurry to go back.
Of course it wasn't being used as a strip club while I was performing (although I was told to keep my set short as the girls were getting ready for the actual strip club to open later), it was just a comedy night that was using a strip club as a venue. Not that this made it any better.
Comedy in strip clubs doesn't work. The lighting is all wrong because it's set up to show off dancing girls, not middle-aged comedians, the sound system is terrible, and everything you touch seems to be sticky. They didn't even take down the pole that the girls dance around while we were performing. I wasn't sure whether to tell jokes or do my best slut-drop.
Least welcome post show comment
The majority of people have been very supportive. In fact, I've been blown away by the amount of support that I get from people. There is one guy though. He didn't like the fact that I did my comedy using an iPad. This was made clear to me when a punter said: 'Well done on finding the easiest way to do comedy. You can just write shit on your laptop, and get that to remember it and say it for you.'
According to him, I just get up on stage, and then click and go. Of course, he is right. Can you imagine how hard my life would be, if I could actually talk? It just doesn't bear thinking about. I'd have to remember how to say words, remember how to form sentences, remember all my jokes. Clearly by choosing to be disabled, I have taken the easy way out.
Gig that taught me the biggest lesson
I was doing a charity gig for Sunderland City Council (while still employed by the same council, I may add). It may surprise you to know that I don't always swear at my gigs. I do have a clean set for when the need arises. I just have to remember to hit the right buttons on my iPad. On this occasion I failed at that task and said 'fuck' in front of the Mayor of Sunderland.
Thankfully I didn't get sacked and no one really said anything. I think I got away with it because I'm disabled. I did learn to always check I had my clean material up on my screen before walking out on stage at charity gigs though.
• Lost Voice Guy: I'm Only in It For The Parking is at Gilded Balloon At The Museum at 19:30 from Sunday
Published: 8 Aug 2019
What do you think?