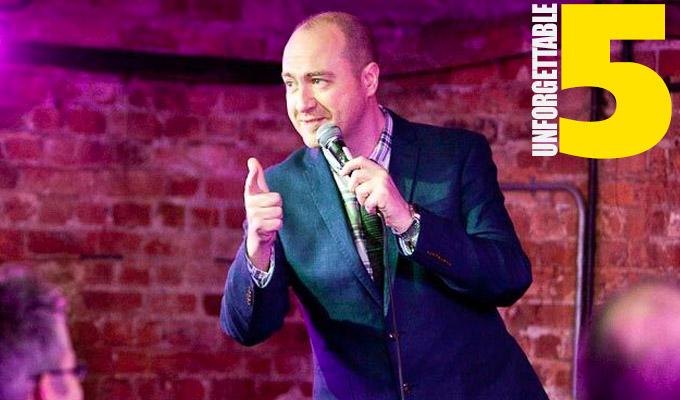 'For the record, I am not Gazza'
Best gig
It came about because I was doing some comedy work on a radio station in the South West. Sir Elton John was playing a concert in the local football stadium and I got the gig of going on stage to start the evening.
There were 22,000 people in that crowd and not one of them were there to see me, so in that way it was like any club gig.
Doing jokes to that many people was amazing. You could hear the front of the crowd laugh and then it would ripple back. It made every second of my time on stage feel great.
At that stage in my career, it would have taken the next 2,200 gigs to play to the same number of people.
Gig that changed my life
In 2014 I performed a show at the Edinburgh Fringe. It was kind of a topical show. I looked at a year's worth of news and it was the turning point for me. After that point, I gained my passion for topical comedy work.
It led to a lot of the radio work I do these days but it was also the show that let me get to the audition for a small comedy project that some clever producer was working on called The Mash Report.
I got the gig, we made a pilot and then not much happened. That was until Brexit came along and Trump became a thing. The news changed and suddenly the BBC wanted a topical comedy show and the modern version of The Mash Report came into being.
I thank my lucky stars I did that Edinburgh run.
Strangest audience member
A festival gig in the Midlands, an afternoon crowd and a well-frequented bar led to one of the strangest events. I was doing my set when suddenly I heard someone shout, 'Gazza!'
I carried on with my wry observations as I saw the man stumble drunkenly through the audience. He was getting louder and more agitated but it was definitely the word 'Gazza'.
It turned out he thought I was Gazza. I should have guessed really. I was thrown off the scent by the fact that I don't look like Gazza.
Things got even worse when we worked out that he hated Gazza and really wanted to do him some harm. After he said he wanted to smash my face in, when I said, 'I am not Gazza,' it sounded like exactly the thing Gazza would say because he didn't want to get his face smashed in.
He stayed by the front of the stage behind the barrier and I had to be escorted away from that marque.
For the record, I am not Gazza.
Most unusual location
Quite recently I took as gig as a replacement for another act. It was fairly close to where I live so I didn't ask too many questions.
A few days before the event I got a message from the organiser just checking that I was aware it was for a local naturist association. I am sure I would have remembered if it had been mentioned prior to the booking.
They say, if you get nervous, you should picture the audience naked. This audience had beaten me to it.
It was an interesting gig. Thankfully the lights on stage were bright so I couldn't see much. That brought its own problems. It was hard to be sure if you were getting a round of applause or a lot of people were sitting down at once.
Worst journey to a gig
You may remember the winter of 2016 was a harsh one.
I had a corporate gig booked in on the run-up to Christmas and the booked had said the client had asked for me specifically. I thought it was the hard work starting to pay off, finally.
It was a long drive, got down to fumes in the tank but I made it in time.
I walked in and was met by a man who said: 'So, you're Steve?'
OK, they didn't recognise me from the press shots but they're a little out of date.
He went on to explain how it was going to be hilarious because their CEO is called Steve Allen too and they thought having me on stage would be a really funny move. I knew there and then it wasn't going to be.
The CEO gave a speech but they didn't bring me straight on. We went through some awards, some announcements, a small video about the branches that couldn't be there, and then it was me. By then we had lost any of the impact of having one Steve one stage followed by another.
The gig was so bad. They had even left the radio mic on from the guy who was on before me talking about sales targets in the South East region. As I was saying hello we could all hear him saying, 'Well, that wasn't as bad as I thought.'
He was wrong.
I left that gig in such a fluster I forgot about the near-empty petrol tank. I ran out of fuel on the M42 and as I am not a priority case I was left there to wait till 3am while the temperature dropped to -5C.
By then I was out of fuel, out of phone and car battery and so cold I was wrapped in a sleeping blacked on the back seat with my face tucked inside so my breath might keep me warm. Needless to say, it really wasn't the hard work paying off.
• Steve N Allen: Better Than is at Stand 2 at the Edinburgh Fringe at 20.50 from Friday
Published: 29 Jul 2019
What do you think?