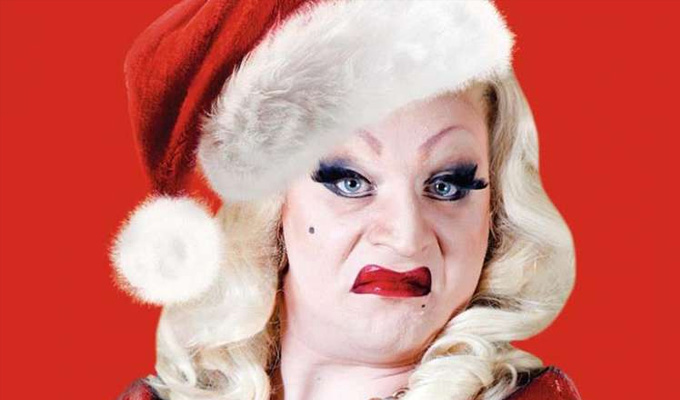 I performed to a Saudi Prince, hidden in a blacked-out glass box
Rotherham's acerbic siren, Myra Dubois, prepares for an ill-timed Soho Theatre run of her festive show We Wish You A Myra Christmas next week. In preparation, the man behind the leopardprint, Gareth Joyner, shares some of her most memorable moments.
First gig
Myra's first gig was in 2009 at the now legendary Madame JoJo's.
The venue was very exciting. A real old-school Soho nightclub - all mirrored walls and sticky carpets. The night was called Finger In The Pie Cabaret (which, a year after this gig, Myra would go on to host).
I'd come up with the character of Myra DuBois a year or so before after a friend and I went to a fancy dress party in Sheffield dressed as Myra Hindley and Rose West respectively – that's a whole other story – and for a while I'd wondered if she'd work on stage.
I saw an ad for Finger In The Pie Cabaret looking for ten-minute open spots on MySpace (remember that?) and took the plunge. The MC got Myra's name wrong as she was introduced. She took to the stage and in a stumbled cliché; a star was born.
Best gig
I couldn't pin it down to a particular show, but Myra's monthly residency on Sundays at the Royal Vauxhall Tavern have been some of her funniest. They've been known to stretch on for lengths of time that are almost Doddian (if that's not a word already then it should be) and are entirely improvised and off the cuff.
I'll decide what songs she might 'sing' before the show to give the whole thing some semblance of structure but it's 95 per cent made up on the spot, and some of Myra's funniest lines have sprouted from her in-the-moment ruminations.
It's also influenced how I construct her Edinburgh hour-long shows. I always plan a couple of set pieces but most of it is cooked up in the room working with the audience. This is all from training that I've picked up on stage at the Vauxhall Tavern.
Gig that taught me the biggest lesson
The Hammersmith Apollo. Myra played there in 2018 when Bianca Del Rio had Myra as her support act.
Bianca and I met in 2014 when Myra supported Bianca at Camden's Black Cap. Bianca had just won season 6 of RuPaul's Drag Race and has since become quite the global sensation. Bianca has asked for Myra to support her on her UK tours ever since that night at the Black Cap and the venues have just grown and grown in capacity.
Last year, we ended up at the 3,000-seat Apollo and I was shitting myself. Not only is 3,000 the most people I'd ever had Myra play to, but the history of the theatre loomed in my thoughts. This was the stage where Bowie killed Ziggy Stardust! It felt 'big' and I was nervous that I hadn't planned what Myra was going to say.
I expressed these concerns to a friend that morning. The friend told me not to worry about it, and to treat that gig just like it was the stage at the Vauxhall Tavern. I did just that and, sorry to boast, but Myra stormed it. I've remembered that piece of advice ever since and if I ever find myself nervous before a gig I tell myself to saunter out there and treat the audience just like the punters at the RVT.
Most exotic gig
There's a gig known on the cabaret circuit as The Seychelles Gig. A member of the Saudi Royal Family (I wasn't allowed to know which one) has a house out there which boasts more than one fully working theatre, each of them fitted with better kit than some of the regional arts centres that I've played.
He flies out entertainers (often circus acts, musical comedians, variety and vaudeville types) to perform in this theatre to himself, hidden in a blacked-out glass box in the auditorium, and invited guests.
In 2015 Myra was booked to perform an excerpt from her tongue-in-cheek children's magic show. I was flown out to the Seychelles via Dubai, collected at the airport, driven to this palatial house for a tech rehearsal, driven to my hotel, driven back to the house to perform a show, then back to the hotel where I slept for six hours before being taken back to the airport and flown back to Heathrow. The whole thing took 48 hours. Myra spent five minutes of this on stage. BIZARRE.
Least welcome post-show comment
In 2013 Myra had a solo show at The Voodoo Rooms with the Free Fringe called Service With A Sneer. After the show I was stood by the door (as Myra) optimistically clutching a bucket whilst the audience filed out.
A camp old queen draped in a pashmina approached, took me by the arm (putting nothing in the bucket, I should add) and said: 'Do you know, my dear, I used to work with Danny La Rue and let me tell you - you've very nearly got something.'
• Myra DuBois: We Wish You A Myra Christmas is at the Soho Theatre at 9.30pm from Tuesday to Saturday next week.
Published: 22 May 2019
What do you think?