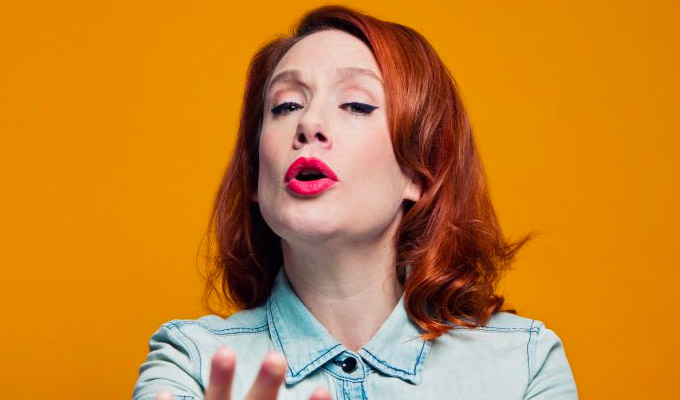 'Now I know the best cooking oil if you want to oil yourself up...'
As she prepares for a run of her Edinburgh best newcomer-nominated show at the Soho Theatre later this month, Sara Barron recalls her most memorable gigs.
First gig
It was at the long-running Thursday try-out night in Crouch End, London, at Downstairs at The King's Head. I'd had some previous experience performing in New York (where I lived through my late-teens and 20s), but those experiences had all been:
1) Infrequent
2) For American audiences who, I'm sure I don't need to mention, bring a different level of whooping and enthusiasm to the overall on-stage experience
3)Storytelling shows. And storytelling shows, these have merit, to be sure, but the audiences are more hoping to laugh than they are expecting to laugh. A set in a stand-up club is just a completely different thing.
So. Did I go in knowing how to hold a mic? I did. But there was no understanding of how to write an actual joke.
I'd wanted to do stand-up… not for my whole life, but probably since about the age of 20, but I'd always been too terrified. Following a (figurative) kick in the pants from my husband, however, I finally got around to it, in no small part because I'd had a 35th birthday, and some version of an early-onset mid-life crisis. For me, it took me that long to feel ready.
As for the meat of this first official standup set – I recall trying some crowd work with a woman whose posh boyfriend annoyed me. I wanted her to concede that he was objectively annoying. That all went disastrously wrong, however, and I only managed to redeem myself with an anecdote about a wildly effeminate straight male dancer I'd dated briefly, who – as part of one evening's worth of foreplay – had non-ironically danced toward me across my living room. That went over significantly better.
Most unusual location
In a strip club. Here's what happened:
When I still lived back in New York and was doing these monthly storytelling nights, I'd be onstage, on a once-a-month basis, and essentially what I'd do was tell stories to a squarely middle-class, NPR-y audience. (For the British equivalent of an NPR-y audience, I'd steer you toward Radio 4.)
The experience was valuable, to be sure, but also offered nothing in the way of diversity of experience. In short: I had no idea how to manage a room that wasn't generous and attentive.
Someone who worked at some sort of entertainment agency saw me at one of these shows, and found me amusing and asked if I was interested in hosting a night of 'ladies' entertainment'. Upon further discussion, it became clear what she meant: she wanted me to 'do something fun and funny on stage' before introducing the first in a series of three male strippers, all as part of a hen-do extravaganza that her agency was producing.
The money was attractive enough, and my schedule was open enough, and my sense of adventure still intact enough, that I decided to say yes.
If you want to be sure you'll die an onstage death, allow me to recommend having the bare minimum of on-stage performance experience, and then trying to do a non-existent stand-up set, for the first time ever, for a room full of hens who are there to see male strippers. It was so terrible that it crossed the line into being almost funny in its awfulness.
However, it was also totally worth it, because I would sit backstage in this strip club with these strippers before the start of each show, and this is how I learned that penis pumps are real – and saw one in action on several occasions – and also I learned which cooking oils are most conducive to 'oiling' oneself 'up' for a sexy onstage experience. (Rapeseed.)
Best journey from a gig
I had a baby when I'd been doing stand-up for a couple years, and the working hours kept by a comic, they don't jive so well with the hours of a new mum. There was a long stretch of time when I'd go to bed at midnight after a gig, and wake at 5:30am with my son, and then, if I was lucky, nap when he napped to add another sleeping hour to the mix.
I lived on the edge of sanity throughout, and only managed it because, although the stand-up meant less sleep, it was an antidote to all the mum's groups and soft plays and baby singing classes, etc.
During this period, I did a gig in Manchester. It was my first gig out of London since giving birth. Jess Fostekew was hosting and Desiree Burch was headlining, and I was the open 10-spot in the middle. Jess, a newish mum herself at the time, was driving Desiree and me back to London, and with Desiree headlining, this meant we wouldn't even start the four-hour journey back until about 10:45… and this, in turn, meant I wouldn't get to sleep until after 3am.
Jess and Desiree, heroes, friends, and saviours, the both of them, saw the fear and exhaustion in my eyes, and built me a little makeshift bed in the back seat. They told me not to give any manner of socialisation a second thought and, in effect, put me to bed in the back of a car. They talked in hushed tones, they listened to no podcasts, and pretty much sat in silence for a solid four hours, and all so I could sleep.
I swear to god, I get misty-eyed even now when I think about it.
Gig that changed my life
Any day now, I am sure! (Answer intended to debunk the opinion that, in point of fact, Americans don't understand sarcasm).
Least welcome post-show comment
I started stand-up in 2014, so by the time I entered the game, the mentality/tokenism of 'Oh, well, I've already got a woman on the bill' was already dying its welcome death, which is all just to say that I experience less sexism than a woman in my position would've done a decade ago.
Nonetheless, I did a gig recently where I was the only woman on the bill. The compere was a guy, opening act was a guy, and second act was a guy. I opened the second half of the show, and was the first woman the audience had seen. When I got off stage, the compere returned and immediately asked if the audience liked me. They said they did. He then said, 'She's funny, right? For a woman?' The audience groaned. Compere then said, 'Oh, calm down. I'm only joking. Sara's not a woman.' The audience laughed.
The three male acts that had proceeded me had all dipped in and out of sexist material, one after the other delivering jokes on how women are a) difficult, b) a nag, c) how they use pregnancy to trap the men they desire.
In this environment – after this sort of onslaught – jokes about women not being funny can't possibly have the lick of the irony that I'm sure the compere would've referenced to defend himself. ('It was a joke! Obviously, I don't think that women aren't funny!') And this wasn't five years ago. This was last month. In a London club.
• Sara Barron: For Worse is on at the Soho Theatre from January 22 to 26. Details.
Published: 14 Jan 2019
What do you think?