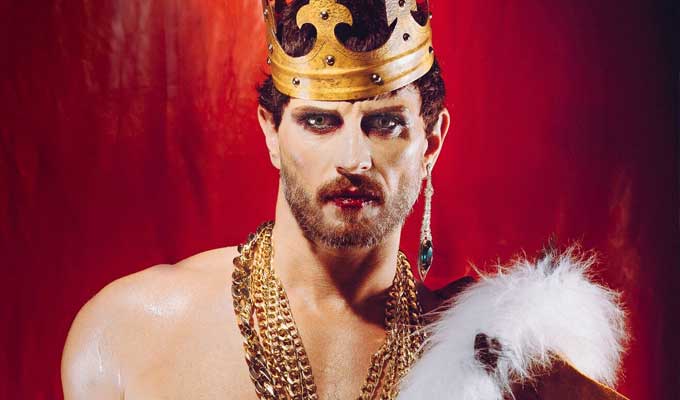 'We did a conga around men's underwear...'
Ahead of his Un-Royal Variety Show at the Hackney Empire this weekend, drag comedian Jonny Woo shares his most memorable gigs.
First gig
The first time I hosted something and had to be 'funny' was at a drag lip-synching contest I started hosting at a small, but hugely influential cabaret venue in Hackney called Bistrotheque in 2004.
I'd done spoken word and more artsy stuff but never had to 'hold' a crowd and entertain them. I basically said everything very quickly. I had pretty good diction, despite the gallons of wine thrown down my throat and I think I got by through some pretence at having done something vaguely impressive. Talking quickly.
I come from a generation of pill-heads; I think my brain just worked faster than the audience's. It's slowed down since and I've found speaking very slowly actually has a similar comedic effect. I think my brain probably works a lot slower than the audience's now.
My generation doesn't go out any more. I'm a survivor. Maybe the younger ones laugh out of sympathy or wonder how such an addled brain can still even string a sentence together.
Worst gig
There's a lot in common between the clown and the drag act. The hair, the make up, daft outfits and slapstick. Well my type of drag anyway. I've stripped out of gorilla outfits and slipped around on banana skins, thrown custard pies and basically played the fool to get laughs.
I have gone too far.
This wasn't so much my worst gig for audience reaction but I guess ended up with the worst results. It was the World Cup. The gig itself was pretty empty. I was necking everyone's pints, dressed in an England shirt and then came over all circus clown and decided that I'd stand and jump off a stool and dive into a pint glass.
It was plastic. I was safe. Until, horizontal, mid air it was like time stood still and I thought "now fucking what?" Too late! Horizontal, flat on the floor. Crushed pint glass and smashed chin, blood everywhere.
I actually went back and finished the gig with some lip-sync or something. I bet for the punters it was like, "poor man he needs help!" I did – and three stitches.
Gig that changed my life
I didn't have THAT much interest in drag when I went to see Kiki and Herb at The Fez in New York City in 2000 not knowing if I'd love or loathe the show.
Herb (Kenny Merman) opened the show with an assault on the piano keys followed quickly by a guttural assault on the ears by the washed-up caricature lounge singer Kiki. A drawling roar. Barely making sense of her slurring words.
It was a total WTF moment. The crowd went wild. Straining to keep up with what she was saying, then tuning into her set, which was truly a roar from the depths of humanity, wildly funny and at the same time deeply emotional. Kiki showed me just how life-affirming cabaret… no, any kind of performance could be.
Most unusual location
So I did a night called Gay Bingo. It was bingo with lots of drag silliness, improvised games, audience pouncing on, nudity and just ramshackle mayhem. But was a thing and was very popular.
We had some gigs at Selfridges, which were great, odd sometimes but generally fun and novel in a department store. When we got booked to do the regional stores I was like 'OK, this will be fun, straightforward enough.'
We did Christmas in Birmingham. It's a very open plan store. We had a 'sexy' fairy look. Us three, hairy-ish poofs in ropey see through negligee. We'd wowed them in London (it was actually the first time my mum saw me in drag as I came down the escalators. I don't think she ever recovered.) But when we entered the shop floor in Brum there was a discernible hush across the store. They'd never seen folk like us before. I'm guessing the location wasn't that unusual, more our take on it in the middle of an Christmas Saturday.
We highlighted by doing a conga with the lovely folk of Birmingham around the men's underwear section. Unusual to some. Just another day's work to us.
Worst journey to a gig
The Big Chill. Going to and leaving a festival is always going to be problematic. I wish I could claim for my own the journey when my buddies left Glastonbury after a gig there and the bus drove on to a farmer's land. The farmer got all arsey so the driver got off and punched the farmer in the face.
Anyway, we were off to The Big Chill to do Gay Bingo and we hired a truck and had to pick up a friend. Well, friend wasn't up and our driver, a "don't mess with me" trans woman, no sleep and a spliff in her mouth wasn't having any of it and smashed the door down to get them up. I can't remember why it was so important they came with us.
Then up the motorway, same driver, now very stoned, and other drags in the back making spliffs all the way, with the van on several occasions driving into the grass reservation. We made it, just, although something was 'knocking' in the engine.
On the way back to London, the 'knocking' became 'stalling' and by the time we hit the Westway overpass, the van, broke down in the middle of the roundabout and we had to push it off, down the exit to a side road. Lack of sleep, drag and disco damaged, I wanted to die, right then and there.
• Jonny Woo's Un-Royal Variety Show returns to the Hackney Empire in East London on Friday and Saturday, with guests including Bourgeois & Maurice, Jayde Adams, Lavinia Co-Op and a Theresa May choir. Details.
Published: 16 Oct 2018
What do you think?