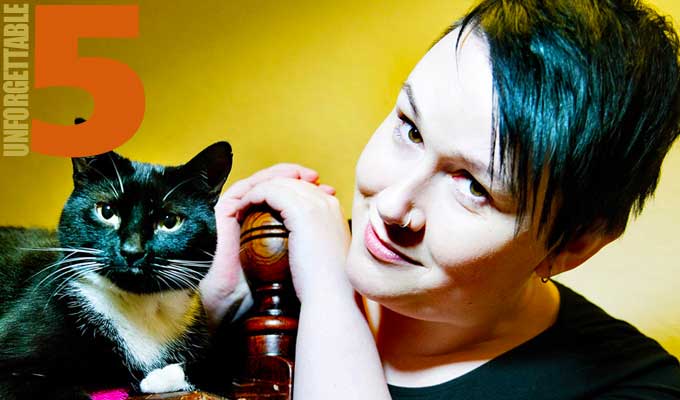 This is why I no longer car share...
First gig
Going on between bands and trying to get punters laughing. I almost entirely failed. I had one gag the got one laugh and from that moment I was hooked.
Most exotic gig
As a Goth who hates sunlight, my most exotic gigs have all been northern Europe and Scandinavia. I'm big in Stockholm, don't ya know. Which is lovely but you can't help feeling short and fat and ugly. I feel like I should double it with Little Rock, Arkansas, just to feel a bit better about myself.
Worst gig
Glastonbury 2007. I was the first act on in the cabaret stage on the Friday morning and had just had a panic attack before going on stage. There's nothing quite like 2,000 people in a tent staring at you in total silence for 25 minutes. As I walked off the stage manager said: 'Don't worry, you'll still get paid.' I've had nightmares about it ever since.
Worst heckler
I was doing an LGBTQIA cabaret in Aberystwyth and there was a woman at the front who mistook the show for a seminar rather than the traditional lecture that stand-up comedy is.
Early on as a link I said: 'It's shit being single,' and she piped up with, 'no it isn't. That's a lie told by the patriarchy to keep women in relationships.'
She carried on throughout the night, but it was the point when I said of my girlfriend "she's the one for me" that she shouted: 'There's no one for you!' Which has to be the most existential heckle I've ever received. That's like my brain's bought a ticket and is shouting out stuff I'm scared of.
She may as well have shouted 'none of your friends really like you' or 'you'll never make your mum proud of you.'
Worst journey to a gig
I've had a few that have been terrible, mostly due to traffic, I drive everywhere, I'd drive inside my house if I could, so it's never trains or anything that are issues.
I've done some stupid diary planning, for example the week before Edinburgh I had Swansea, Liverpool, Crieff, Birmingham and then finish with Brighton. But it's journeys home that are the worst, just ask Odysseus: the roadworks planners up on Mount Olympus roll the dice or get Poseidon to blow you off course.
I once gave Sam Gore a lift back from Nottingham before heading over to Manchester. He lived in Leeds but said he was happy to be dropped in Manchester and I said: 'Don't be daft, it only adds 30 minutes on to the journey.'
Only there were roadworks and a March snowstorm and the M62 was closed – and I ended up stuck in my car until 9am the next day.  
The worst journeys are when you're starting out and still have bad gigs from time to time; I remember dying on my arse in Solihull and having to get a lift back from the opening act (who was terrible and no longer gigs) who'd had a great gig. I spent two hours hating myself for failing and being told all the reasons why this act thought I'd never make it and that I should give up.  I no longer car share.
• Bethany Black: Unwinnable is at The Stand at 15:50
Published: 24 Aug 2018
What do you think?