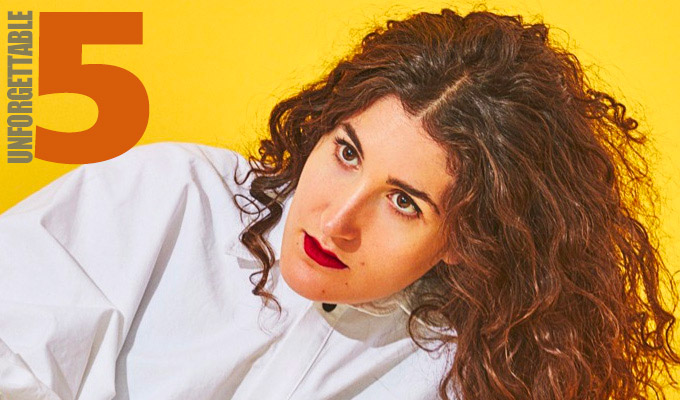 'I came out in a wheelchair wearing a kimono'
First gig
I did stand-up for the first time when I was 17 at my high school. I had been exempt from doing maths in my senior year because I was so bad at it I held the class back by constantly asking questions. Instead they let me create my own class and I created a comedy writing class for myself. As you can see, my upbringing was very difficult.
I wrote about ten minutes of stand-up and performed it at the end of the year under the title, Just Another Pretty Farce. It took place in the school's basement. I came out in a wheelchair wearing a kimono. I then stood up, took off the kimono and hung it on a 7th grader I hired to be dressed as a mime. She stood behind me, frozen in the entire time. I did a lot of one-liners. I told my parents not to come.
Worst journey to a gig
When I was a few years into stand-up and living in New York I once got a Facebook message about doing a show in Connecticut for about $300. I couldn't believe my luck.
The guy who asked me was a stranger and we had no friends in common but that didn't stop me from boarding the train in the middle of New York winter. He said he'd even cover my train fare! And that he would Pick Me Up from the train station!
It wasn't until I was about 20 minutes from arriving in Connecticut that I suddenly realised I was going to meet a stranger in a parking lot at night. I gently panicked. Eventually I was picked up by a rail-thin teenager who drove me to the pizza shop where I would be performing. He was very kind and I had an OK set. Then at the end of the night he didn't have the cash. Eventually he PayPal'd me.
Best gig as a punter
I don't know what a punter is but I'm going to interpret it as "opener." A few years ago I opened for the spectacular musician Father John Misty aka Josh Tillman. He saw me perform in Los Angeles and asked me to open for him on his solo national tour. Actually, it was international if you count Canada. It was an international tour.
It was something like 28 shows in 31 days and we all lived on a giant tour bus. I over packed and had the time of my life. I expected to bomb most nights but somehow it went well, except for Vancouver and San Diego, so I hate those places now.
Most unusual location
I once was asked to perform at a restaurant in New York City for some kind of entrepreneurs' dinner event. All I was given was a location and time. I showed up at a swanky place in Tribeca and was led to a private dining room in the back of the restaurant. It featured a long dining table surrounded by white men over 50 drinking wine.
The man who hired me told me I should come out 'between appetisers and entrees and do 10 minutes.' Of course there was no microphone and none of them were expecting me. It wasn't hell, but it wasn't not-hell.
Least welcome post-show comment
Once after doing a low-stakes free show a comic I barely knew approached me. I had had a good gig, whereas he had not. Also he had been hosting the show. Also he's white and straight. Sorry! But it's true.
He approached me and asked if I wanted any advice. My blood immediately turned to vinegar. I think I went wild-eyed and said something like, 'Oooo, sure!!!'
He then went on to tell me that I should 'wear a wig on stage'. He explained that something about my comedy was confusing (true) and that if I wore a wig on stage it would help the audience understand what I was doing. It was probably the best moment of my life. Haven't taken my wig off since!
Kate Berlant: Communikate is on at Assembly George Square Studios at 9.15pm
Published: 21 Aug 2018
What do you think?