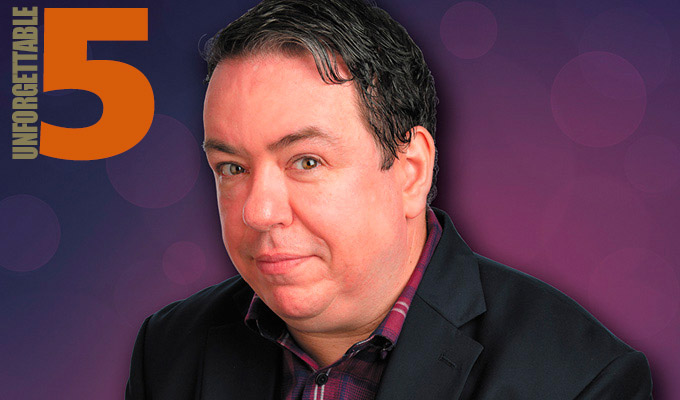 'They saw me as the Eddie "The Eagle" Edwards of comedy'
Luckiest gig
Many years ago I was doing a seven-minute spot on a pro line up. The compere was great and did a thing where when he pointed at the audience from left to right and back again, the audience would applaud. It was a great warm-up technique to get everyone involved.
I was introduced as an open spot which at the time was the best thing for the compere to have done. My first couple of jokes failed so I said to the audience: 'When I point at you like the compere did, I want you to applaud' and they did. I felt like I had a superpower.
Every time a joke failed, which was a lot, I pointed at them and got them to applaud again which they happily obliged. After the gig I spoke to the booker who, as it turned out, was backstage talking to another act and wasn't even watching. He said to me: 'Well done. I've never known the open spot to get that many rounds of applause.' We all need a bit of luck sometimes.
Most dangerous gig
I was booked to do a four-month tour of Turkey in 2013. We were promised a lot of money and we were to perform to holidaymakers for a promoter who had never run a comedy night before.
The booker, who is UK based, didn't take a deposit and we never actually got around to signing our contracts, which were not legally binding anyway. We performed about nine times and I watched the promoter have a nervous breakdown as nobody was interested in watching comedy.
Six weeks later another comic and I ran for our lives thinking we were going to be murdered by criminals. We weren't paid a penny.
It's the gig that more comics have emailed me about than any other, mainly asking, 'who books that?'
One day I will take Turkeygate to Edinburgh properly and tell the full story. I was having nightmares for weeks afterwards and was threatened in various ways by some of the people based in Turkey. I have absolutely no regrets, and a great story that I sometimes tell other comics on long car journeys when they ask!
Gig that taught me the biggest lesson
I wheeled a terminally-ill man onto the stage one night in front of 300 people because he heckled me three times. Before the gig started I was advised that he had a month left to live, and not to mention his condition as his family were there with him. His name was Mel and he was very funny.
It was a bit tense to begin with but every time he spoke he got a big laugh. The audience didn't laugh at anything I was saying, so I became the straight man in an impromptu double act. It didn't ruin the gig at all and obviously I couldn't prepare something like that in advance.
It taught me to be a little braver and less self-conscious on stage.
My first cruise ship gig
I was booked to do a cruise ship, and I was the only act on. The first show went well. The second one, I struggled partly due to there being a persistent heckler. I did my time and left disappointed.
I had a final show the following night in which to redeem myself. I was nervous walking out on to the stage as it was the same audience. Some of the audience thought I was good because they'd seen me do well, others (including the heckler) came back because they saw me as the Eddie 'The Eagle' Edwards of comedy.
A minute in, a bloke handed me three sheets of paper from the audience. They'd written jokes for me to read out as they were so angry at the heckler for spoiling the show the night before. I got huge laughs and asked them, 'Is that what you want on cruises then?' A bloke shouted, 'Carry on reading son, you're doing really well!'
I read out the jokes and bantered my way through my set and was touched by their kindness. I've been informed that it's not something that usually happens to comics on cruise ships.
Most unusual location
I did a gig at a Nigerian wedding at Blenheim Palace in Oxford. I was introduced by the bride: 'Ladies and Gentlemen. I have booked a famous comedian for your entertainment today. His name is...I have forgotten his name.'
I told her my name and walked out at 3pm to entertain a crowd that really didn't want comedy. I asked her twelve-year-old son, who was on his phone, 'What are you filming?', to which he replied: 'Your demise.' I made them laugh although it was very awkward, especially when her son said: 'Mum, I wanted you to book a magician.'
The bride thanked me and told me afterwards, 'I will be booking you again.'
I assume she meant for a future gig, rather than another wedding.
• Matt Price: Last Night a Weegie Saved My Life is on at Gilded Balloon at 19:00.
Published: 19 Aug 2018
What do you think?