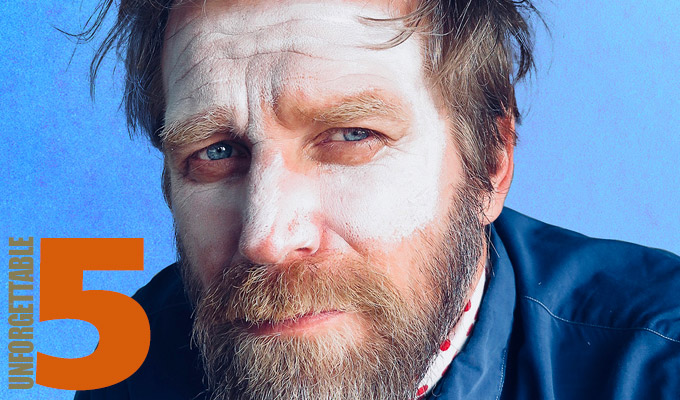 'I've had so many deaths over 20 years nearly that they bleed into a mass'
Memory is a wanker. What I remember today is probably only partly true and could be someone else's. Having said that other people might recall my memories. Shitting ball wank. That wasn't me.
My first two memories are fresh on account of having just been reminded of them by my friend Des Murphy, who produces the Teenage Cancer Trust shows at the Royal Albert Hall.
An unforgettable moment
Childhood hero Roger Daltrey telling a very excited Tony Law: 'Don't worry Tone it's a lovely room.' My life felt complete just then. AND I'VE GOT CHILDREN.
An unforgettable shambles
Roger, who I call Rodge now, asked me to come back another time, not to do stand-up but to bring on stage a huge bunch of the teenagers and introduce the various speeches. It was during the drinking times when I drank.
Pre-show backstage, me and some of the teenagers with cancer got pretty pissed (some of them really have a blowout at these things). We made a plan where I'd say some really inappropriate things about them. Like: 'they seem fine to me! What's the fuss? But seriously.' That kind of thing. We were all being awesome.
One young lad was wearing an eyepatch cause the cancer had attacked his fucking eye. My line was going to be 'and now to tell the donors what the Teenage Cancer Trust has meant to him is my favourite pirate…' you get the idea.
Only onstage I said while hammered, 'my favourite Somali…' The audience by this time were pretty quiet. But the 30 teenagers on stage were absolutely pissing themselves. I'm in touch with a couple of them still. Pricks actually made a recovery.
Also Roger said he only cared that the kids had a great time and that my Shambles wasn't going to put off any donors. He's nice.
Christ that took a lot of words to get out a memory that in my head goes much quicker.
An unforgettable death
Then this one time... Argh hell. Had so many deaths over 20 years nearly that they bleed into a mass. A vague mass I've had to develop techniques for blocking them out. Otherwise I might have learned from them and become a better comedian. Fuck that right?
They just didn't get it. All the I'd say 248 bad gigs I've done. But it's all relative. I've had a whole load of aceing amazing ones too. Like sometimes on tour we reach a nirvana state of giggles and are laughing at laughing. Not really comedy by then, but therapy through absurdity. Perhaps that's really primal.
An unforgettable ancient memory
When I was a Mayan priest and I'm on the jaguar pyramid doing the sacrifices in front of King 18 Rabbit and his family and I'm making them laugh by pretending to keep dropping the hearts.
I'm supposed to hold them up to the thousands of peasants below and get the message across that the gods are being sated and this heart will buy us good crops. Blah blah blah. The usual.
But because we had a plague come through and we've had soil erosion and the crops have been failing, we decided to do loads and loads of sacrifices. So after like 200 a day for a week we are getting bored. So I'm like 'Whoops I dropped it again. Where did that heart go?' Etc etc. The kids loved it.
In hindsight I'm not sure it was appropriate for kids to be there. That's just my modern sensibilities really. That was fun. Making the best out of a bad situation.
An unforgettable journey
I don't know if this is special in any way but I just remembered it. Andrew Maxwell and I driving back from Cardiff at 80 mph with the windows down to stay awake. Then our shirts off to be proper rednecks. Screaming for about an hour. That.
Erm. Loads more too.
Can I do another one in a month when my memory comes back?
• Tony Law: A Lost Show is at the Monkey Barrel Comedy Club at 15:00
Published: 18 Aug 2018
What do you think?