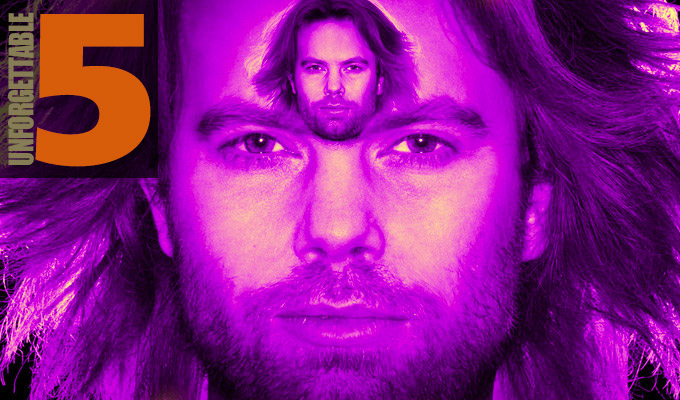 'Only one of us did the gig naked'
First gig
My first gig was when I was 15 in a place called The Bricklayers Arms in Bournemouth. I'd been obsessed with comedy for years but there weren't any clubs near me and we had no money growing up so I'd not even been to the theatre or like anything like it.
It was run by a man called Chris Mccoll – who went under the pseudonym Mr Jug on stage. His showpiece was downing a Guinness on stage in five seconds.
The other acts included a man who did a Vic-and-Bob-style act, called Eric Shunn (A pun name I didn't realize until about 10 years later because I often fail to see the obvious. I actually called him Eric every time I saw him…).
I had been writing jokes for years. In my job at Burger King it's pretty much all I did when I was flipping burgers.
The gig was rammed, because there was no other comedy club in Bournemouth. It was electric, excitement and anticipation hung in the air, it's what I imagine the original Comedy Store was like, except populated by drunken fishermen, farmers and labourers. They were having a great time, but were rowdy.
I did five minutes, ridiculously nervous beforehand. However, I was quite a novelty act because fewer kids were doing stand-up at that time, so when I came on, the 100 or so (mostly) men quieted down and paid attention, somewhat baffled.
The silence was deafening for me, on stage, they stayed quiet for about 30 seconds but it felt much much longer, until I stumbled on a joke that worked. The roar from that joke I will never forget… mostly because I recorded it. After the gig I listened to it over and over again, amazed that I could do comedy. I still can't believe I can, that I'm allowed to, that I manage to pull it off.
My worst gig
I did a gig in a bar called Cactus Jack in Salisbury when I was relatively new. I must have been about 17 and was regularly managing to do about a gig a week. Which was amazing as I still lived at home. I was telling my parents I was isiting universities' which was something they were proud of as no one in my extended family had been to university, so I got away with taking the piss a bit.
I'd catch a bus, do a gig, and wait at the bus station for about six hours all night until the first bus home.
The stage at this gig was on a wooden pallet in the corner of the bar. There was a very small PA. And no music. It was a functioning bar. I was on first, the other acts were another two new comedians and (amazingly) Dylan Moran. He wasn't such a big name then, but I'd heard of him.
I was on first.
The MC came up… tested the mic… said:
'There's going to be a comedy show now. Here's your first act.'
And without any ceremony I was on stage. I went on and died to the indifference, and total silence of the crowd. It was awful. I couldn't understand why nothing was working. Jokes that worked in (the limited number) of clubs I'd played in were met with angry indifference. I grew more and more uncomfortable and came off and sat, dead-eyes at a booth at the back of Cactus Jack – devastated.
Dylan Moran was very kind. He sat down with me and said that I shouldn't take it personally that it was the gig that was terrible. That is wasn't a reflection of my act or material. But I couldn't hear him through the devastation. 'I can't do it.'
The next two acts came on and died as well. The crowd were talking and eating and barely paying attention to the acts. I was beginning to see what Dylan meant.
And then Dylan came on to close and people loved him. He absolutely transformed the room. I wish I could go back with more experienced eyes and see what he did and how he made that gig work.
At the time I didn't know how it was even possible.
But it made my devastation more complete.
As I sat in Salisbury Bus station from midnight until 6.30am and the first bus back to Bournemouth, I had pretty much given up comedy in my own mind.
Strangest audience member
I was in another country recently and someone who was running the gig came up enthusing how much they enjoyed it. The exact conversation was so odd:
'Hey man, I'm Hans, I loved that… what a great set. But, you know, you really need to see a therapist'
'Err… thanks man, I think'
'Yeah – it was great.'
I try to change the tack of the conversation, and motion to the woman stood next to him.
'Hi, I'm Barry.'
The same guy interrupts
'Yeah, this is my girlfriend.' He then pauses, locks eyes with me and says: 'But that doesn't mean she's unavailable'
'Oh, right.'
He maintains eye contact
'I am also available.'
Best heckler
Sometimes a heckler comes across a technique that is stunning in its efficiency.
One day on stage someone in the front row was silently repeating my own set back to me.
No one else could hear it, it was maddening.
I tried bringing attention to it, but I began to sound insane – and all their friends around them were quietly finding it hilarious.
It was the longest 20 minutes I've had on stage, I just couldn't do it. It was constant, distracting, mocking, and devastatingly effective.
It was so effective I couldn't' really be angry with them – I was just impressed by the commitment and ingenuity of doing the exact right thing to emotionally destroy the act on stage.
That's the best heckler I've ever experienced. The Almost Silent Deadly Ninja Heckler.
Most exotic gig
I once turned up to a gig in a leisure centre that I'd been booked for, with two other comedians. It was really well-paid for me at the time, and I remember even thinking too well-paid.
It was in the middle of Berkshire in a place that even I hadn't heard of before. Well we turned up in the car park of a dull-looking leisure centre, it felt a very unlikely gig location, but we were met by the producer in the foyer and even got a dressing room.
Then we were told casually, that if we wanted to do the gig naked we could, and that our belongings and clothes etc would be safe and locked in the room. Which seemed an odd thing to say. We laughed nervously, as the promoter left the room.
When he came back we checked that is what he'd said.
He then looked a bit aghast. "You do know that this gig is to a naturist club, right?'
'Errrr what?'
So the gig was to 250 Berkshire naturists.
Of the three of us, only one of us did the gig naked. I'm not saying whether it was me or not. But that person, by default, headlined. They got a standing ovation just for walking on stage. Most likely because they were the youngest naked person in the room by about 20 years. It felt like a gig at some cosmetic surgery cult.
• Barry Ferns: Barry Loves You is at Just The Tonic At The Tron at 9pm.
Published: 17 Aug 2018
What do you think?