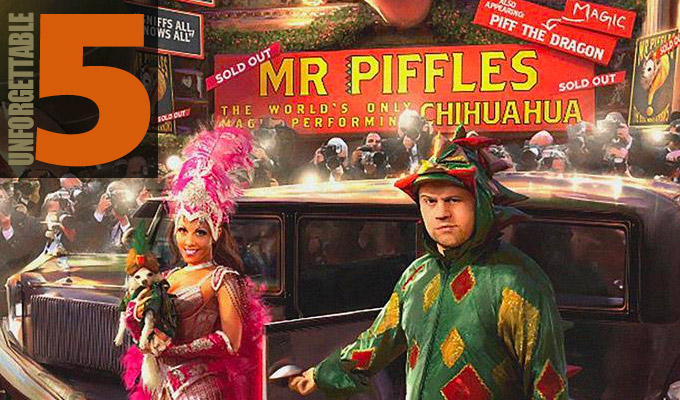 'The dragon suit made my grouchiness socially acceptable'
First gig
Saturday July 5, 2008: Quircus, London
Before I started wearing the dragon suit I was simply a grumpy guy doing card tricks. Weddings, bar mitzvahs, corporate dinners, retirement parties, you name it, I did it. Except children's parties. Their choice, not mine.
I was good at the tricks, but magic is essentially a service industry, and my perennial resting grumpy face was an issue. I got fired wherever I went. At a wedding, a guy came up to me. 'What is your problem?' he said, 'You're like the Eeyore of magic.' He was the groom. And then he fired me.
In 2005 fate intervened. I got invited to a costume party. I had no costume to wear, so my sister lent me a dragon outfit she had stashed under her bed. I don't know why, and I didn't ask. Neither should you.
I walked into the party and no one else was in costume. Not one. Even the host had changed. Too childish, she said when I demanded an explanation. I was drinking red wine in the corner, appropriately miffed for once, when a friend came up to me and changed my life. You could do this in your act, she said, you could be Puff the Magic Dragon. Wait! I replied, I could be Piff The Magic Dragon. You might have heard of my older brother? Steve.
On July 5, 2008, I gave it a go. It was an instant hit. The dragon suit made my grouchiness socially acceptable, charming even. Everyone who fired me rehired me. Before you were just a dickhead, they said. Now you're a dickhead in a dragon suit. And that's hilarious
Best gig
Saturday February 12, 2011: La Soiree, Southbank
Long before I debuted the dragon, I landed a part in a musical, Mikey The Pikey. I had no ability to sing or dance, but it was going to Edinburgh so I was on board.
Whilst there, in 2004, I saw the first ever season of La Clique, starring a family of novelty outcasts all doing 5-7 minutes of the strangest, most peculiar acts. Captain Frodo - The Incredible Rubberman, Marawa the Amazing, Carl-Einar Häckner. I'd never seen anything like it. I loved it and all I wanted was to be a part of it.
Seven years later they came to London. By this time I had become friends with Marawa. How do I get booked in the show? I asked her. Do they know you want to do it? She replied, simultaneously teaching me a very important life lesson.
So I submitted a DVD of my act and landed myself a gig. I achieved all I had ever hoped to achieve that night and everything since has been gravy.
Gig that changed my life
Having now accomplished my life's goals, I appeared on Penn & Teller: Fool Us. I didn't enter the show to fool them, just to do a trick, tell some jokes and eat a banana, yet this would be my first step in a long career of memorably losing.
The show went fine, but nothing particularly memorable from my point of view, and when I came offstage the show producers bustled me into a car and sent me on my way.
I didn't really think about it much until it aired a few months later. My emails exploded, my Facebook went crazy and I haven't stopped working since.
The nicest part was that years later, Penn & Teller have become dear friends in my everyday life. In fact I just appeared with them on their most reason season, with Penn in a strangely familiar outfit.
Best heckler
Here are my top three:
In Nashville, I asked a guy what he did. He said he used to be a magician. I said, why did you quit? He said, I grew up.
In Manchester, having done a bit about 4 per cent of the merchandising profits going to feed my chihuahua, Mr Piffles, I then did a bit where I shot him out of a cannon and he died. In the midst of this poignant moment, a voice shouted from the darkness: 'Does this mean we get a discount?'
In Norwich, I had a migraine and performed through it. Mistake. In the second half, I dropped Mr Piffles. Twice. A distressed woman called out: 'Would you just stop dropping the dog.' Factual not funny, but still impossible to comeback to.
And finally here's me laying down some burn of my own:
Least welcome post-show comment
After a series of remarkable events landed me a Las Vegas residency, I soon got a taste of the dog-loving American public. A woman came up to me after a show and said: 'Where's Mr Piffles?'
I said: 'He's outside, smoking'
She said: 'That's not funny, this environment is far too stressful for a dog to be in.'
I said: 'Why do you think he's outside smoking.'
Security had to drag her away.
• Piff the Magic Dragon and the Dog Who Knows is at the Stand's New Town Theatre at 19:20 from tomorrow
Published: 15 Aug 2018
What do you think?