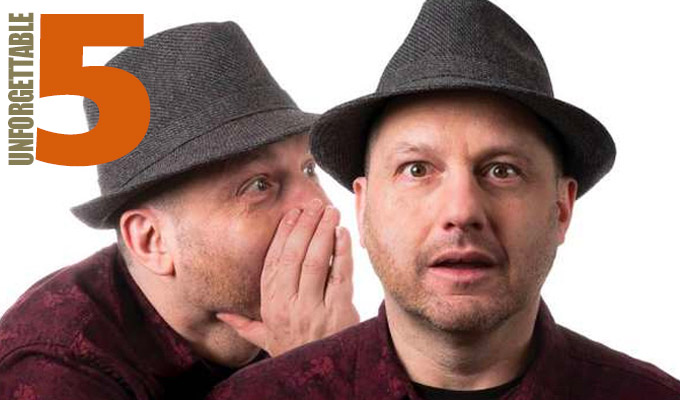 'I was on between a Holocaust survivor and the Chief Rabbi'
First gig
It was 21 years ago. I had written ten minutes of stand-up material and was looking for an opportunity to try it out.
I was then asked to take part in a celebration evening for my parents' synagogue in Wales, so I thought that would be a perfect opportunity. I was living in London, as I was teaching and writing for TV, so I had to take a train.
The celebration was on a Sunday and the train arrived late. As I walked into the synagogue they told me that I had to go on immediately. So I walked on to the stage and performed my ten minutes. To silence. Nothing. Maybe one cough. I walked off to the sound of my own footsteps; which was strangely high heels.
I was then told that they hadn't expected me to perform comedy and to just to talk about living in London and my job etc They then informed me that I had actually gone on stage between a Holocaust survivor and the Chief Rabbi. I decided that no gig could ever go so badly. So far, so good…
My first five 'proper' stand-up gigs
Putting the synagogue incident to one side, here are my first ever 5 stand up gigs. Each was a 5 to 10 minute set.
1) The King's Head, Crouch End
2) Crock of Wit
3) Jongleurs, Battersea – Late Show
4) Cosmic Comedy Club,Hammersmith
5) The Comedy Store
Best heckle
When I first started as a stand-up my material was all gag-based and pun-based and fast one-liners. The main reason for this was that I didn't want the audience to have the chance to heckle me.
However, it didn't always work. At one gig, quite early on, after I had said something about my being Jewish and Welsh (which I still do of course) someone shouted out: 'What do you do with your sheep then, shag them or sacrifice them?!' It got a big laugh.
So I put it in my set.
My lowest attended gig
Two people.
My first ever solo Edinburgh show was called It Wasn't Me, It Was Bennett Arron. It was the story of how I had my identity stolen and lost everything as a result of the crime. I had written the show, mainly for cathartic reasons, and had performed it three times at The Etcetera Theatre in Camden. I had no plans to take it to Edinburgh at all.
Then a space came up at the Underbelly and it was suggested that I perform the show there, just for ten days. I took the opportunity. The problem was that I had missed the deadlines for the Fringe brochure so no one knew my show was on and I had to rely on posters and flyers.
The first two shows were cancelled as no one turned up and the third show had two people in; two friends of mine. So I performed it to them. To this day it's one of my favourite gigs and whenever I see either of these friends they remind me of how much they enjoyed it too.
It was my first solo Edinburgh performance so it meant a lot. I'm pleased to say that due to word of mouth, not just by those two friends, and good reviews, the audience numbers increased and the show was extended for the whole run.
As a result of the show I made a documentary for Channel 4 in which I stole the identity of the Home Secretary and was arrested in a dawn raid by Scotland Yard. I'm talking about all this, and why I should never have made the documentary, in my new show Heard The One About Identity Theft? at the Stand.
My worst journey from a gig
In April of this year, along with another comedian, I had been booked to perform at a gig in Bournemouth. A snowstorm had been predicted for later that evening but we hoped to leave the gig before it started.
The other comedian had decided to drive. The journey there was fine and once the gig had finished we immediately started our journey back. The first 20 minutes was great. Then the snow started. And gradually became worse.
One of the major roads we were going to take had been closed due to an accident, so we had to use side roads. This is where things started to go downhill. Literally. At one point, on an incline, a car in front of us slammed on its brakes. We did the same. However our car didn't stop. Instead it skidded, quite gracefully, towards the car in front. The side of our car smashed against the rear of the stationery vehicle. The back of the other vehicle was damaged as was our door and window - which shattered into a kaleidoscope of shapes, before falling out.
The driving conditions worsened and more major roads were closed due to accidents.
At one point we found ourselves driving through a wide open space. This would have been fine until we suddenly realised we were no longer on a road. With that there was a horrific bang and the car stopped. We got out of the car and discovered that we had driven over a large rock and the wheels of the car were virtually off the ground. We tried every way to move the car but to no avail. We were stranded.
There was nothing around as far as the eye could see – which wasn't that far due to the bad visibility caused by the icy blizzard. We had no signals on our phones so couldn't call for help or use Google Maps to know in which direction we should walk.
We went back into the car, with the wind and snow howling through the broken window, and looked at each other. We literally did not know what to do. We must have sat there, in silence, for about 30 minutes. We then saw, in the distance behind us, headlights. We quickly got out of the car and flagged down the passing vehicle – a white van.
Seeing that our car couldn't be moved, the driver, Jay, said he would give us a lift. We got into the back of the van – shivering with cold and with our fingers frozen, but incredibly grateful.
Three hours later and Jay dropped us off outside my house. Yes, he drove us home!
The press and TV is usually so full of stories about bad and evil people that we sometimes forget about the good ones. Jay – who saved us from… well, I'm scared to think what – is one of those good ones.
• Bennett Arron: I've Never Told Anyone This is at Underbelly Bristo Square at 12:10 and Bennett Arron - Edinburgh Fringe 2018 at Chortle.co.uk">Heard the One About Identity Theft? With the Real Bennett Arron is on at Stand 2 at 20:50
Published: 14 Aug 2018
What do you think?