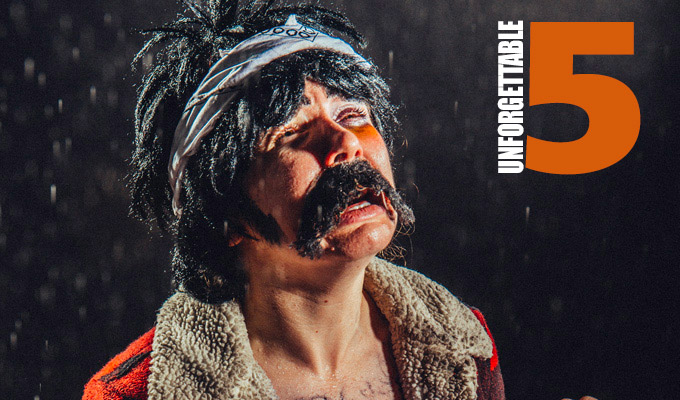 I was wearing an egg costume, carrying a trumpet and bleeding out of my face
Gig that taught me the biggest lesson
I used to do a bit where I would play a mother who had just had her baby kidnapped. I had a great time playing a distressed mother, and would play it as real as possible, screaming at the audience members: 'Somebody stole my baby! Help me, please! My baby is gone!'
I was so committed to the role and the absurdity that I would scream and scream and scream and one day during a show, I burst one of my vocal cords.
I didn't know it until the next morning, when I woke up and literally couldn't speak a word. As a voice actor, I was traumatised. It took my voice months to recover. As a result, I was afraid to speak loudly and my neck would involuntarily tighten as a stress response to protect my vocal cords, so I had to go to months of speech therapy to fix it.
Now, I am very wary, when I am asked to scream for anything and make sure to do my vocal warmups.
Most insane audience member
I was doing a bit where I pick a man from the audience to wrestle me (a tiny woman).
Typically, the men I choose to wrestle me just play wrestle me and don't actually try to obliterate me... it's just a comedy show after all. Until, this one dude I brought up went to town on my ass. I think he thought he was on WWE.
It's funny, because I actually picked him because I thought he looked kinda wimpy and easy to beat, but boy did he prove me wrong.
I think maybe wrestling me was the one chance he ever had to prove to people that he was physically strong. As if wrestling me and beating me would somehow prove to all the kids he went to high school with that he could've taken on big ol' John Balionis by the bleachers after the bell rang.   He picked me up, spun me around and threw me down on the mat. I thought I might die and so did everyone in the audience, which is great, because everyone knows: fear of death or permanent spinal injury makes for great comedy.
To those reading who may be my future audience participants, always remember: I am a tiny woman and you don't really need to try that hard to beat me in a wrestling match, but you may have to try a little bit, because I do work out. 23 push-ups every day. ;)
Best heckler
There was an old Spanish man sitting in the front row of my show. He kept piping in at random parts of the show, giving his two cents in broken English. Then, at the end of the show, when I ask an audience member to give me 'CPR'. I, of course, asked him and we full on made out... it was great.
Worst journey to a gig
After doing a run of Laid at the Brighton Fringe, I booked one performance of the same show in London.
I was traveling and touring the show by myself, so I had to manage to bring all of my luggage as well as all of the props from the show on a train from Brighton into London on my own, which included: tow full suitcases, a backpack, an enormous stuffed egg costume, an electric hot plate, a small table, and a trumpet.
I could barely hold everything, so, to maximise carrying capacity, I wore the egg costume. I looked insane, more insane than usual. I would take a couple steps, then a bag would tip over, or I'd drop the trumpet case and have to try to bend over in the enormous egg costume to pick it up. I have no idea how I ever made it to the train station.
Then, once I was there, my nose started bleeding, mind you, the egg costume I'm wearing is white. As if I didn't already look crazy enough, now I had blood pouring out of my face.
A woman with a small child offered me a bundle of paper towels to stop the bleeding. Her child saw me and immediately burst into tears. As the train pulled up, I still managed to dive into one of my suitcases and pull out a bottle of multipurpose cleaner. I sprayed my costume (while I was still wearing it) in an attempt to get the blood out—it worked, kind of.
A guard at the train station helped me get all my stuff on board, and thank god, when I arrived in London, one of my best friends was there to help me carry my things on the rest of my journey. 
Least welcome post-show comment
I was doing a show where I was playing a chewed-up piece of gum with a British accent who wanted to run for mayor of Los Angeles... a very serious role that I did months of preparation for... or at least that's what one of the audience members thought.
After the show, a woman from the audience handed me a three-page, handwritten letter about how I could better my performance with basic acting 101 tips such as: 'What's the back story?' (For a chewed up piece of gum, I'd say, it starts with being chewed) and 'find your objective,' which I thought was pretty obvious... to become mayor of Los Angeles.
So yeah, it was very odd, vague feedback. Guess I'm not as good of an actor as I thought. Gotta hit the books again and do some Meisner reps: I'm looking at you. You're looking at me. I'm looking at you. You're looking at me. I'm looking at you. 
• Natalie Palamides: Nate is at Pleasance Courtyard at 18:00.
Published: 31 Jul 2018
What do you think?