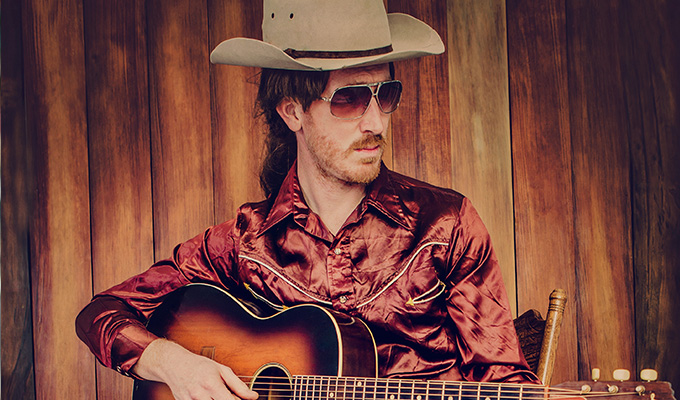 'He deliberately vomited in response to my music'
Wilson Dixon, the country singing alter-ego of Australian comedian Jess Griffin is visiting the UK this summer after a gap of several. Here are the fictional Unforgettable Five gigs of this comedy creation…
First gig
I was nine years old, and had just started playing the guitar. I had only learnt the G chord, however this allows you to play 90 per cent of country songs so I felt I was ready to face the public. At breakfast one morning I announced a gig on the back porch for that afternoon.
The turnout was pretty good, I mean they were all my family members who also lived there so they were all 'at the gig' whether they wanted to be or not if you know what I mean. There were also a few of our farm dogs there too that had shown an interest in music. I took that as a promising sign.
I remember the songs were received pretty well. The one I wrote about my Daddy drinking too much ("You Can't Count Whiskey As a Hyrdating Fluid") was especially appreciated. Someone needed to say something.
Most exotic gig
Once I got booked to play a set in a strip club early in the evening before the dancers started. It was an attempt by the bar owner to inject a bit of 'wholesome entertainment' into proceedings, as he put it. It wasn't for me to question his motivation but I did think it strange that the owner of a strip club would feel that conflicted about the nature of his business that he felt the need to temper the nature of the entertainment.
Anyway, after I'd played the show to some of the dancers and their kids and a few other assorted people, the bar started filling up with men. However, just as the strip show started the power went out on account of a storm going on outside. The only option was for me to provide the music for the dancers.
I don't really have any upbeat stripping type music in my repertoire, so I ended up just playing a series of mournful country songs about heartbreak and things not working out.
As the women slowly moved about in the flickering candlelight, the show turned into something approaching a slow emotional ballet. As the women swayed silently back and forth to the music, piece by piece removing their garments, the men watching all began crying as the beautiful and brittle nature of love and longing and the passage of life became all too apparent. I remember as one guy left he shouted, 'I didn't come here to watch a woman slowly and sadly take her clothes off, I can get that any time at home.'
Worst gig
Once at an outdoor country music festival, the man who owned the farm next to the venue took particular objection to my music. I initially noticed he wasn't into it because at the start of the gig all the other members in the crowd were sitting on the grass listening whereas he was standing up, right at the front, glaring at me.
Halfway through the show, he walked away and we all thought, 'great, the weird standing up staring guy has left.' Well… five minutes later he reappeared on a ride-on lawn mower and mowed the words 'candy-assed sonofabitch' on the hillside next to where I was playing. The mowing took about 15 minutes and the noise of the mower made it pretty hard for everyone to hear.
His mower also temporarily broke down after having written 'candy-assed son' and people in the crowd thought he was my angry and disapproving father. I reassured the audience that he wasn't my father – my Daddy doesn't put that much effort into his disapproval of me.
Worst heckler
During my early 20s I was involved in the Country Music In Urban Schools programme. The idea behind the initiative was to reach out to kids living in the city and introduce them to a milder, less angry, less sophisticated and more nostalgic style of music.
One day, at a show in a kindergarten in Cleveland, while playing my song Double Storey Houses Are The Beginning Of The End to a group of about 30 pre-schoolers, a three-year-old kid in the front row vomited all over my feet. The teacher rushed in to see if he was OK, and he said he was fine, wasn't feeling sick at all, but deliberately vomited in response to the music.
I remember him saying the words: 'I felt I had to do something to make the music stop.' It was the most solid objection I've ever received. The kid had been eating cherries and milk so he'd clearly planned it for maximum impact.
Worst journey to a gig
Once my Uncle Cleetus offered to drive me to a gig in New Mexico. He borrowed a car off his friend Murray Gilthrop who lives nearby and works selling Bibles to motels.
When we got to the border the car was impounded by the State Police as a stolen vehicle and we were arrested. We were able to make one phone call, so we called Murray and got him to explain to the police that the car wasn't stolen.
Unfortunately, he said that the car was indeed stolen. After we started arguing with him, he cut us short and simply said that the Lord moves in mysterious ways and hung up.
It's true that the Lord does move in mysterious ways but I'd bet that He doesn't steal cars. He doesn't need to, he can just create one in an instant. Probably.
Anyway, we were let out of jail later that day and had about an hour to get to the gig. We rented a car and I drove as Uncle Cleetus read the map. We went around in circles and ended up in the middle of nowhere. When we stopped and with me unable to understand where we were and how we'd got so lost, Uncle Cleetus chose that moment to tell me that he was illiterate.
I was a bit pissed that he hadn't told me before that he couldn't read, but to be fair to him, I'd never asked him to read anything out loud to me so it had never come up.
• Wilson Dixon: For the First Time. Again is at Soho Theatre, London, from June 25 to 31, followed by dates in Glasgow, Edinburgh and Cardiff. Details.
Published: 11 Jun 2018
What do you think?