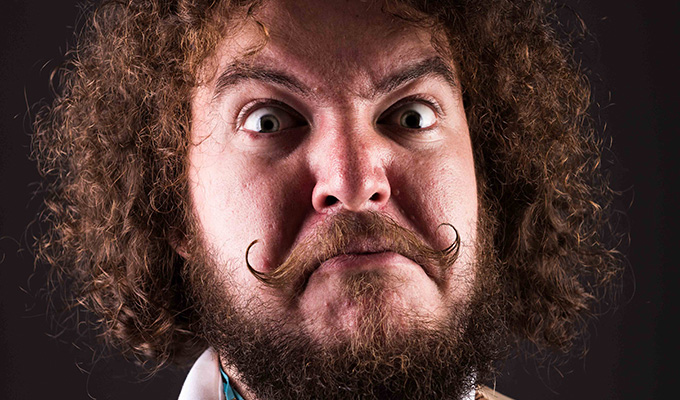 Freemasons, bouncy castles and shrunken heads...
Storytelling comedian Will Seaward is joining the cast of Shit-Faced Shakespeare as they present The Merchant of Venice in London's Leicester Square Theatre from next week. Here he recalls his Unforgettable Five gigs:
Most bizarrely accurate heckle
I was doing a two-hander called Ballad Of The Skull Fairy - a show of high drama in which the villainous Skull Fairy persuades an impressionable youth to acquire a skull for him, all the while concealing his dastardly plan to use that skull to hit everyone in the world on the head.
It finished with a swordfight between the Skull Fairy (myself) and the dashing, heroic Tibia Pixie (my excellent friend Marc). The Tibia Pixie fought with his trusty tibia, and the Skull Fairy fought with a skull. This fight necessitated probably the best prop I've ever made (and I've made a LOT of props) which was essentially a skull with a radio aerial in it, so the skull could be cracked open and the aerial extended to form a skull-sword. Huzzah!
Then, having swooshed our weapons around heroically for a bit, we'd swashbuckle magnificently. But one night, the unveiling of my sword-skull was entirely (and rightly) overshadowed, because a nice, medically trained heckler in the front row pointed to the tibia Marc was using and shouted 'It's a femur' Oh no!
He was absolutely right, and of course, all realism in the show evaporated instantly.
Coolest audience interaction
I do a comedy ghost story show at midnight every Edinburgh Fringe. A few years ago there was a spooky tale about a witch called Old Mrs Cauldron, featuring a garden path both lined with and covered in shrunken heads.
One night, just after I'd said the 'shrunken heads' line, an audience member in the front row put his hand up. I knew this audience member. He was (and is) an utterly lovely gentleman called Broome.
Broome looks quite a lot like I might look in the future (assuming World War III or the like doesn't happen). We both have beards and curly hair, so we have a regular thing that he's 'future me'.
'Yes, future me?' I said. 'I have a message for you' said Broome, 'a warning not to mess with Mrs Cauldron!' Then he handed me a shrunken head. An actual, homemade shrunken head. It had googly eyes, curly hair and a curly beard.
'It's future future us!', he said. It was hands-down the coolest thing ever. EVER.
I broke off the show and spent a full minute just showing my new shrunken head to the rest of the audience. The rest of the gig was the best that year. Thank you Broome!!
Least-welcome post-show comment
Not a comment so much as a non-verbal sign, but…
Two years ago I staged 26 real-time world domination attempts. One of them involved an audience member phoning someone they thought might be a Freemason and telling them that I, Will Seaward, had been their leader all along, just working at a deeper level than they'd been aware existed. All good fun!
The next day I was flyering and someone came up to me and said, 'Hello, are you that guy off the poster?' I was, so we got chatting. He was perfectly nice, and at the end of the conversation he said, 'Well, let me shake your hand'. It was a very odd, very grippy handshake, and while he was doing it he looked my squarely in the eye in a 'We Know' sort of way. Then he just walked off.
Whether this means I now am the head of the Freemasons or not remains to be seen…
Weirdest post-show moment
My show three years ago was an attempt to create the actual, genuine philosopher's stone live on stage, which involved teaching myself alchemy in seven months and acquiring a lot of vintage lab equipment - I think there may still be several scientific glassblowers who think I'm a school.
It also involves melting actual metal in a crucible and throwing a newly made philosopher's stone into it, to try to turn it into gold. I was expecting to fail, because everyone has for the last thousand years, and also because, though the process was vaguely authentic, we were using things like Chicken McNuggets and the ashes of the Wikipedia article on 'gold' as ingredients.
At the end of the show, my awesome production manager Abi and I would retreat into an alley behind the Gilded Balloon and wash all the equipment, including the crucible. This was usually a big rush because metal can take a while to melt and the Oxford Imps had to get into the theatre, so I generally didn't pay much attention to what was going on until we were outside.
So it was only while washing up that, one day, I discovered that the substance in the crucible had actually turned yellow. It pretty much definitely wasn't gold, but we HAD definitely made yellow metal, and we spent about a minute looking at it in awed silence.
Alas, I have entirely forgotten what ingredient we used that day.
Most unusual location
Early in my career, I spent three years staging Shakespeare plays on bouncy castles. They were all at the Edinburgh Fringe, and we did Hamlet, Macbeth and Dracula'(which isn't a Shakespeare play, but should be, so ha!).
It was all utterly excellent, whatever The Scotsman says.
All the armour was made of balloons, the horses were all spacehoppers, we made a valiant attempt at turning the gravedigger scene into an intricate basketball sequence on the bouncy floor, and we had sinister hooded figures singing 'The Scottish Play On A Castle of Jumping' in Latin (it's 'Fabula Caledonia Castello Saliendi Salite', I believe, or words to that effect) as the castle inflated.
After the show we all had to take turns rolling on the deflated castle to get the air out.
It also meant I got to design a bouncy castle, which was fun - it had an extra deep bed, a proscenium arch top, and low back walls so that people could bounce over for entrances and exits. I made the silly mistake of having Bouncy Castle Hamlet printed on the front, though - which meant I had to cross it out with a marker pen every time we did another show…
• Will Seaward will be performing in Shit-faced Shakespeare: The Merchant of Venice at Leicester Square Theatre from April 18 to June 2. Tickets.
Published: 11 Apr 2018
What do you think?