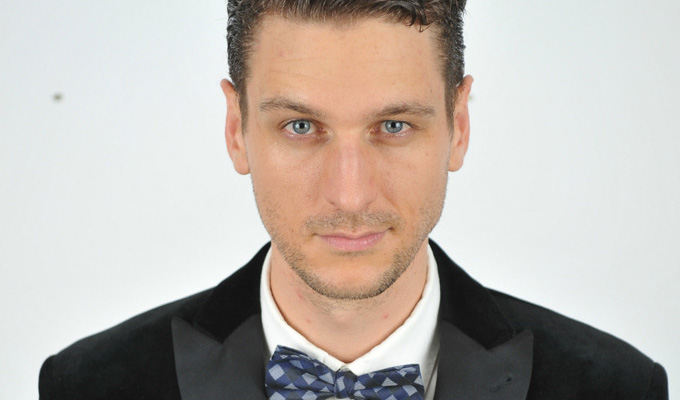 'You've ruined my birthday!'
As Steen Raskoupolos begins a run at the Soho Theatre in London, he shares his five most memorable gigs:
First gig
My sister Jordan invited me to Sydney Uni to play Theatresports with her when I was 15 and on school holidays.
Every Thursday, a few hundred students would pack into the university bar and watch four teams play. I was nervous but excited at the same time. I remember we played a game called superheroes and they nominated me to be the hero.
The audience gave me my name 'Contortionist Man'. I had no idea what that meant at the time, but just before the scene started my sister said, 'it's a person who can twist their body'.
Righto. I did the whole scene as the character constantly twisting my body whilst 'grapevining' my legs. To this day, I like to think that the audience were laughing with me.
Worst gig
My first ever improv job for money (I was 20) was at a boyfriend and girlfriend's joint surprise 18th birthday party. It was a two hour drive outside of Sydney but the money (at the time) was going to be worth it – or so I thought.
When we turned up to do the gig, the mother of the daughter asked if we could set up the room with chairs before we performed. The room was the dance floor – a dance floor where a hundred teenagers were already dancing. Each time when we tried to put the chairs out the teens would throw them away or cuss us.
The parents finally convinced the party to stop dancing to watch us. Within 30 seconds of our first game, the daughter shouted at her parents: 'You've ruined my birthday!' before storming off. The boyfriend followed his girlfriend and cussed his parents.
We immediately started to sing Happy Birthday to the both of them, before exiting with our heads held high (very low... they were very, very low).
When we got to our cars the mother apologised saying, 'I thought she would've liked it because she does drama at school'. She then asked: 'Do I still have to pay you?'
Strangest audience member
There was a good one in Edinburgh last year.
I was midway through a sketch and this guy stood up, walked up to the stage and said: 'Sorry, I'm just going for a piss.' But he didn't move. He just stood there on stage and then skolled the rest of his beer.
After a while he put the beer glass down and walked back to his seat, he didn't even go to the bathroom. I don't know if he was too pissed or if he thought he was helping out with the sketch.
At the end of the show, the usher told me that the told guy had fallen asleep and they had to wake him up when my show was finished.
As they were walking out, he apparently told the usher: 'It was a great show, please tell Steen I really enjoyed myself.'
Best gig as a punter
I remember seeing Beardyman for the first time live in Edinburgh in 2016. The feeling in the room and what he had created was something that has stuck with me since. It was euphoric.
Least welcome post-show comment
I once was sent a long email after one of my shows by a medical professional telling me how my character 'Timmy' had left her 'feeling traumatised'. A 6ft 4in man pretending to be a boy.
She said 'I cannot see how your portrayal of this character brings anybody any joy' and then: 'What made it a hundred times worse was the laughter coming from everyone else in the audience.'
She then finished by saying if I would like to seek counselling she could recommend me some good doctors.
• Steen's show, The Coolest Kid in Competitive Chess, is on at the Soho Theatre at 9.30pm for six nights, starting tonight.
Published: 27 Nov 2017
What do you think?