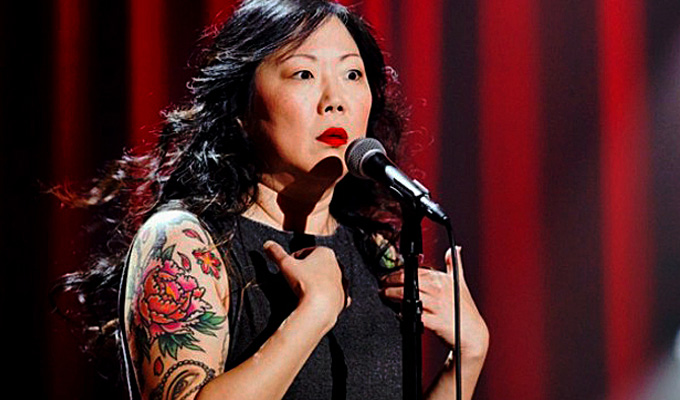 'The audience wanted to kill me  - I am not exaggerating'
As American comedy star Margaret Cho heads to the UK and Ireland later this month for a short tour, she shares five of her most memorable gigs…
First gig
I was really young - like 14 - and I was in a comedy duo with the now very famous Sam Rockwell. We were so young that we weren't allowed to be in the club except when we were performing, so we watched from outside the doors at what was happening on stage.
It was terrifying but it was bearable because at least we had each other. I am not sure what we were doing - some kind of rip-off of Stiller and Meara or another 60s comedy couple. We were too young to even understand the jokes we were doing but the feeling of people laughing shifted something in me and made me want to keep doing it.
Sam moved away to New York with his mom and became the stellar actor we know and love today but I stayed in comedy. Now 35 years on, it's the best decision U ever made.
Worst gig
Oh no. This was in Edinburgh at one of those 'best of the fest' shows at the end of the night. This was terrible!
The day before a psychic friend called me and said 'What's wrong? are you OK?' I told him I was fine and then that night I realised why he called; he was trying to warn me not to go on stage that night.
Comedy is usually not a bad job - if you are able to do it, you usually get away with doing well, and you get used to winning. But sometimes, you lose - and the awfulness of those performances can keep you from ever doing  it again.
I cannot really go into detail because it's very traumatic but all I am going to say is that night the audience wanted to kill me  - I am not exaggerating. I had to be smuggled out of the venue in a bag and put into a horse and carriage. 
Strangest audience member
Once I had a film deal - sort of. I wrote a script and it was being optioned by this big producer - not Harvey Weinstein but that type of guy. He made a pass at me at one of our meetings and so I wrote his disgusting efforts into the next draft of the script.
He was enraged and called an emergency meeting at the Beverly Hills Hotel where he said he had booked a room and if I wanted the $1million to make my movie I had to go to the room and have sex with him!
I said no and stormed out and never got to make the film. I did put it in my off-Broadway show, I'm The One That I Want, and the producer came one night, sat right in the front row with another guy who I am guessing was his legal counsel. They were trying to intimidate me with their presence but I still did the jokes about him.
I was so scared but after I did the jokes they just kind of got up and left. Nothing happened after that.
Most exotic gig
Singapore - which I was very paranoid to go to because at the time I was a lifestyle stoner and going there - where marijuana users are sometimes punished by death or at least caning - put my drug-fuelled fears into overdrive.
Of course nothing happened when I got there and went through Customs. Everything was OK and even kind of enjoyable - the fog of pot in my brain had started to clear and I was having fun.
About four days into my trip, I was going through my purse and a joint fell out onto the floor! I was amazed because I had thought I had cleaned everything out beforehand and if they had found it at Customs I would have been in big trouble!
Of course I smoked it and that was the best! Being high under duress is the best.
Worst journey to a gig
I was in Haiti and unable to fly out because of terrible hurricanes. I had to go to the tiny airport multiple times over multiple days to get out. I had to get to Seattle to film my special Notorious CHO and there was no way I could miss it.
There were no other options but to charter a plane. It was incredibly expensive and I felt sick doing it - I hate to spend money on anything - but I didn't have a choice.
The flight was of course grossly luxurious but I couldn't enjoy it because i kept thinking every 10 seconds I was spending $$$$$$$.
Comedians are the most humble of showbiz folk - and superstitious. I had visions of Buddy Holly and Lynyrd Skynyrd and JFK Jr the whole time! Terrible.
• Margaret Cho plays Edinburgh, Dublin, Bristol, Birmingham, Salford, Sheffield, Brighton and London from November 25. Dates and tickets here.
Published: 10 Nov 2017
What do you think?