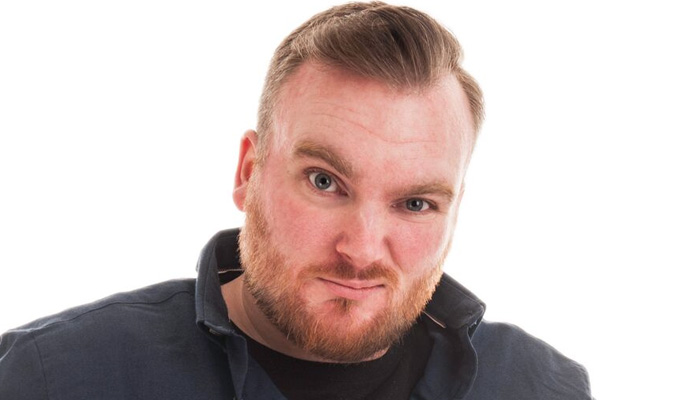 'A woman sang Halo by Beyonce through a tracheotomy hole'
First gig
My first gig happened at the sweet and tender age of 18.
I'd been a drama student at the University of Ulster for about three weeks. Two classes on emotional memory and I thought, 'Fuck this, I want to be comedian.'
So I sheepishly told one of my friends that id always wanted to do it. I'm not sure if it's widely known, but first year of a drama course are made of two types of people: half of them are nervous, but like the arts, the other half are fucking mental.
I told one of the mental ones that I wanted to be a comedian and he told me he wanted to be my manager. I thought: 'That was easy, I've been a comedian for 35 seconds and I already have representation.'
Did I mention that my new 'agent' had a really bad stutter? Well he had a really bad stutter. So he booked me a gig in one of Northern Ireland's three professional comedy clubs! He told me I had tw-tw-tw- minutes. I assumed he'd said twenty, he obviously meant two. But I had no time to waste, I'd been a professional comedian for 48 seconds at this stage and had to pick out a shirt for my DVD.
The night of the gig arrived, I was ready, I had written twenty minutes of 'pure gold', it had a callback at the end and everything. We got to the gig, me and my 'manager', he told me a knock-knock joke on the train on the way up, it took fucking ages. We got there and the promoter told me I had three minutes between the two main acts, no more, no less.
What the fuck?! That's not nearly enough time for me to get my callback set up! So…I went to the bar to get myself a few pints of personality and coke. I have no idea what I said because I was absolutely hammered, but I do remember thinking, 'maybe in professional clubs laughter sounds like booing'.
I sacked my manager on the train home.
Worst gig
In 2010, I was living with my parents in Lurgan, Northern Ireland (if you haven't heard of it, it's not your fault, it's the only town in the world were having two of your own teeth makes you a qualified vet), a friend of mine was also just starting out in comedy, and was doing his first Edinburgh run that year.
So as a cheap way of getting previews, he decided he was going to do 12 gigs in 12 days around the town. But he wasn't telling the people in the pub. 'You're going to die so hard, I need to be there for this,' I thought.
So as a good Samaritan gesture I said, 'Well, why don't I come along, and warmup for you? It means you can do your full hour without having to worry about crowd work. 'I'm such a wonderful human being,' I thought.
The first six gigs actually went really well. Then, gig number seven We entered the bar to see that it was filled with blokes watching Brazil playing in the World Cup. We were assured by the bar manager, not to worry, as we were playing in the function room, at the rear of the establishment.
We walked into the room, it was filled with the wives and girlfriends of the blokes from the front, doing karaoke. (I don't know if anyone has ever seen the 'WAGs' of football supporters, how can I say this without being mean? Put it this way, you wouldn't see one of these mutants presenting The One Show!)
I watched as a woman sang Halo by Beyonce through a tracheotomy scar. That's right, through a hole in her throat.
The MC then saw us and decided it was time for some comedy. He asked my name, I told him at least four times, but he couldn't hear because everyone was cheering for 'Holey Throat'. (I know that's a horrible thing so say, but stay with me, you'll see why).
The MC introduced me as 'Ricky Martin', SO NOW all the women at the karaoke think they've won a competition. I did my first joke, and heard a coin crack against the wall behind me. I looked up and saw the woman with the tracheotomy mouth the words: 'Fuck off.'
The other comedian was already in the car at this point.
Gig that taught me the biggest lesson
In 2011 I did my one and only spot at King Gong in the London Comedy Store. I had been gigging semi regularly for about three years at this point, exclusively in Northern Ireland. So when I got the email confirming the King Gong slot, I thought, 'This is it. This is my chance.'
I went downstairs and told my mum. 'Don't worry about the mortgage, mum, I'm going to take over London in a few weeks.' I honestly was so full of my own shit that I half expected to get off the plane and see a limo driver holding a sign with my name on it. 'Thank God you're here Mick,' he would say, 'it's great to finally have the saviour of stand-up in London.'
My friend from Belfast, Ruaidhri Ward, got booked on the same night, and had friends in London so we had somewhere to stay. Result! So we booked our flights at the same time (I spent every penny I had on the tickets) and prepared ourselves to be famous and rich and stuff.
It was my first time in London, I had no idea where I was going, or what I was doing, or how bloody expensive it was! We're zooming through London because we have to meet a guy to get keys to the house we were staying in. We got to the house, it was amazing. It turns out, Ruaidrhi knew one of the guys from Snow Patrol! Again, I was so full of my own shit that I was like, 'Well, I better get used to this kind of luxury!'
We get to the gig, Ruaidrhi is on right before me, and he lasted the full five minutes. So I thought, 'Well, I'm going to fucking walk this one!'
I lasted 38 seconds. Got booed off, and had to follow the victorious Rua back to his famous mate's house. What was the lesson? Don't be so full of shit and write better jokes.
Worst heckler
I once had a woman shout "NOOOO!" every time I got to a punchline. She did this for 35 minutes of a 40 minute set. Then fell asleep.
Best heckler
See above.
• Micky Bartlett - Typical!, Gilded Balloon Teviot, 17:00
Published: 24 Aug 2017
What do you think?