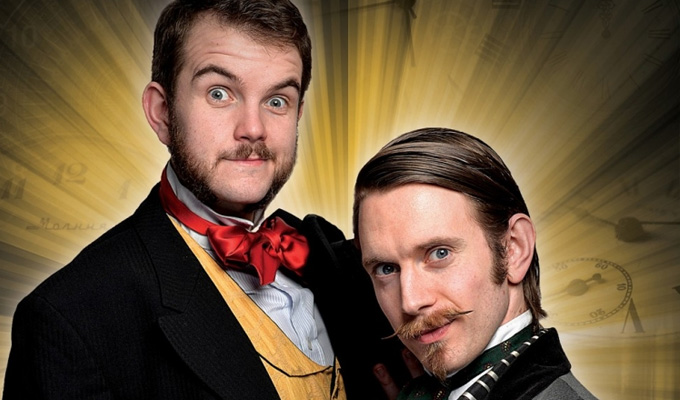 We used to think magic was deep and serious. Not any more!
First gig
Not so much our first gig as our first proper show, back when we were poor science students doing their best to ignore those pesky degrees they were doing. It was dreadful - to this day I cringe at the thought of it, and thank our young selves for being too disorganised to video the performance.
We got everything wrong - not just tricks messing up, props breaking, almost slicing the end of one of our fingers off - but the tone was a million miles from what we do today. We saw magic as a deep and serious art form that demanded respect. We don't think that any more.
Gig that changed my life
After our first year at the Fringe we were invited to a village hall somewhere in the home counties by someone who had seen our show and liked it enough to ask us to perform in their village.
Was it the most high profile gig we'd ever done? No. Biggest audience? No. Best crowd reaction? No. But it started us onto the strange and wonderful circuit of village halls all over the country that book professional acts to perform.
Whererever in the country there is a weirdly shaped, badly lit hall in the middle of rural nowhere with no phone signal, we have performed there. Those are the gigs where you learn what really makes your show tick. Those are the gigs where you learn to make it work no matter what. Those are the gigs that make your act robust and refined. That first village hall changed our lives.
Worst journey to a gig
Our first UK tour was in the autumn of 2013 and one of the dates was at the Eden Court Theatre in Inverness. We need a few hours to set up the show (oh how we envy stand ups and their one mic setup...) and so off we set, from Oxford, early in the morning to arrive by about 4pm.
Everything was going well, we drove up the M6 with surprisingly little hassle, crossed the border into Scotland and continued to head north. The motorway gave way to the A9 and then on we went. On. And on. And on. And stop. Not in Inverness, but the middle of the A9, traffic. Then the car in front switched their engine off. Then we did. There was no other route and there had been an accident.
Three hours later we got moving again, we arrived at the theatre at 19.05, curtain up at 19.30. The show usually took us at least 90 minutes to set up but thanks to a very dedicated tech team we managed to open at 19.40 with the audience largely not knowing the problem. The lesson, take a helicopter to Inverness.
Most unusual location
This one is easy - we were lucky to be invited to perform at the Cape Town Fringe in 2014 in the town hall. A beautiful building steeped in history. So much history in fact that it was where Nelson Mandela gave his first speech upon being released from prison.
Good job they told us that after the show otherwise I think we would have bottled it with our silly little tricks!
Worst gig
I write this having just got back from one of our worst gigs, I don't think it's actually the worst but it's pretty close.
A big converted church in Oxford as a charity fundraiser. The organiser asks 'so how many people are you bringing' as we arrive. Oh. It's that sort of gig. The room is enormous, the sound is difficult, the seats are spread out and miles away and the audience sparse.
They're all very lovely mind, not drunk rabble rousers just everyone is a bit perplexed as to what is happening in the evening.
Never before have I done a show where I can see out on to the street, through the doors at the back, directly to our car whilst on stage. The temptation just to hop in and drive off was enormous.
Morgan & West: Return Of The Time-Travelling Magicians, Underbelly Med Quad, 17:15
Published: 21 Aug 2017
What do you think?