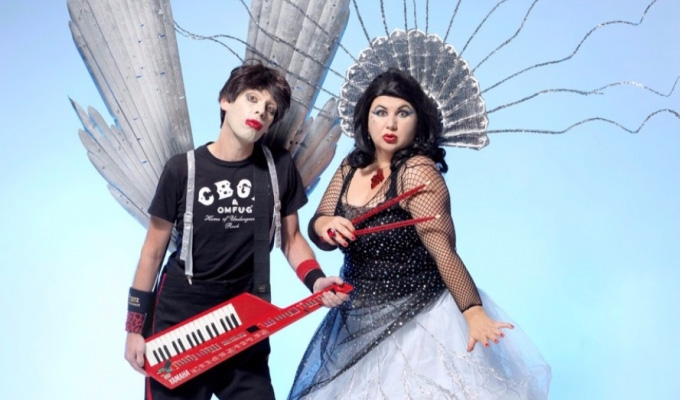 We've gigged in a fridge
First gig
The first gig Otto and I played was in the squat where we lived in Berlin, we were the house band and it was epic!
But the first gig we ever saw was David Bowie at the Deutschlandhalle on his Sound+Vision Tour, it changed our lives forever and was the night we realised that being the best band in the world was our future.
Best gig as a punter
I took Otto to see Arcade Fire in LA on their Reflector Tour for his birthday. It was like being rained on by arty, silver, shimmering, rock'n'roll goodness.
Best gig
The best gig we ever played was when we were supporting Amanda Palmer on her Kickstarter Tour in the US.
We got to play the Roxy in LA and we'd never been so nervous backstage about to play on the same stage as The Ramones, Jane's Addiction, Peter Gabriel, Guns N Roses, Bruce Springsteen and Prince.
We rocked so hard I snapped two drum sticks!
Most unusual location
We did a fundraiser for cabaret provocateurs Finucane & Smith at the Sofitel Hotel in Melbourne where a crowd of twenty people put on fluffy hotel dressing gowns and slippers, downed a shot of schnapps and followed us into a massive industrial fridge to watch us play a song. We called it The Coolest Gig In The World.
Most exotic gig
We played a show in Whitehorse in The Yukon near Alaska. It's so far away from anything. They were so excited about us visiting them that they created our very own beer with our name on it. I wish every gig was like that.
• Otto & Astrid: Eurosmash! (Die Roten Punkte) are on at Underbelly Cowgate at 22:10
Published: 16 Aug 2017
What do you think?