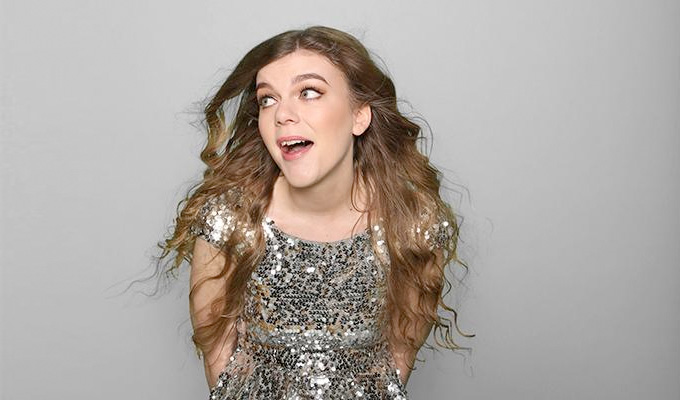 The only time I've ever felt emotional in a good way after a gig...
First gig
My first proper gig was for the heats of So You Think You're Funny? at the end of May in 2012. I was 18 and still doing my A-levels at the time.
It was in the function room above a pub in Newcastle and I only did it for some stage time and the experience, but managed to get through to the semis off the back of it. I found out when I was drunk in a field at a music festival and I was genuinely gobsmacked, I hadn't thought I stood a chance.
Looking back, I wish I'd waited a year because I would have been a better act, but in saying that it was definitely a kick up the bum to start looking for more gigs and start working at it. If I hadn't have gotten through, maybe I would have been too much of a lazy teenager to be spurred on to keep going, but it was like this little moment where I thought whoa, somebody believes you're good at this – go prove them right!
Best gig
I was lucky enough to support Katherine Ryan on tour, and got to do my home crowd of Newcastle at the amazing Tyne Theatre. It was pretty much sold out, so there were more than 1,000 people. So I was on stage in this gorgeous theatre where I've sat on the other side of the stage and watched so many of my favourite comics growing up and it was such a surreal moment.
I'm always doubting my own ability but I remember standing there and feeling like, 'mate, you're a proper comedian!' It was probably the first time I'd played a big theatre venue like that, and the way the laughs hit you is so different to in a little back room above a pub, it was like an absolute wall of laughter (excuse me subtly bragging at how funny I am)
It was genuinely an honour and a privilege to play such a beautiful venue, in my hometown, supporting my favourite comic. It's the only time I've ever felt emotional in a good way after a gig and if I'd stayed on stage a second longer I would have cried for sure.
Worst gig
I did a gig for a club in Birmingham where the audience was almost entirely made up of stag parties. I watched every male act before me struggle to do normal material, then resign to doing stuff about 'tits and fannies' which the stags LOVED.
I knew my material wasn't going to fly, but I didn't have any tits and fanny material, I barely even had tits of my own. I did have a fanny but I didn't want to show it off.
I just knew it was going to be rough and sure enough before I'd even reached the mic stand, some of them had started chanting 'get your tits out.' I'd expected it, so I had a comeback prepared (what you mean you DON'T have a pre-prepared come back for when you are sexually harassed in the workplace?!) and I shot them down and carried on.
The lads sat like sulky kids who were embarrassed they'd been told off and I did my set to silence. I hated every single second I was on that stage and I cried as soon as I got into the green room, and then for a good 60 miles of the journey home too. I have zero interest in ever playing there again – even if they paid me this time.
Gig that changed my life
Probably the Funny Women final in 2014. I got to the semis the year before and had a great one but was knocked out. I was determined to come back the following year bigger and better, like an X Factor star booted off at the Six Chair Challenge and returning resiliently next time round with a pocket full of dreams and a power ballad.
I worked REALLY hard over the next year and stepped up the comedy a notch so I was chuffed to make it to the final. My gig that night was probably, at the time, the best I'd done – it was at the Leicester Square Theatre in London and I wore a dress and felt facny. I felt so comfortable up there and I just knew that it's all I wanted to do. I came runner up, and off he back of that, Katherine Ryan, who hosted, got me to do some support dates for her on her Glam Role Model tour.
I then got signed to the same agency as her within a couple of months of that and came back to support her on her next tour. It was like a little chain reaction of good things happening and pushing my career forward and it definitely all goes back to that Funny Women gig – proof that winning isn't everything, good things CAN happen to those who come third (at least I think that's how the ole saying goes).
Worst journey to a gig
I was stuck on a train from Newcastle to London for HOURS because a train earlier had hit some cows. Yes, actual cows. And obviously there was carnage and a lot of dead cows blocking up the tracks.
I had no snacks and tensions were incredibly high. I think it took about six hours to get to London, and then I caught a train to Winchester where I performed in front of five people and made a grand total of 0p.
I'm not sure who had a worse day, me or the dead cows.
• Lauren Pattison, Lady Muck, Pleasance Courtyard, 17:45
Published: 14 Aug 2017
What do you think?