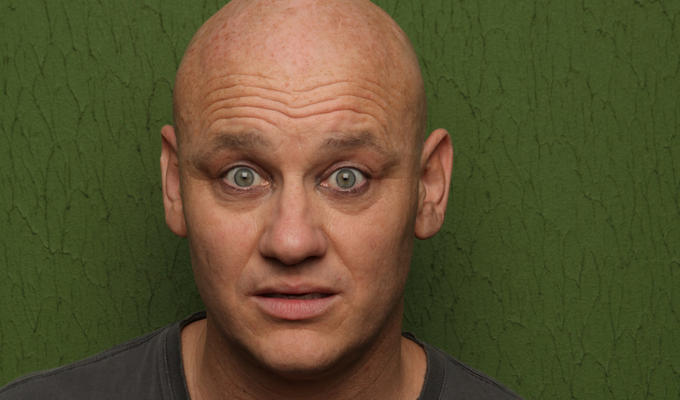 The day I died in front of 20,000 people
With more than 25 years in the business, Terry Alderton has his share of memorable gigs. Here are five of them:
The game-changer
After a long hiatus of about four years, I decided to go back to comedy. I'd been feeling very down and my wife suggested that I should go back to stand-up.
So back I went on to the stage, armed only with my old material. Which was not only dated, had no bearing on who I was as a person.
At one point I spoke about ordering a glass of medium white wine from a New York barman, whose reply was: 'We only do the one size!' At this, I would turn around with my back to the audience and start talking with two different voices. the deeper one would say: 'Must go back and show him the bulldog spirit'; the higher voice would agree: 'Yes you must go back and indeed show in the bulldog.'
Generally, it would it lead on to the next part of the routine. The problem was not only did I hate the material. I hated the comic I was. The one that I'd been pushed into becoming.
So I voiced these thoughts to the audience through these 'voices'. In fact I continued the rest of the set in this fashion, every now and again time round talking to 'the voices' letting the audience know what I really though about me, them, and the act I was performing.
After the performance I went into the dressing room where I was confronted by fellow comedian Ben Norris. He said to me: 'What was that you were doing?'
Me being the professional said 'I shouldn't have done that.' Ben said: 'Are you joking? It's brilliant! You must keep doing that, although don't be so bitter with it.'
That coming from someone I respect highly made me stick with it and 'The Voices' were born. And they changed it all, along with my performance in Rosencrantz And Guildenstern Are Dead.
My first gig
It was at the joker club in Southend-on-Sea, a fortnightly affair back in October 1988.
I'd seen an ad in the local paper saying 'if you think you're, funny come and do an open spot'. So I turned up to the Maritime Rooms at the Cliffs Pavilion Theatre to perform my very first spot.
When I got there I met a very friendly compere, who asked what I did and was very interested. I told him and he wished me well and gave me his phone number, and invited me to call him if he could help in any way.
He then took to the stage to open the show and smashed the shit out of it! I'd never been to a comedy club before and really didn't know what to expect. This guy exploded on to the stage and it was like watching an animation. I haven't seen anything like it before my life and this guy was amazing.
He then introduced the first act, a very strange alternative comedian who would saw up teddy bears in Tommy Cooper-esque style. There was an interval and the compere asked me how
He then opened the second half with more explosive comedy. I was nervous enough as it was. and and the fact he was up there again being even better than before did not help. Plus in those days the Joker Club was a bit of a bearpit.
Anyway, I got up and did my thing, mainly impressions of Zippy and George from Rainbow and a Jim'll Fix It routine set around Cliff Richard asking to get stoned with Aswad (I know, I was 18.)
I did OK and a guy running the gig said to me I wasn't quite ready but there was a new TV station called Sky and they were going to be running a talent show called Sky's Star Search, hosted by Keith Chegwin. So I auditioned for it and not only got on the show, I won the entire series, beating Chesney Hawkes in the semi-finals!
Oh and that brilliant compere? That was Lee Evans.
My biggest misunderstanding
I remember performing a gig in a club called the Delacoire in Derry in the the North of Ireland. The gig went very very well indeed, if not a bit strange, and they called me back for more.
After a couple of moments of messing around, someone shouted out, 'Up your arse!' To which I replied, 'Why don't you stick up your arse!' This remark induced laughter from the audience, bigger than I had got the whole night.
I warmed to the theme. 'Up your arse, why don't you sick it up your rusty sheriffs badge… take it and stick it up your dish cloth holder' And so on. I'm storming the place. I say goodnight and the crowd go crazy… Random!
Thing is, I wasn't in on the joke. Not until we got in the car after the show, and the booker of the gig, Jackie Hamilton, was still in stitches!
'What's so funny?' I said. Jackie went omg to tell me that the heckler hadn't shouted 'up your arse' but 'up the RAs'…. which meant 'up the IRA'.
So I had spent 10 minutes telling this guy and the rest of the room, to stick the IRA up his arse.. Oops.
The shortest gig
I was booked to perform at the corporate event at the National History Museum in London. The stage was set on the stairs in the main room and it was to be hosted by Suggs from Madness.
I knew Suggsy well at that time and we sat in the dressing room drinking champagne before the show. There was a knock at the door and it was Jeremy, the owner of the company that were putting on the event. He said: 'Terry can you do 10 minutes' even though I'd been booked for 20.
'Of course,' I said! Suggs looked at me and said: 'That's a bit of a result!' After a short time Jeremy came back into the dressing and asked: 'Do you think you could do five?'
I said, 'five minutes?' He said, 'No, five jokes. Short jokes.'
I don't mind telling you I was getting paid very well for this show, so fine. I went on and did five quick gags and got off. Surprisingly, bearing in mind that corporate gigs aren't usually the nicest, they were great crowd.
Back in the dressing room, Jeremy came in and said in his very affected actor's voice: 'Terry that was a little short…' I said: 'What?!' Then he said: 'That was a little short of sensational!'
To be fair I think you need to know Jeremy that story to be funny…
My most high-profile death
I was asked by a friend to step in and cover for another comedian who'd had to pull out of performing a spot at the Invictus Games in Stratford, East London.
I've played many troop gigs across the world and in many war zones, which had bought smiles to, at times, quite desperate people, but the thought of playing to 20,000 people was still intimidating. But what I thought was a military gig – which are no-holds-barred – turned out to be very much a civilian affair.
So I opened with: 'This will make you feel at home', then proceeded to mimic sirens and explosions and the sound of gunfire with my voice. Needless to say the audience were pretty shocked.
Then I went into a routine about how could it be possible to lose a 24,000-ton jet. But through my panic, I never finished this joke so it looked like I was just having a go at the downed Malaysian airliner.
The I switched to what I thought was a failsafe routines. Sometimes at the end of shows I say 'I'm not getting paid for this' then proceeded steal things from the stage, saying: 'It's amazing what you can sell on eBay.'
But there was nothing to take, apart from a very big floor TV camera - making me think, 'Oh God this is being televised?' I then tried to pull the camera with the cameramen the other side pulling back. He was saying I couldn't take it and I was saying: 'Please let me take it. I'm dying my arse.'
It was a short tug-of-war and before I knew it the audience were starting to turn… not 200 of them, not 2,000 but 20,000.
Leaving the stage humiliated, I consoled myself with the thought I'd all be forgotten tomorrow. But… I then realised I was in EastEnders! And of course within minutes my Twitter feed was full of horrific and them and downright ugly abuse.
This went on for days which affected me as you can imagine. But then one tweet came in that said, 'Call yourself a comedian HA!???!!!!! Swearing in front of children you're a disgrace #Cxxt!' And I couldn't but laugh…
• Terry Alderton: All Crazy Now, Pleasance Courtyard, 22:40
Published: 4 Aug 2017
What do you think?