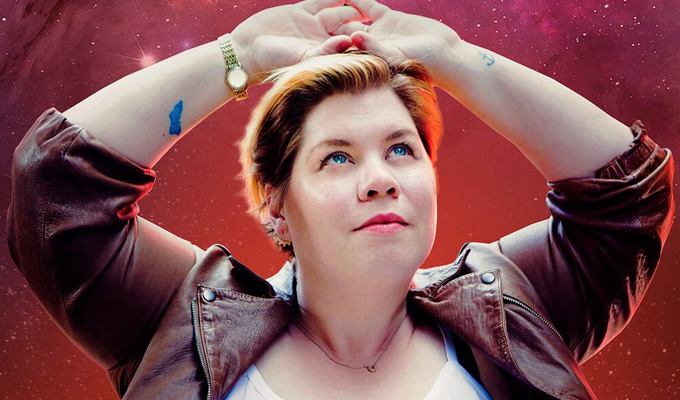 My boyfriend cheated on me – then talked about it on stage
Best gig
I used to do live sketch comedy very regularly when I first started out, and would book into any gig that would have me. One night, I was due to perform a slot at a venue called Lowdown at The Albany on Great Portland Street in London, and I'd gone into town early for a meeting beforehand.
I realised I'd left my costumes at home (an army uniform for Captain Rosie, and a shit-stained ballgown and wellies for Kate Winslet) and there wasn't time to go back and get them, so I thought, 'I'll have to write something new and get a costume from a shop near here'.
I sat down in a café and hastily scribbled a thing about a desperate and depressed city worker suffering from urban panic, downing Bailey's minis in the toilets, crying in Top Shop, and planning to trick her boyfriend into believing she was pregnant so she could leave work.
I bought a cheap blouse and grey skirt from the Dorothy Perkins sale rail, a small bottle of Bailey's and a pregnancy test. I rubbed dirty ashtrays on the blouse, poured the Bailey's on the skirt, and learnt and performed the new character, Caroline, that night.
I was so nervous I was shaking a bit, but also really excited. It all felt a pretty bumpy but in my memory it went really well, and I even ended up doing that monologue in a show for Victoria Wood a few years later. I still love that character, and it taught me not to be precious about writing – if you really have to get it done, you'll get it done.
Gig that taught me the biggest lesson
My second gig taught me the biggest lesson – namely, always pay attention to the audience in front of you. You need to adjust your material and performance according to what is going on in the room, rather than try to perfectly recreate what you did in your last great gig, whilst ignoring what's happening in the present moment.
I think a lot of people have bad second gigs – so much attention and energy is put into that first gig and it usually goes better than expected, then the second gig is weird. And that's because you haven't yet learned how to adjust to a new audience.
I had a terrible second gig for precisely this reason, and even though it took me a long time to learn (still am learning), it was very clear to me that this was the secret.
Gig that changed my life
I did lots of comedy at university, but after I left I stopped for a few years and worked in TV production. When I was 25, I realised that I would always regret it if I didn't give comedy another go, so I wrote myself a character monologue and booked a couple of open spots in London pubs.
At one of those open spots there were a couple of comedians called John Hopkins and Richard Glover. They were part of a live sketch group called Ealing Live! and they recommended me to join. It was a great thing to part of and I call it comedy college – I wrote and performed a new piece every Thursday for three years, got to work alongside the best sketch comedians around, and was seen by many people who worked in the industry, which is where it all kicked off for me and I began to think I could actually make a career out of it.
So that gig, where John and Richard saw me shakily doing my new monologue, certainly changed the course of my life.
Weirdest gig as a punter
I went out with a stand-up comedian for a while. During the relationship he cheated on me once, and then (having told me) wanted to talk about it in his new show a couple of months later, which I agreed to. It was part of wider hour about us and our relationship (we were still together at that point).
The first time I saw the show, sitting anonymously at the back on a high stool in a darkened room was incredibly weird – I can say that being surrounded by 300 strangers, all laughing uproariously (he's a very good comedian) as my boyfriend detailed his infidelity on stage will go down as a 'life experience'.
It was an interesting lesson in what should come first – the joke, or the person? I think we've all struggled with that in comedy to some extent, myself included.
Least welcome post-show comment
I should think all comedians who are women have had that old favourite, 'I don't usually like female comics but you were actually quite good', which is always about as welcome as a turd in the bed – I've had my fair share of them (comments like that, not turds in the bed).
More specifically, after my recent tour of I Was A Teenage Christian, I would often get evangelical Christians who had seen the show come to the stage door afterwards and want to bring me back to the path of righteousness – I could tell they were desperate to pray for me there and then so I would have to make a serious sprint for the car before any 'laying on of hands' was thrust upon me.
• Katy Brand, I Could've Been an Astronaut: Pleasance Courtyard, 18:20
Published: 3 Aug 2017
What do you think?