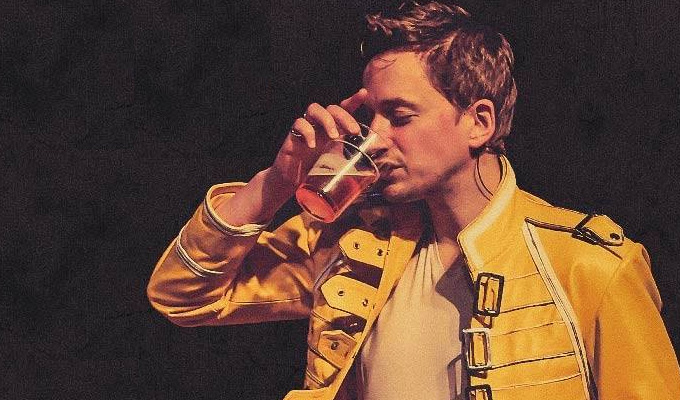 'I've been asked to perform in a toilet'
Worst gig
July 2005. Ashton Court Festival, Bristol. Day 2
I'd been going for about four months, and like a lot of very new acts had generally had OK experiences in pubs with mates in etc.
The comedy tent at Ashton Court probably held 300 or 400 people, it was essentially Wembley.
On the Saturday, I'd had a great gig and on the Sunday, I set about rounding up every familiar face, every school friend I hadn't seen in years, every girl I fancied, even some old teachers, to come and see what was sure to be an even better second day. I was conscious of not repeating material from the Saturday, but I was sure I could add to my remaining three minutes of stuff with some riffing about festival toilets and a half baked idea about acupuncture, after all, I WAS THE BEST!
So I put on my lucky suit jacket, reminded myself how great I was, waited to be announced, and then walked onstage to a cheer making a gesture with my hands, a kind of arms outstretched, 'give it a bit more guys, I'm the best!' gesture.
I then proceeded to have the worst death I've ever had, seen, or heard about before or since. Friends from school staring at me with a kind of 'why have you done this, we don't deserve this?' kind of face. I had assumed it would be great, and essentially taken my applause before I'd earned it. It taught me an invaluable lesson in arrogance which I am mindful of always.
Nowadays even if I'm just thinking 'this gig is going to be great', or 'they seem like a great crowd', I remember that gig and check myself saying 'this gig *could* be great if you don't mess it up like a big idiot'.
Best gig
I'll never forget when Elis James and I first appeared on stage together. I was doing a reading of my spoof autobiography 'A Robins Amongst The Pigeons' and we'd booked out The Phoenix in Oxford Circus.
Elis went out first and this sound hit me that I've never heard before at one of my own gigs, it was actual excitement! Not people applauding politely, or cheering because the compere had told them to, or feeling confused because someone had handed them a flyer and they needed to get out of the rain.
Then I came on to Queen's One Vision, which is so ludicrously overblown for a small room, and it was like I was performing in front of friends, but not in an awkward way like when you have a routine about a mate and he asks if he can come along. And I think we both decided then, that fostering and developing that audience, whatever the size, was something that we had to take real care over, because they're our kind of people, and made it really, really special.
Gig that changed my life
I'd not actually seen live comedy before I started gigging, so 2005 was a real learning curve. I'd done maybe 30 open mic nights, seen the odd professional act do new material at a couple.
And then I saw Daniel Kitson do an Edinburgh preview in a pub called The Richmond Spring in Bristol. It was like a whole word of possibility opened up. And the laughs, Holy mackerel! Just the experience of laughing that loud, for that long, at someone I'd never heard of before.
I think, in honesty, I'd not appreciated what stand-up could be, for my first six months or so the focus was on not dying, as opposed to to talking about what you felt about things. That Edinburgh I then saw Phil Kay at Late 'n' Live, and that well and truly pushed me off the cliff, and I knew this was what I wanted to do as often as possible, for as long as possible.
Most unusual location
I have to be honest and say I'm not a huge fan of gigs in strange places or altered circumstances.
I've been asked to perform in a toilet, in a car, in a shed to two people and I always think 'of course I don't want to do that, why on earth would anyone want to do that?'.
I get that it's a bit of fun, or a bit different. But comedians spend so much time fighting against badly set-up gigs, asking for lights to be pointed in the right place, made not green, turned on in the first place, that I think why do I want to go into a situation knowing it's going to be hard! Two people in a fucking shed! Are you high?!
Least welcome post-show comment
This happened really recently. I'd done Pappy's Secret Dudes gig in Soho Theatre, doing new stuff in their Pancake Day special, which was absolutely everything you'd expect it to be, ramshackle, glorious, messy, hilarious, overrunning, this-is-why-I-do-comedy fun. My slot went OK, super new material, all received in the spirit of the night.
Then I was in the bar with top hunk and dear pal Ed Gamble. This woman came up to me and said, 'Hey, I liked your set' to which I replied, 'thank you, that's very kind of you to say.'
She then continued by saying something like, 'What I didn't like was when you…' to which Ed and I responded in unison saying 'wooooooah!' and I explained that it was kind of her to pay me a compliment but that I was relaxing with a friend, the gig was over, and I didn't want to engage in a critique of what I'd done.
What followed was the most bizarre stand off whereby she took great offence at the fact a performer wasn't willing to accept criticism, and that the very act of performing was an invitation for feedback.
Ed and I, I think calmly, explained that a) that's absolute nonsense and b) neither praise nor criticism in person is required, however one is polite and kind, the other is negative and unnecessary, so always best to be polite and kind. To which she then (getting pretty angry) said that she 'worked in fashion' and berated me by saying 'If that's your attitude to feedback then GOOD LUCK WITH YOUR CAREER!'
I reasserted that this was my attitude to *unsolicited* feedback and my career was going just fine. And it then progressed to the stage where she was arguing for the sake of arguing, exclaiming: 'I work in fashion [again] and if someone walked past me and said I was a fat bitch [what's that got to do with fashion?] I would say, "thank you for saying that, I'll take it on board".'
I think at which point either I or Ed said, 'well you're out of your fucking mind then.' And called an end to proceedings. It was very strange. And, obviously, cos Ed and I are such super cool guys who love confrontation, it took us a good 20 minutes to stop shaking and regain sensation in our legs.
• John Robins: The Darkness of Robins, Pleasance Courtyard, 18:40
Published: 1 Aug 2017
What do you think?