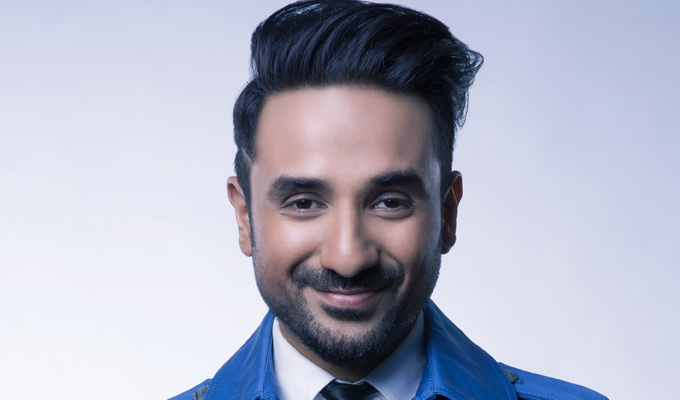 'When I got off stage there were 20 cops in the wings'
First gig
Most people do stand-up for a few minutes for a few people. I did 90 for 800 people. I wrote a show called Brown Men Can't Hump, a terrible show that I did for 800 of my friends as a thesis performance at the end of drama school. Mostly cussing, inside jokes and generic observations without any punchlines.
It was probably the biggest disservice I could do myself because I came off thinking I was a capable comic.  A few months later I was getting booed off stage at amateur nights in the greater Chicago area and I quickly learned that brown men needed to write jokes and that I was getting humped. 
Best gig
I performed for the late president of India, Dr Abdul Kalaam. It was at a telecom conference where he was the keynote speaker and was going to stay for five minutes of my routine at the end of his speech. I was told to keep it clean, briefed by his security and was nervous as hell. 
I got to the gig and discovered why this man was loved by billions, it was one of the most moving speeches I had ever seen. How the hell was I supposed to follow that with airline food and arranged marriage jokes?
Dr Kalaam sat down and stayed for my entire 30 minute set. He laughed at the funny stuff, smiled at the unfunny stuff and giggled at some of the risky stuff. He was the only audience member in my mind, and it was an honour to be able to make him laugh. Every president of every country should be like him. 
Worst gig
I did a show in Thailand for an audience that spoke no Hindi and no English. That went well. I had them at 'hello' and lost them at 'good to be here'. I had only 30 minutes at the time, which quickly shrinks to 10 when there's no laughter… so I panicked and went into crowd work with a crowd that didn't understand a word I said.
I started sweating, and eventually got cocky and started swearing. So I am now cussing at an audience that has no clue what I'm saying, but carefully avoiding the F-word because I know that shit is universal. Brilliant Hindi and English cuss words. Big surprise… the person who had my checque spoke both Hindi and English… so I didn't get paid.
Gig that taught me the biggest lesson
Someone got offended and called the police at at arena I was doing in Delhi. When I got off stage there were 20 cops in the wings. I learned many lessons that night. Policemen have a lot of free time. People will take offence to things that you do, and you have to deal with that. Always have a lawyer on speed dial.
You should never compromise your content for fear of that happening again. If you sit a cop down and explain your joke to him, he may just find it funny, have laugh, pat you on the back and go home. Thank you Delhi police for having the sense of humour that one audience member didn't.
More than anything else, it taught me to accept that there will be consequences to public art, and that a good artist accepts them with humility and stands by his work. That's a belief system I didn't have at the time in my panicked state. 
Worst heckler
I was doing a show with my comedy rock band. A very large Sikh man walked up to the stage, grabbed the mic and said: 'You don't abuse! If you cuss again, I will kill you.'
Turns out he was there with his daughters who were laughing at some of the dirty jokes and daddy wasn't pleased. I also quickly learned that in a violent situation, my band didn't really have my back. They were just kind of standing there half intimidated and half amused. We didn't back down, the venue escorted daddy and the daughters out of the venue as the crowd booed them.
We got into our next song with gigantic cheers from the crowd. I felt like Jim Morrison. When we got off stage the venue informed us that daddy was waiting for us outside with about eight more daddies. We were taken out the back door, put into a private car and sent straight to the airport. Our bags were collected from the hotel for us because daddy found out where we were staying. Sorry daddy...wherever you are. 
• Vir Das is at the Soho Theatre from October 24 to November 5. Details.  
Published: 12 Oct 2016
What do you think?