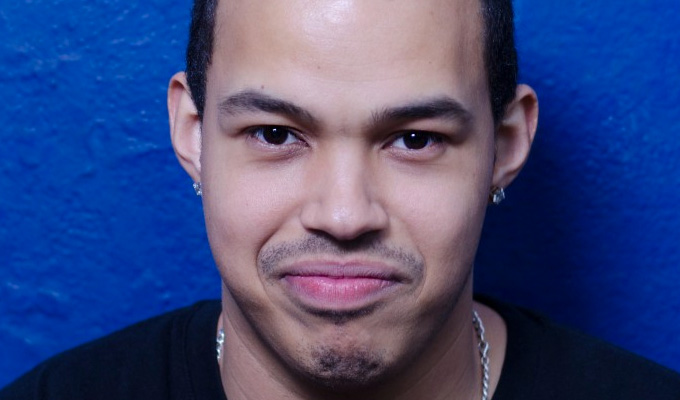 'Don't worry, they're more racist than they look'
Best gig
Hard to sum up a best gig. The gig that has meant most to me happened recently, in April 2016. My show is about identity and the notion of 'mixedness'. After a preview, an older guy, maybe mid 40s, mixed race, came up to me and told me he felt that I was giving him a voice. And that made me think for a micro-second that what I was doing was important. He thanked me and left.
I really did not expect that kind of reaction. I was so flattered, but also embarrassed at getting that kind of compliment that I went and had several glasses of Baileys, like a true badboy. 
Worst gig
A gig in a place called Bagshot. I was on in the middle. The reason it was so bad was because the audience were looking at me with pure hatred. I don't know why. But it was the only time I thought: 'Maybe this isn't for me.' Next morning, I saw a woman eating a whole packet on ham on the tube and thought: 'Ahhh that's why I do this.' Thank you ham packet lady.
Strangest audience member
One of two. Either a man who regularly comes to Top Secret Comedy club, wearing rollerblades, sunglasses and a doo rag, making him look like a mix of Shaft, Blade and Inspector Gadget, or a man in Bude, Cornwall, who asked me to hold his pet turtle Gavin (Who calls a turtle Gavin? Everyone knows turtles have classical Italian names like Michelangelo), waited ten seconds, took Gavin, thanked me and left. To this day, no idea.
Worst heckler
A drunk man in the valleys in Wales kept shouting: 'Riceeeee. And peaaaaas. Riceeeee. And peaaaaaaaas' Just made me hungry. For that, he's a number one prick.
Least welcome post-show comment
Got a couple of contenders for this, so I'll just list them.
At a gig in a cricket club, a woman came up to me and said about the audience who had laughed sporadically at best: 'Don't worry. They're more racist than they look. Next time just do an African dance or something.' That felt good.
A man came up to me and said: ''Ere, we got a coloured fella here. His name's Darky Marky. Do you know him?". Ironically, that was somewhere in the Black Country.
Or this may be my favourite. In Scotland, a very pretty lady, swayed over to me and went: 'Mate. Mate. I just wanted to say… I really, really… would never have sex with you.' Good to know. Didn't even ask.
• Archie Maddocks: Shirts Or Skins is at Laughing Horse @ Espionage, 21:15
Published: 24 Aug 2016
What do you think?