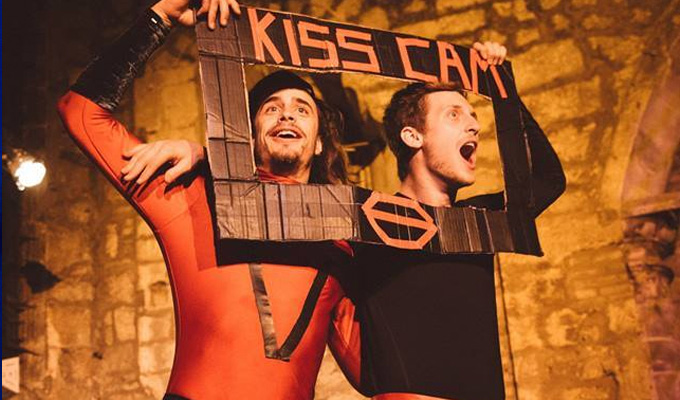 'They pulled Zach's clothes off and bit his face'
- by Zach Zucker, Viggo Venn and Jonny Woolley
First gig
About two weeks before last year's Edinburgh, we decided to do a preview in Oslo – mainly because we had never performed on stage together. Before we even had anything written down we went out flyering, street performing, and begging anyone/everyone to come and see a free comedy show. We didn't expect much, but we gave it our best.
At about midnight the night before the show we realised we still hadn't written anything, so we stayed up until about 4am creating it. We basically had a bunch of half-baked ideas, and declared with false confidence that we could get three to five minutes out of each. We spent every minute up until the doors opened buying props, costumes, and setting up the space. Miraculously, around 80 people showed up – we were freaking out backstage.
About half of it worked that night, and everything that did is still in the show today. When it was over we went downstairs and talked to the people who came, including Viggo's dad who famously smiled, laughed, and said: 'I didn't like it one bit.'
Weirdest gig as a punter
We performed at a gig in LA called Cccabaret that changed our lives forever. The show started with a bunch of face-painted adults shaking toilet rolls full of beads and shouting that they were from the future. It only got weirder from there.
The show opened with a bearded cowboy in his 60s who aggressively sang love songs based on people's star signs. After an already longer than usual set, he ignored the light from the back and continued for another ten minutes. 
Next was a good friend of ours who performed on stage for the second time in his life. He's predominately a film actor who wanted more experience onstage, so he wrote a character based on his grandma. His scene culminated in him sitting in the front row of the audience and watching imaginary characters argue on an empty stage. No one was sure whether to clap or not.
It's never easy to follow an act that may or may not still be happening, but the improv team that proceeded the Grandma certainly gave it their best. It was twelve-and-a-half minutes of eight people doing their own scenes at the same time. 
The rest of the show was a bit of a whirlwind, but the hosts brought it home with an 'improvised' set based on everything we saw that evening. It lasted for approximately 20 minutes and ended with the hosts screaming 'SUGAR OR SAND?' at everyone. They also pulled Zach on stage only to hold him down, pull off his clothes and bite his face.
We forget to mention that there was a guy playing a xylophone on stage improvising music the entire night.
Worst post-show comment
We had just finished a sold-out show for our extended run at Brighton Fringe when a woman came up to the three of us. She interrupted our conversation to say: 'Excuse me - I just saw your show and I wanted to let you know that I didn't like it one bit. I didn't understand it and I don't know how you can call this comedy. I don't see how you charge people money for this. I like comedy and I know good comedy, and this wasn't comedy.'
We got a five-star review and a comedy award from that show.
Worst journey
We were living in France when we got asked to do an extra show in Brighton. In order to get there without bankrupting ourselves, we opted to take an overnight bus journey that consisted of a train, a bus, a ferry, a bus and another train before we made it to Brighton 16 hours later.
We had our only fight ever on the bus, we got hassled at border patrol, and we forgot to bring water. On our way back to France - which consisted of another train, bus, ferry, bus and train - we were fined £60 each for having the wrong ticket. The worst part was that the conductor who fined us promised to come see our show with his daughter and never showed up. We won't forget this, Fian.
Worst heckler
We did a show in New York in January, and Zach invited all of his extended family who have outwardly expressed that they don't support what he's doing. Also in attendance was our first ever reviewer and an agent. The remainder of the audience was filled with all of Zach's childhood friends from summer camp – none of whom had ever seen him perform. 
Before the show started, Zach's longtime friend and camp counsellor came up to the lobby to say hello. She was super excited to see it and was friendly to all three of us. We were even planning on hanging out with her afterwards. 
The show sold out and they had to put chairs on stage, two of which were occupied by her and her boyfriend. They arrived with two bottles of wine and were already wasted. During the intro, she started to heckle us and we politely played with her and told her to stop. But as the night progressed her comments became more frequent and distracting.
She was making out with her boyfriend on stage, clinking glasses, narrating Snapchats of the show and basically harassing Zach. At one point she yelled out: 'Mmm look at that ass!' and followed it up with a comment about Zach's 'dirty dick';, three seats away from his grandmother.
During one of Viggo's solo numbers she walked on stage, threw a roundhouse kick and proclaimed to the audience: 'I have no idea what's going on right now.'
She also threw a wine cork at Zach in the middle of one of his numbers. Towards the end of the show Zach finally snapped, and told her to 'shut the fuck up or leave.' Everyone started to cheer and she had no idea why. She kept talking as soon as the audience quietened down, at which point the artistic director of the venue started to move her way. 
The show ended about four minutes later and we all stormed backstage. We were devastated. Zach was flipping chairs, Jonny was livid and Viggo was silently cleaning everything up. Our best friends Steffen, Brandon and Irene flew with us from LA and rushed backstage to be with us. That's when the heckler and her boyfriend came backstage and things blew up. 
She started off by telling us how much she loved show and how amazing it was. The two of them were completely unaware that the had ruined the evening. We all freaked out and told them to leave. The heckler continued to tell us how proud of us she was and the boyfriend tried to fight Jonny, until Zach's longtime childhood friend (and college football player) Cole Stern came backstage. The boyfriend immediately backed off and told us to 'watch our backs' as he walked out. 
When they finally left, Zach was crying in Irene's arms, Jonny and Brandon were ready to fight, Steffen was calming Zach's grandmother, and Viggo was still silently cleaning up after everyone. 
• Zach and Viggo: Thunderflop is on at Underbelly Cowgate at 17:20
Published: 23 Aug 2016
What do you think?