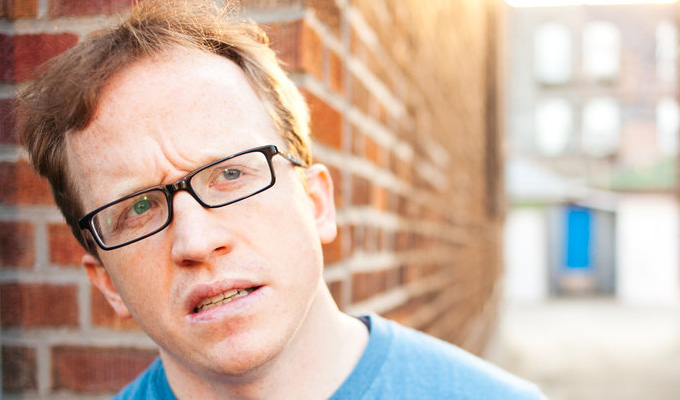 'You can't just cater to the hipsters'
First gig
My first gig as a stand-up came after many years of hanging around in the improv and sketch worlds in New York City. I had many stand-up friends, and my dream had always been to be a stand-up. There was a space called Riffifi in the East Village of Manhattan where a lot of experimental comics were doing very cool stuff, and my friends who performed there really encouraged me to try something there.
My first night there, I was honestly terrified. Luckily the show was being hosted by one of my best friends, a comedian named Joe Mande. Unfortunately, I was so nervous that for some reason I kept putting my hand in and out of my back pocket. It was totally compulsive behaviour. Joe had to address it – it was just too visually weird. So he got back on stage and was like: 'I don't know what Gethard was looking for in his asshole, but I hope he finds it someday.'
I didn't try stand up again for another year and a half.
Gig that taught me the biggest lesson
Once I found my confidence as a stand-up, I was really doing well in the 'alt' scene of New York. These are shows that don't take place in traditional clubs, and usually are in pretentious spots in Brooklyn in front of crowds that fancy themselves as real artsy people. These are great rooms to try weird bits.
I had enough buzz that year that I was invited to audition for the Just for Laughs festival in Montreal. I was really excited. The audition took place in a verrrrrrry traditional stand up club in the middle of Manhattan. This is a spot that is all about selling drinks where the crowds tend to be drunk and angry and from out of town. They do not suffer artsy fartsy nonsense. And in front of them, and unfortunately the booker from Montreal, I bombed hard.
I realised that day that I needed to make sure all of my bits would work anywhere. You can't just cater to the hipsters, you can't just cater to the drunks. You have to find stuff that works with anyone, any time, anywhere. It totally changed how I approach the stage.
Worst heckler
I was lucky enough to do a half-hour special on Comedy Central a few years back. Before I taped I was running my set all over New York to get prepared. The last time I ran it was at a bar on the east side of Manhattan.
A man who was roughly 6ft 4in tall stood about five feet from the stage loudly slurping a bowl of soup the entire time I spoke. It was wildly disruptive. He'd been doing it all night, and I as going up last. I felt honour-bound to attack him on behalf of all the comedians he'd messed with, but I really needed to run through my set, so I decided to just plough ahead.
I gave up on that when he started mumbling the phrase 'bust a nut' over and over again. In case that doesn't translate, that's American slang for the process of a male ejaculating. He just kept saying it – 'bust a nut, bust a nut'. And I finally went after him. He claimed he was a comic too, and I told him if that was true that there was a special place in hell for him.
It ended with me giving him the mic and the crowd not just booing him out of the room, but certain members of the crowd actually physically chasing him out of the room. I won. It was cool.
Best heckler
There was a room called Kabin in Manhattan that ran every Thursday night, and it was a really great show. Comics loved it and hung out there all the time. The room was tiny, and always packed, so the crowd was always right on top of each other.
One night, a very drunk woman named Cheryl interrupted me and kept asking me about the size of my genitals. We wound up having a very frank conversation about both my member size and the inappropriate nature of her behaviour.
As the conversation spiralled out of control, she revealed that the two people sitting with her were her daughter and son. Needless to say, they weren't thrilled that their Mom was spending so much time talking about what qualities she looks for when analysing men's penises.
Least welcome post-show comment
I once did a show in a club and a guy came up to me afterwards and told me I look like Macklemore with Down's Syndrome. If you don't know him, I highly encourage you to Google image search him, and then me. The dude was kind of right.
• Chris Gethard: Career Suicide is on at the Pleasance Dome, 22:00
Published: 12 Aug 2016
What do you think?