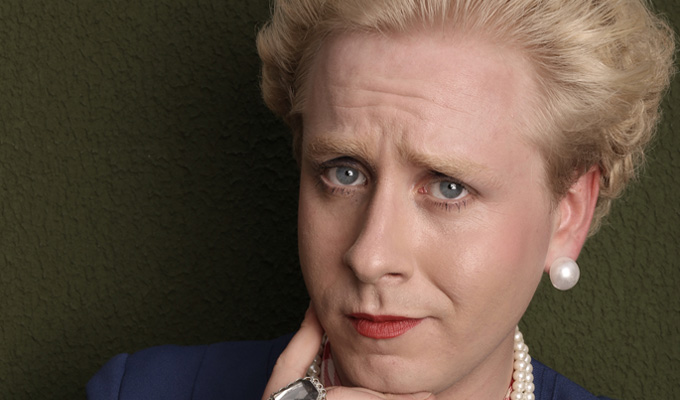 'Ed Miliband ran away from me...'
Best gig
Latitude 2014.
That morning we discovered the laptop with all of our 300 sound effects had been left out in the rain (by my co-writer and director, Jon Brittain!) We had to spend the whole day downloading each sound effect individually on the slowest internet connection in the world. As a result we had no tech rehearsal which was unfortunate as it was also the first time our new cast member Nico had ever performed in the show.
We'd been doing the show for about nine months but only in very small venues, just before we went on we consoled ourselves that the crowd in the tent could be no smaller than the audience above the pub in Battersea, only to go out to find the tent absolutely packed. The atmosphere was electric and, despite massively overrunning and making an ill-advised joke about a traffic accident that had happened that morning, we had the best show of our lives. And Jon bought a waterproof bag for his new computer.
Worst gig
I won't specify the place. Suffice to say it was at an arts centre in the Tory heartlands of Kent. There were so few people in the audience that I could have taken them all out for a drink and had change for a tenner. The average age was approaching triple digits and they really liked Margaret Thatcher – as in the real one, not me! The show usually runs at around 70 to 75 minutes; that night it was over in 50.
Best heckler
Towards the end of the show 'Margaret Thatcher' is asked by her trusty sidekick 'Whatshisname' where she intends to go now she has stepped down as Prime Minister as to become a global cabaret superstar. I reply 'There's only one place for me…'and then usually say the name of the venue we're playing. However on this occasion, before I could do that, someone shouted out 'Hell!'
It was very funny but, as I pointed out, I spend the whole of August walking around the cobbled streets of Edinburgh in high heels – I've been to hell!
Most unusual audience member
During one of our late shows in Edinburgh in 2014, a woman was so drunk she threw up in the handbag of the woman sitting next to her. She still stayed for another quarter of an hour of the show.
Least welcome post-show comment
It wasn't a comment but Ed Miliband ran away from me at the Pink News Awards so as not to have his picture taken with Margaret Thatcher. I didn't care, I got a selfie anyway.
This was also the same evening Alex Salmond told me the thing people forget about Margaret Thatcher is that she was quite sexy.
• Margaret Thatcher: Queen Of Game Shows is on at the Assembly George Square Gardens at 21:00.
Published: 9 Aug 2016
What do you think?