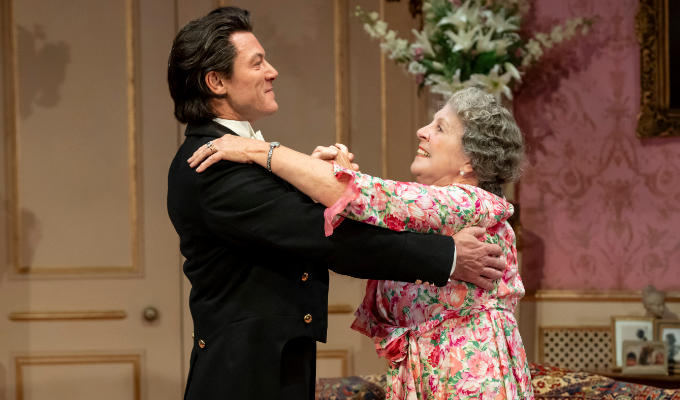 Backstairs Billy
It's easy to see why playwright Marcelo Dos Santos was drawn to the uniquely fascinating relationship between the Queen Mother and Billy Tallon, the loyal courtier who spent his lifetime in her service.
His jauntily amusing comedy is a sympathetic, subtle portrayal, especially of the senior royal. Given she mastered the regal art of remaining a relatively blank canvas, the writer is free to explore the peculiar life of who he sees as a frustrated bon viveur – accidentally a queen, then a dowager, stoically accepting that protocol prohibits anything like normal interactions.
She does what she can to alleviate the sadness, loneliness and tedium, welcoming a string of visitors – some fun, some crushing bores – while being attended to by her devoted Page of the Backstairs, the working-class Coventry boy who became her confidant and friend. On one hand, Backstairs Billy is a stickler for ensuring everything is 'just so', but he exploits his decades-long intimacy with his mistress to test the line of familiarity.
In this humorous account – which makes no pretence of being a genuine glimpse behind palace doors – that comes to a head when Billy brings back a one-night-stand to Clarence House. Not only is his date a man ('there are two queens in this castle' is the gag), but he's black and something of a leftie – three things that might scandalise any staid institution in 1979, when the play is set.
However, this is played more as a broad sex farce, especially when the date, Ian (Eloka Ivo) pretends to be a prince from Lesotho when he encounters the Queen Mother.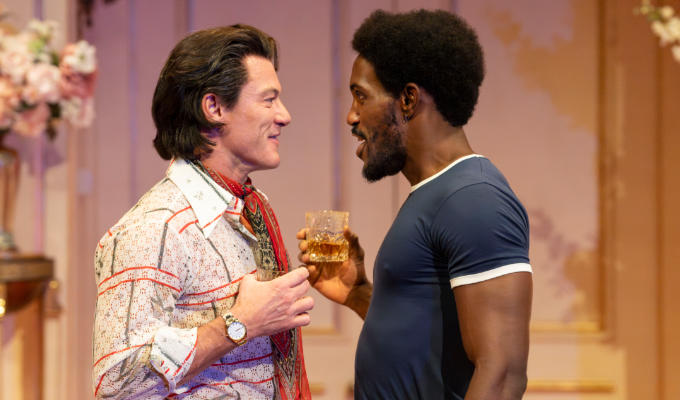 Tonally, the play careers all over the place, encompassing everything from deliciously arch banter to poignant moments about friendship and even the dementia of one of the guests. There's political point-making, with reference to the Southall race riots happening at the time, and fears the royal family might suffer from the cuts of the ailing Labour government. Where once revolution was the biggest threat to the monarchy, now it is accountancy.
None of the more substantial points really stick – in fact, they often jar – but when the play focuses on the core central relationship, it shines, especially in the hands of two such skilled comic actors.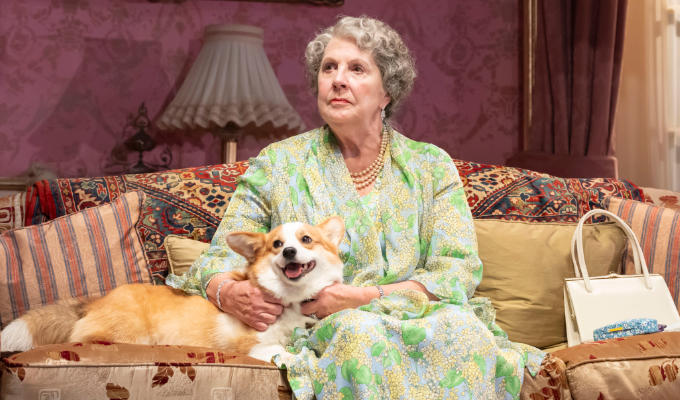 Penelope Wilton is excellent as the Queen Mother, regal yet real and perfecting the waspish but understated sarcasm that always sits so well In The Mouth of older female aristos from Lady Bracknell to Downton's Dowager Countess of Grantham. Dos Santos's jokes are mostly better than Lord Fellowes's, though he's not beyond an innuendo that cheapens the mood.
Wilton exudes a mischievous, enthusiastic spark even when delivering a pointed putdown, yet shows her steel when she needs to demean Billy to show who's boss.
Meanwhile, Luke Evans offers a good foil as the well-coiffured Billy, full of roguish charm while also dedicated to providing what Her Majesty wants before she even knows it. Plus, he ensures all her guests are well-lubricated to loosen their tongues, saving her from having to endure any more tedious tongue-tied obsequiousness than absolutely necessary.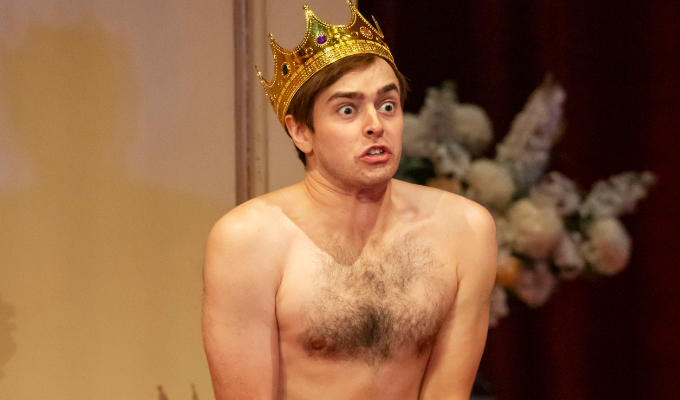 Iwan Davies is also enjoyable as Gwydion (above), an eager, naive young footman whom Billy takes under his wing, seeing much of himself in the newcomer; Ian Drysdale is a 1970s sitcom-style authority figure as Mr Kerr, the more senior and more buttoned-down member of the household with whom Billy constantly clashes. And in a small role, Emily Barber is comically sparkling as a ditzy It Girl. But none of the human actors can compete in star power with the corgis that scuttle across the set (which well captures the dated faded grandeur of a royal residence).
The comic scenes are amusing, especially when the Queen Mother has to welcome two frightfully snobbish Home Counties bores – Mrs Harrington-Bahr (Nicola Sloane) in Mary Whitehouse garb and her husband (Michael Simkins) channelling the Major from Fawlty Towers.
It's admirable that the play strives for something beyond this convivial comedy of manners, which the tender, almost flirtatious, scenes between Billy and HM provide – but other angles are an over-reach, clumsily incorporated.
But the shortcomings can be forgiven. Backstairs Billy is a right royal laugh, warm at heart and wittily acted, that will delight – especially if you're a monarchist.
• Backstairs Billy is booking at the Duke of York's Theatre in London until January 27. Tickets
Review date: 8 Nov 2023
Reviewed by: Steve Bennett
Reviewed at: Duke of York's Theatre