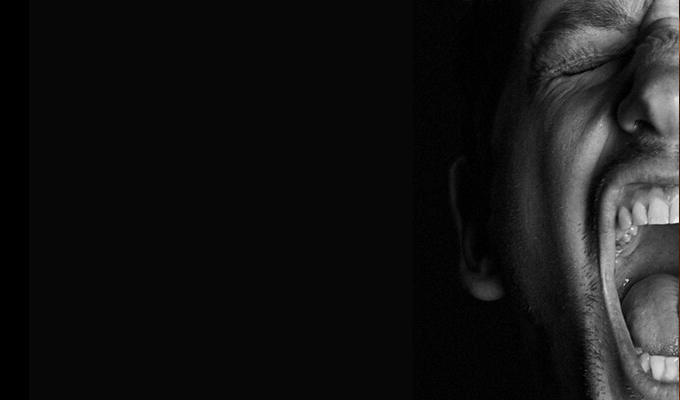 John Robins: Howl
It really is the way you tell them. What could be spun as an hilarious self-deprecating anecdote about struggling with the simplest tasks in life can, with a different perspective, look like the manifestation of troubling psychological problems.
Most comedians would tell such stories for laughs – it is in the job description, after all – but in Howl, John Robins has it both ways. He regales us with examples of his mistakes (howlers?) while making it crystal clear that he was not in a good place when making them.
That's best illustrated with the tale of him being overcome with choice paralysis when buying a slotted spoon – torn between a budget and mid-priced version at Tesco, he gets obsessively analytical, even seeking options at other retailers and then online.
Of course we laugh at his haplessness in overthinking such a trivial purchase, just as we laughed at his nerdiness in buying a dehumidifier in one of his more celebrated routines of the past. But having a panic attack over a kitchen utensil is not the symptom of a happy mind. 'I've got a mental health podcast!' he cries in exasperation at being so far from having his shit together, despite being an advocate for looking after yourself.
Such acknowledgement is just the tip of the iceberg of distress that's about to hit the audience, as Robins embarks on 90 minutes of excoriatingly honest self-analysis. Perpetually miserable and angst-ridden, the 41-year-old came to realise booze was a large part of the problem, and there are sections of Howl that are painfully earnest, coming across as a well-scripted AA meeting as the comic examines what left him in such a terrible state.
No wonder he has to set the ground rules at the start of the show, warning that this is not the jaunty experience fans of his radio work with Elis James might expect. He offers a brief moratorium for people to get any such expectations out of their system – cue an in-joke inquiry from the floor about whether the comic is on email – before the explanation that this is an introspective show about 'alcohol and anxiety and change' from a man who has spent much of his life drenched in regret.
Perhaps such a trauma dump is the inevitable end game for both a comic who's always been frank about his emotional distress and for a wider stand-up scene that increasingly explores dark areas. So yes, there are large swathes of Howl that are not at all funny, if that's what you were seeking. Traditionally jokes are built on the dynamics of tension and release, but here – especially in the bleaker half before the interval – that release is very slow coming.
However, there's a different, deeper value in such a probing self-analysis as Robins undergoes an emotional stocktake as he sobers up – taking his GP's considered medical opinion that 'you need to sort your fucking life out' – that may resonate with others.
He seems to have done the reading as well as the hard first-hand yards and is full of insight into things like the corrosive wellness industry mantra that everyone deserves happiness all the time. Robins also acknowledges that alcohol was not really the problem, but the solution, albeit a very ineffective one. The problem was himself. When he reads out a list of his defining character traits, the Seven Deadly Sins is just a starting point.
As Robins tries to take a more holistic view of the world, he considers how it might reframe his comedy. There's a wonderfully embittered rant about the state of his local railway service, but then he reimagines the same scene with positivity and gratitude. Of course, the diatribe is funnier, which suggests a dilemma for the future, healthier Robins.
But for now, there are laughs amid the personal drama, such as his parodic attempts to be an 'anti-woke' comedian, since there's big money in that stance now.
He leans into the awkward Alan Partidgesque parts of his personality, such as gloating about his Kia Sportage, and he can still see the funny side in his obsessive behaviours, like lecturing his potential in-laws about the flaws in their system of storing jarred food. The act-out of this scene is a delightfully subtle distillation of polite middle-class passive-aggression trying to keep a lid on a cauldron of neuroses.
So there is some light in the darkness of the show, just as there is new light in Robins' soul as he starts to address his problems. His willingness to share this turmoil and hopeful resolution makes Howl an affecting and powerful show. And yes, sometimes howlingly funny too – but that's only a part of it.
» Howl is on tour until November next year. John​zRobins tour dates
Thanks for reading. If you find Chortle's coverage of the comedy scene useful or interesting, please consider supporting us with a monthly or one-off ko-fi donation.
Any money you contribute will directly fund more reviews, interviews and features – the sort of in-depth coverage that is increasingly difficult to fund from ever-squeezed advertising income, but which we think the UK's vibrant comedy scene deserves.
Review date: 3 Nov 2023
Reviewed by: Steve Bennett
Reviewed at: Cambridge Junction