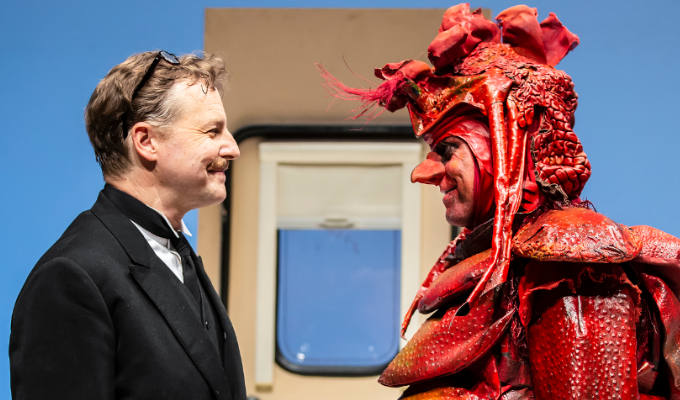 It's Headed Straight Towards Us
It's not mentioned in the promotional material, but Adrian Edmondson and Nigel Planer's stage comedy It's Headed Straight Towards Us was first staged five years ago under the title Vulcan 7.
The title change makes sense, since the old name misleadingly suggested this is a sci-fi play, not the portrait of bickering, washed-up actors it actually is. The new production at North London's Park Theatre has also been recast; the original starred the writers, inevitably evoking the ghost of The Young Ones, whereas Rufus Hound and Samuel West can start with a cleaner slate.
The action takes place in a trailer on an Icelandic mountainside, where our two thespians - on-off rivals since drama school– have small parts in a long-running superhero franchise. The country is nicknamed the land of fire and ice – and that applies to their characters, too.
Hound is the fiery Gary Savage, the part originally played by Edmondson. A Hollywood hellraiser clearly on the wane as producers tire of his drunken antics and whose alcohol-induced Blackout are clearly a problem. The role in this blockbuster may have been pity-casting from an old friend, but he has just one line – and requires four hours in costume and make-up to look the part: a suitable red-skinned monster.
West is the more measured Hugh Delavois MBE, a journeyman character actor lacking the passion that drives Gary, but here picking up another paycheck as he reprises his long-running but unfulfilling role as a butler.
It's a classic sitcom premise: two mismatched characters trapped in a confined space – their isolation from the rest of the world becoming absolute when volcanic movements destroy the bridge between them and the rest of the production.
As frustration mounts, the fastidious Hugh and headstrong Gary clash heads and egos, exchanging wittily pointed insults. Many of the jibes are arch, actorly in-jokes – often involving Daniel Day-Lewis – as it becomes evident that each character is jealous of what the other has.
Trying to act as a go-between is 21-year-old runner Leela, who wants to be on this set even less than the two self-absorbed actors in her charge. Nenda Neururer strikes a nice balance between exasperation at these two spoilt men-children and professionalism in trying to keep everyone happy.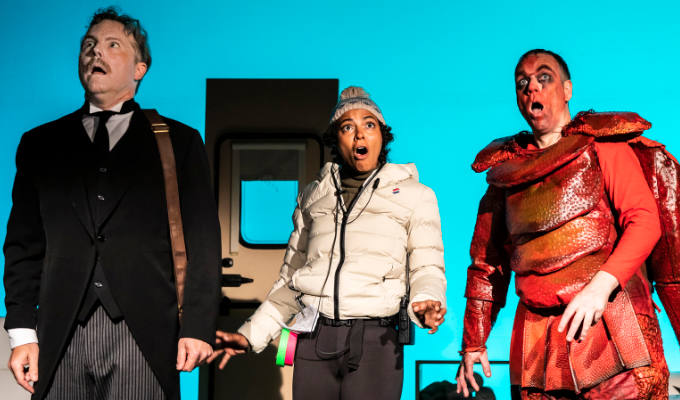 The performances are sharp all round. West expertly conveys the complex emotions of a man who has had a nice life, but is insecure about being an imposter and shamelessly obsequious to get ahead (he joins Alcoholics Anonymous not because he has a drink problem, but because it's a good place to network).
Meanwhile, Hound – hidden under his costume for the first half of the production – is a charismatic mix of arrogance, desperation and anger of a man whose successes and excesses might be coming to an end. Current news lends an edgy relevance to this magnetic star making inappropriate passes at Leela under the conviction his fame and power entitles him to.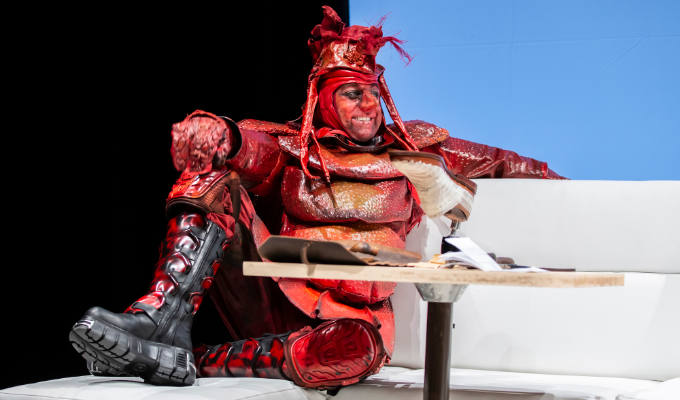 Class is also an issue: Hugh is working-class but with a plummy voice, while Gary is from posh stock but projects an earthier image. The dynamic between them is compelling, director Rachel Kavanaugh keeps things pacy and nimble, and the script has its fair share of solid jokes, strongly delivered.
However, it doesn't quite escape its sitcommy premise with a restrained final act. A storyline about Leela's parentage seems unconvincing and tacked-on, as a typically self-referential joke about it being like Mamma Mia as good as acknowledges.
The two leads come to accept their differences and history without the sort of explosive climax you might expect from a claustrophobic play set on the side of an active volcano and with a title that suggests impending doom.
But even if the earth, ultimately, doesn't move for the audience, there's a lot of fun fooling around in the build-up.
• It's Headed Straight Towards Us is on at the Park Theatre in Finsbury Park until October 20 .
Thanks for reading. If you find Chortle's coverage of the comedy scene useful or interesting, please consider supporting us with a monthly or one-off ko-fi donation.
Any money you contribute will directly fund more reviews, interviews and features – the sort of in-depth coverage that is increasingly difficult to fund from ever-squeezed advertising income, but which we think the UK's vibrant comedy scene deserves.
Review date: 20 Sep 2023
Reviewed by: Steve Bennett
Reviewed at: Park Theatre