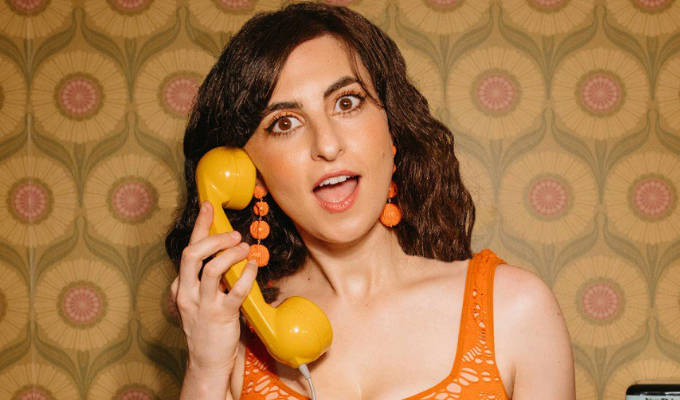 Avital Ash Workshops Her Suicide Note
In her brutally frank Edinburgh debut, Avital Ash confesses she's dogged by abject feelings of hating herself. Yet it's hard to envisage anyone emerging from this profoundly affecting hour with anything but admiration for a smart, poetic, witty woman able to convert harrowing first-hand experiences into a show that's both heart-rending and funny, albeit bleakly so.
We start with a Holocaust joke to set the tone, before Ash casually tells us that her mother killed herself when she was still a baby. As for herself: 'I've been depressed since a young age… I think about ending it a lot.' A troubling statement she delivers with a warm, easy smile entirely at odds with her inner turmoil.
Because for all the grim subject matter, much of the storytelling is surprisingly and disarmingly matter-of-fact. But there are plenty of lump-in-the-throats moments, too, as she doesn't flinch from letting the full impact of traumatic episodes and the unjustified feelings of shame they often evoke in her sink in.
The candour with which she deals with each fresh horror makes her achingly vulnerable, yet she relates them with a calm, steady tenor that demonstrates she's in command of the material and the show. She'll pause just long enough for the audience to feel the impact of an appalling incident she describes, then break the tension with a joke, or continue with the story.
It's a pity those still moments are punctured by the karaoke from the bar above or the drunken revellers noisily making their way to the toilet outside - but that's Edinburgh. And it's testament to Ash's powerful storytelling that these intended silences still hold most of their potency.
Ash was brought up as an Orthodox Jew in Miami by her South African father and the stepmother she never realised was a stepmother for many years. The profoundly misogynistic attitudes of such a fundamentalist religion - hilariously absurd in the abstract but deeply damaging in reality - planted seeds of self-loathing. Early sexual awakenings watered those seeds with shame and they are still bearing fruit to this day.
She had to piece together what happened to her birth mother from fragments of conversations she overheard, as her father maintained a veil of silence, then disseminated half-truths about what really happened, before trashing the memory of his ex-wife. On top of this, Ash adds troubling stories of being sexually assaulted as a young woman, informing some doggedly pointed rape jokes to laugh in the face of trauma.
Suicidal thoughts can run in the family, and the comedian must constantly deal with them. Drafting the perfect note she would leave is the jokey format for the show, intending to create something that would be funny enough that the person who found it would overcome the horror of finding Ash's corpse. That's a big ask, but we get close.
The other running device, of trying to compile reasons to continue living based mainly on audience suggestions is a little less successful. Still, it doesn't detract from a powerful show from a powerful survivor, even if she, heartbreakingly, can't see herself in that same way.
• Avital Ash Workshops Her Suicide Note is on at Monkey Barrel Comedy (The Tron) at 10.05pm
Thanks for reading. If you find Chortle's coverage of the comedy scene useful or interesting, please consider supporting us with a monthly or one-off ko-fi donation.
Any money you contribute will directly fund more reviews, interviews and features – the sort of in-depth coverage that is increasingly difficult to fund from ever-squeezed advertising income, but which we think the UK's vibrant comedy scene deserves.
Review date: 3 Aug 2023
Reviewed by: Steve Bennett
Reviewed at: Monkey Barrel Comedy (The Tron)