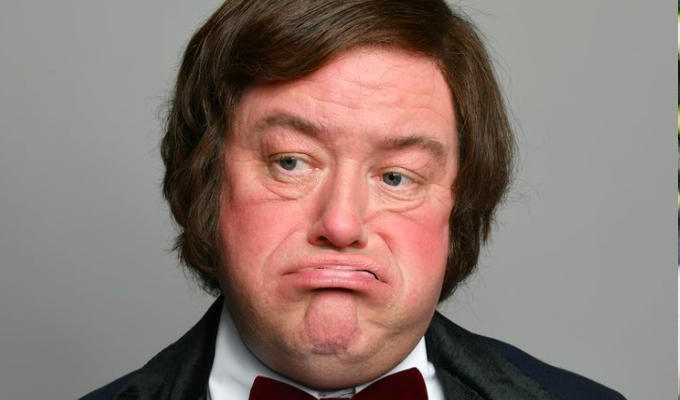 Les Dawson: Flying High
It's not an apt phrase, given the subject matter, but there's not a dud note in Jon Culshaw's brilliant impersonation of Les Dawson.
The Dead Ringers impressionist nails the lugubrious manner and gruff baritone of the bard of the mother-in-law joke and uniquely awful pianist, who built a reputation playing 'all the wrong notes in exactly the right order'.
But he's wasted in a play that doesn't offer much of an angle on the great comic, instead simply presenting a biographical run-through. The premise is that Dawson is writing his memoirs on a flight to New York on Concorde, so can just rattle through the key points of his early life.
He had certainly come a long way from his family's two-up, two-down in the Manchester suburb of Collyhurst to get to that point. Flying High covers his youthful literary ambitions, how he was reluctantly pushed into boxing to toughen him up (thus breaking his jaw and giving him the ability to gurn that would be so useful comedically), entertaining his fellow soldiers and how he came to become a brothel's resident piano player when he darted off to Paris in search of his artistic muse. Then there's the drunken gig where he, with help from the wisdom of his first wife Meg, realised that failure was funny, so was going to make a career being the best failure ever.
This is all pretty interesting if you didn't know it, a snapshot of post-war society and the tatty tail end of showbusiness at working men's clubs. But what Flying High is so desperately missing is any sort of angle as to what made him tick. There's some suggestion that Dawson was frustrated by his struggles to be taken seriously as a novelist, but not much is made of it. And the devastating heartbreak he felt at losing Meg to cancer – which so strongly coloured the second volume of his actual memoirs – is dismissed in a line or two.
And in this play, those lines are often pretty good, thanks to the genius of Dawson himself. We get a smattering of his best gags and funny, evocative descriptions, such as that his childhood home being a 'a gaslit hovel so decrepit, the cockroaches go around on stilts'.
Playwright Tim Whitnall – a dead comic specialist who previously wrote a play about Eric Morecambe and a TV drama about Kenny Everett – weaves this efficiently but too straightforwardly. However, he does recreate some crucial scenes from Dawson's life for Culshaw to get his teeth into.
His spirited performance in these act-outs breathes life into proceedings, and he even ad-libs wittily as Les when some major second-night gremlins hit the technology, and he has to cover the snafus.
A giant screen is used to play some pre-recorded skits, such as a recreation of Dawson and Roy Barraclough's Cissie and Ada double act. It may have been the only way to do it, given Culshaw is playing both parts, but the filming deadens the impact of their double entendres.
Elsewhere, the mimic gets to impersonate the likes of Alan Whicker, Dale Winton and Opportunity Knocks host Hughie Green – which sends a strong message this is not a show for the kids, even before Culshaw leads a wan singalong of Rosemary Clooney's 1955 hit Oh, You Beautiful Doll that smacks of afternoon entertainment hour at the care home.
Given Dawson's rightfully enduring appeal, Flying High is likely to get the audiences. But the chance to make a compelling play, not just a convincing tribute act, has been missed.
• Les Dawson: Flying High is at Assembly George Square Theatre at 4.30pm
Review date: 6 Aug 2022
Reviewed by: Steve Bennett
Reviewed at: Assembly George Square
Recent Reviews
What do you think?