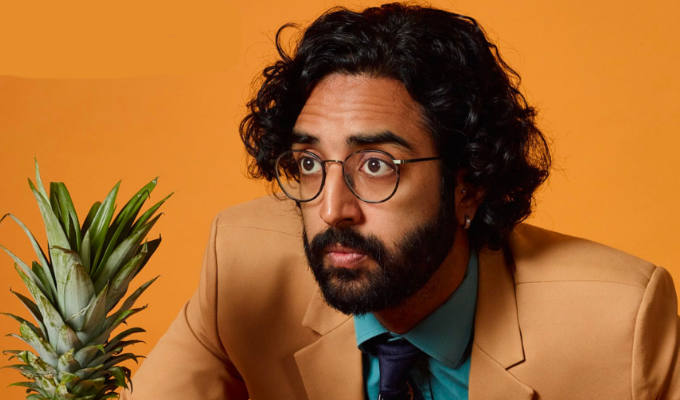 Rajiv Karia: Gallivant
An hour with Rajiv Karia is a smooth comedy experience. He is impeccably presented, diplomatically charming, and easy to listen to - the epitome of professional urbanity.
There's an enjoyable fake start to the show, and he slides into, then rapidly out of, a bit on white culture and retro-fitting diversity. It's refreshing to have a comedian at home with being smart, mixing puns with philosophy, vanity, vegetarians and conspiracy theorists and flat-earthers without sneering.
His stuff is quite London-centric, which is fine with me but could get him into trouble in Edinburgh, or indeed anywhere else. The Shoreditch, hipster fuckboy (his words) preoccupations with arancini and Pret coffee subs might limit his appeal beyond his own postcode.
The writing is technically well structured, seeding callbacks through the set that make you go 'oh, that was clever' at the end of it. The more engaging parts are those that feel more personal, such as a family trip to Bombay (in this instance, not Mumbai) and reported conversations with his father, which spin the notion that his dad was an intrepid 18-year-old adventurer rather than a refugee from Idi Amin's Uganda in the 1970s. These are the points that made the show come alive.
My problem is that much of the rest could have been told by anyone. He could give that material to any other comic – and they'd be grateful for it and might well make more of it. I feel he could loosen the restraints on his delivery, up his enthusiasm and sell it to the audience more.
Even the title, Gallivant, implies more joie de vivre than his natural coolness allows. The writing is there, which is the important part, but more gusto in the performance would really lift this beyond the enjoyable to something more energising. He just needs to let himself off the lead.
• Rajiv Karia: Gallivant is on at Pleasance Courtyard at 4.25pm
Review date: 6 Aug 2022
Reviewed by: Julia Chamberlain
Reviewed at: Pleasance Courtyard
Recent Reviews
What do you think?