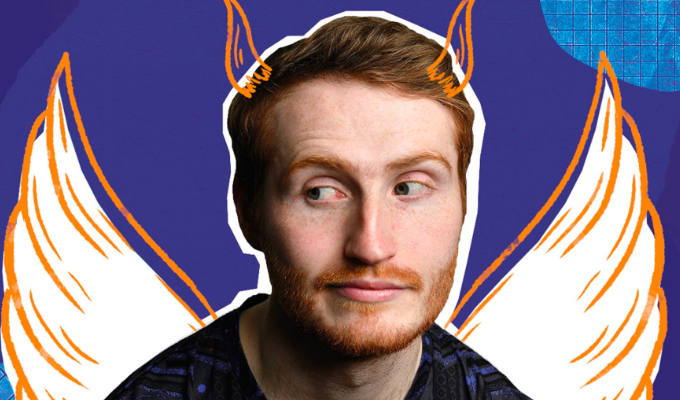 Ali Woods: Best Friend Ever
This is Ali Woods' debut show, with a full house on the first day, and he went at it with brio, handling late arrivals, seat changers and the sound cues that weren't as swift as liked with joshing style.
He set out his stall, announcing he wanted to tell people that he loved them, to make them know they were valued – so we knew he must be a good egg. But he also appreciated how incredibly difficult it is as a Brit to acknowledge any emotion, we're not raised to it, particularly men – thanks to parental mockery and adolescent scorn – and that is A Bad Thing.
I hate the phrase 'sensitive New Age guy' but that seems approximately appropriate for someone aware of mental health fragility and anxiety in himself and others, admitting that people require demonstrable compassion.
But lest we think he was going soft, he dressed it up in an ironic celebration of laddishness. I particularly enjoyed his description of a bunch of lads-lads-lads entering a club, identically dressed in their pack, like blokey zebras, supported by the camaraderie of the group, united in rejection as one ventured out briefly, clattering back to the safety of the herd when shut down by his intended target.
Wood embraces many topics depression during lockdown, anti-vaxxers and their 'reasons', friendship break-ups and consolidations, and allowing thoughtfulness to save lives. This is not in any way as po-faced as that may sound, as the hour is peppered with dick references.
He describes his teenage self using 'gay' as an all-purpose pejorative criticism, without a whiff of homophobic intent. But for me his use of the standard-issue effeminate voice as the one of whining complaint didn't quite back this up. I completely believed his sincerity, but think he needs to reflect a little more.
The audience were timid to begin with – it was possibly their first show too, but he provoked good rolling laughter from the majority and it built throughout, thanks to his confident and engaging performance.
He's relatively new and, I think, still finding his voice. But as he succeeded in having 'issues' as well as gags, he could be one to watch.
• Ali Woods: Best Friend Ever is on at Underbelly Bristo Square at 5.25pm
Review date: 5 Aug 2022
Reviewed by: Julia Chamberlain
Reviewed at: Underbelly Bristo Square
Recent Reviews
What do you think?