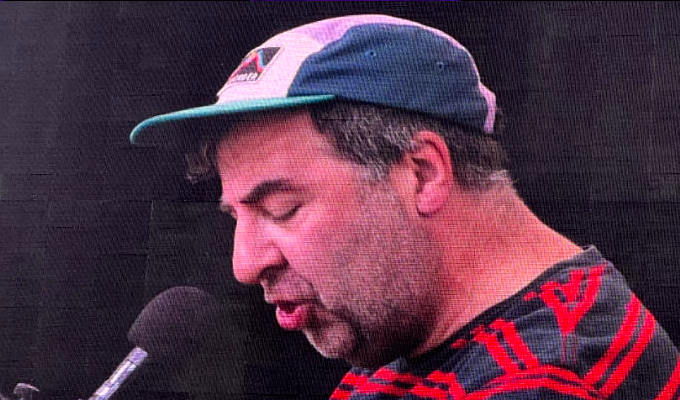 David O'Doherty at Latitude 2022
'Let's blow the temporary roof off this meadow!' David O'Doherty opens his Latitude set with a perfect expression of the contradictory brand of modest swagger that he has come to make his own.
Every comedian was glad to be back on stage after lockdown, but O'Doherty's relief seems more acute than most, having spent some of the pandemic on an island with infuriating parents, the rest of it alone in his flat. There's mention of a breakup that preceded it but in no detail.
Even without that, there's no shortage of grim and heartbreaking stories. There's a tale of a mouse infestation with grisly consequences, and the anecdote of how DOD spent his 45th birthday is bleak indeed. Yet he's remarkably cheerful when retelling these, reflecting an infectious optimism.
Portraying himself in more of a 'hapless idiot' role is an hilariously self-deprecating anecdote about needing to show his vaccine passport to enter venues in Australia. Elsewhere, in a song about the most minor of misdemeanours, he attempts to portray himself a hardcore bad-boy criminal, with the amusing mismatch between the assumed attitude and reality again speaking to his low-key status. And the detail in the song is typically fine.
I say song. As we know, O'Doherty's versions are more like routines set to the music of his inexpensive keyboard. But it's a hugely effective technique, as well as being his trademark. One number, about being besieged by tech-support requests from his uncomprehending parents, is especially strong, with a gag almost every line. Still he can dream of duet with Shakira… which, as his rendition proves, owes a lot more to O'Doherty's mild-mannered domesticity than the Colombian firebrand's sexual heat.
The Irishman might joke that his quirky appeal is limited, but there are more than 1,000 people in a Suffolk field who would disagree. As O'Doherty ends on a touching – and relatively sincere – note about how delighted he is to be back on stage, the feeling is mutual.
Review date: 24 Jul 2022
Reviewed by: Steve Bennett
Recent Reviews
What do you think?