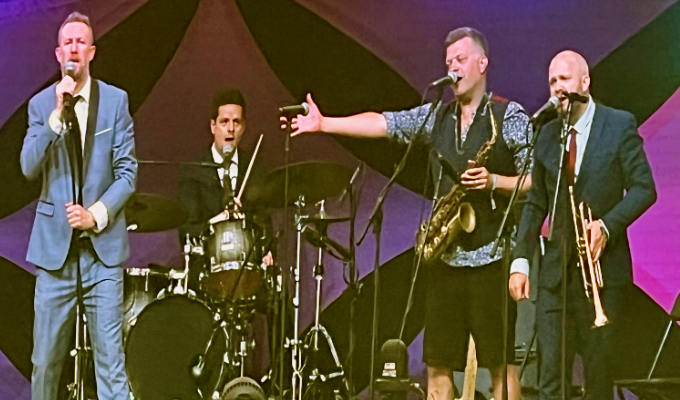 The Horne Section at Latitude
So the bullied becomes the bully and the cycle continues…
OK, that's overstating it. But after seven years as Greg Davies' put-upon Taskmaster lickspittle, the moment Alex Horne gets some authority, he turns on the insults. How many other band leaders would introduce their keyboard player with the line: 'He's shit at piano…'?
Of course, the jibes are as good-natured as they are relentless – and come from a man who is clearly the least musically inclined of the lot. It's merely an imitation of roast comedy in the spirit of play that pervades the show - quite literally in the case of the absurd game of audience Twister that Horne initiates among the latitude crowd. It seems he can't stop himself from setting impossible challenges.
The comic – nattily dressed in a very Vegas outfit of pale blue suit and black collar – feigns incompetence, too, especially in the multiple malapropisms he makes. But for all their assumed – and sometimes actual – amateurism, the key moments are drum-tight, carefully choreographed to make the most of the classily-presented silliness from an outfit clearly happy to be allowed to indulge their silly streak.
With the aid of the band, they highlight things you might not have noticed in very familiar songs, such as lyrical caveats, in a very specific subset of observational comedy. Or they will parody something like the YMCA dance, taking the idea to a ridiculous conclusion. Many ditties are little more than a repeated phrase or two to make the joke – which is an insanely catchy trick.
Mostly it's just delightfully daft, such as a song to peas which turns out remarkably smutty – although all the double entendres are ignored. There's a touch of Frank Sidebottom in one memorably absurd moment. And this is surely the only comedy set this festival which includes a Zumba section. Wonder if any of the wellness tents are doing a side-hustle in deceivingly slick musical comedy?
Review date: 23 Jul 2022
Reviewed by: Steve Bennett
Recent Reviews
What do you think?