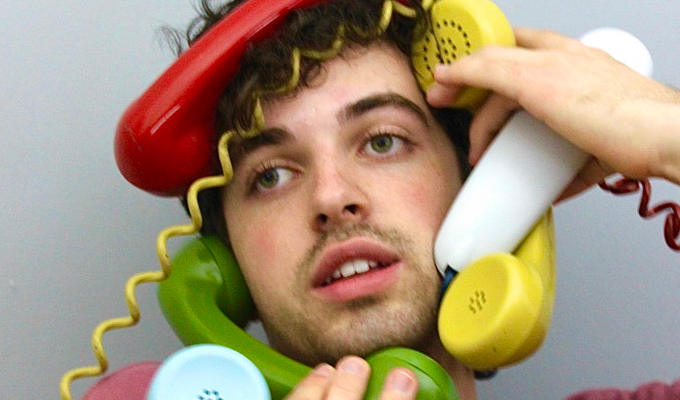 Will McKenna: Appellation
Will McKenna played Scorpius Malfoy in the Australian production of Harry Potter And The Cursed Child – and he's sprinkled some magic over his Melbourne International Comedy Festival debut, too.
He's a hugely talented, charismatic, high-energy young performer who uses every sinew of his physicality to bring this fast-moving collection of linked sketches to life.
The action skips between dehumanising work in a call centre – which seems to be born from bitter experience – to odd flights of fantasy and more traditional sketches, many of which make use of his considerable mime skills.
He parodies everything from post-match interviews to PlaySchool, introduces us to bigoted relatives, shows how various sexual predators dance, and even breaks off to have a quick word with God. Some of these skits contain fine jokes, and if at other times it's a triumph of performance over writing, it's still brilliant, compelling performance – carried off with utter conviction and self-aware good humour throughout.
McKenna, who won the Melbourne comedy festival's Class Clowns competition for aspiring school-age comics back in 2016, manages to slip in some personal information under the guise of high-impact sketches. Not just the call centre misery, but the likes of eczema and panic attacks, too – and we get a glimpse of his fears, hopes and insecurities beneath the slick facade.
All tightly synchronised to a soundtrack, this consummate calling card for his considerable talent delights, amuses and, most of all, impresses for every one of its drum-tight 60 minutes. No wonder it's landed him a place on the best newcomer shortlist.
• Will McKenna: Appellation is at the Westin at 6.20pm tonight and tomorrow, and 5.20pm on Sunday.
Review date: 22 Apr 2022
Reviewed by: Steve Bennett
Reviewed at: Melbourne International Comedy Festival
Recent Reviews
What do you think?