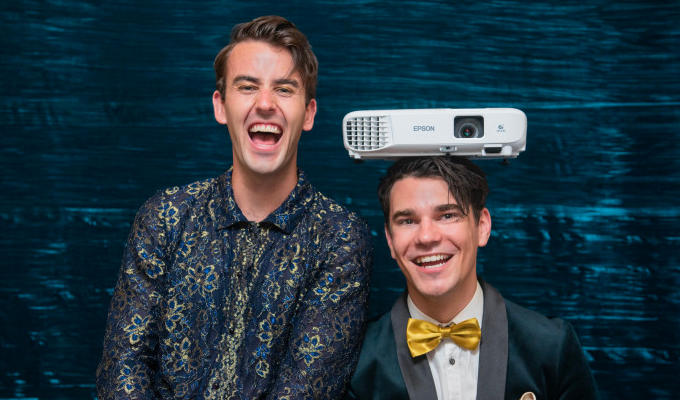 Sweeney Preston and Ethan Cavanagh: Presentation Is Everything
More than a decade behind the curve, Sweeney Preston and Ethan Cavanagh have leaned heavily into PowerPoint. But although they are engaging hosts, their contribution to the genre is a faded facsimile of the best.
Every trope is here, from graphs of things that don't need to be graphs to an over-commitment to trivial campaigns – but the driving force behind the sizeable segments never seems genuinely convincing.
In the preamble, the pair Photoshop their poster a few times, which is more self-indulgent than funny, before zhuzhing up some old work presentations they found in their emails. Highlighting that corporate jargon is dull and incomprehensible gets easy laughs, and they don't add much value with their 'improvements'.
Preston's solo section revolves around him buying a jacket then leaving it in New Zealand. Great story, eh? Imagining the jacket going on adventures by editing it into pictures of wild schoolies parties and the like does not make it much more interesting. Making this PowerPoint was an actual college project for him, so top marks for laziness in recycling it. And his baffled tutor's C+ looks generous.
For his bit, Cavanagh found a town a couple of hours outside of Melbourne, Maryborough, that was proud of its historic railway station, poured some scorn on it for being so lame and yukked the yum of those who left glowing TripAdvisor reviews. But when he actually visited the building, he came to appreciate it. He goes around the houses to come to this obvious conclusion and tries to make a controversy from nothing, though you always feel his heart isn't really in the quest, just the #content.
It's a shame as they are both engaging personalities –and sartorially absolutely on point with their tailored tuxedos. But the main lesson from this hour is that having the right software is no substitute for having the right ideas. Or that presentation isn't everything.

Review date: 22 Apr 2022
Reviewed by: Steve Bennett
Recent Reviews
What do you think?