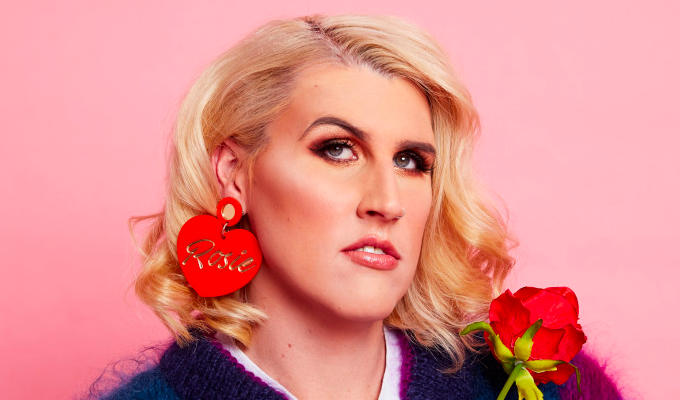 Rosie Piper: Goddess
Rosie Piper has some revealing first-hand anecdotes about all she has had to negotiate – and continues to negotiate – in transitioning to a woman.
The amusing story about accidentally deadnaming herself is a clear highlight, and there's an odd yarn set in a pub toilet that has potential, although it rests a little too heavily on a phase which she repeats with increasing disbelief, even though it's only a minor slip of the tongue.
However, when she strays from personal experiences to PowerPoint slides explaining trans terminology - always with a weak rule-of-three subversion for the last of each group – the limits of her joke-writing are exposed. The leap, for example, from pansexual to being sexually attracted to pans is laboured. Elsewhere, her adoration of the fart gag is not necessarily shared by the whole audience and seems cheap.
She has a command of the small room, although she can be a little abrasive. That works to her advantage when focussed in the right direction but makes it hard to connect to her when it's not. 'Fuck you,' she says when one gag doesn't land how she'd like, before correcting herself: 'Fuck you, you nice supportive audience.'
When she describes the tougher parts of her life, such defence mechanisms become entirely understandable. It also puts into context some of the more apparently lightweight observations from earlier in the show.
However, repeatedly soliciting donations to her GoFundMe page to contribute to the $100,000 cost of her surgery falls flat, as it comes across too earnest. (Though it does seem to work: there have been quite a few donations during the comedy festival).
Her tone gets increasingly serious as she reveals some darker daily realities of being a trans woman and reflects on how some of those close to her have reacted to her coming out. But Goddess is only Piper's debut hour and she doesn't handle the Nanette-style gear change as deftly as a more experienced comedian might.
Yet this surely won't be her last show, and with more confidence in the first-hand tales and more trust in the audience to hear them, she's likely to develop into a comedian worth hearing.
• Rosie Piper: Goddess is at Mantra on Russell at 6.30pm until April 23 and 5.30pm on the 24th.
Review date: 21 Apr 2022
Reviewed by: Steve Bennett
Reviewed at: Melbourne International Comedy Festival
Recent Reviews
What do you think?