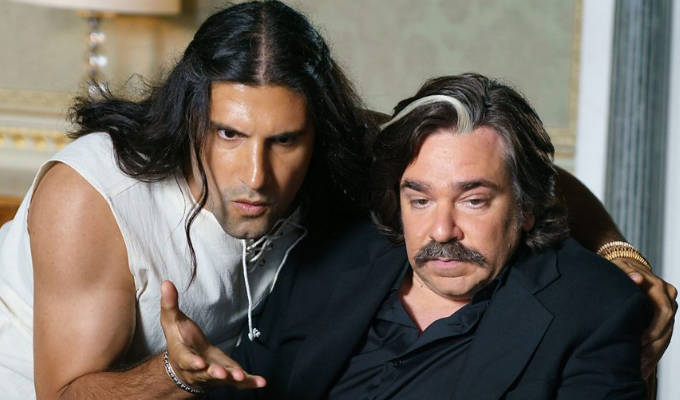 Toast Of Tinseltown
You can't keep a good man down. Almost seven years after his last Channel 4 appearance, Matt Berry's alter ego Steven Toast has been revived for the BBC – although whether this jobbing thespian and voiceover artiste is a 'good man' is open to debate. With his monumental egotism, Toast is virtually psychopathic in his disregard for the feelings of others.
He is, however, a great comedy grotesque, preposterously unique in his warped pronunciations (even the word 'bed'), world-weary testiness and strangely well-mannered brusqueness. It is the sort of character that transcends the writing – which is a necessity as the script, by Berry and Father Ted co-creator Arthur Mathews, is purposefully odd and the storyline flimsy.
There are a couple of great gags – a top-notch pun of misunderstanding and a strong visual joke featuring Doon Mackichan's flaky agent Jane Plough – though most of the comedy comes from the execution. The silly is deadpanned: Berry's distinctive performance, stupid fisticuffs and preposterous plot points are all accepted as part of this world. It's all very stagey, reminiscent of the 1960s and 1970s action serials evoked by the retro titles and bursts of easy jazz-funk. You could easily imagine Toast as a bit-part player in The Saint – in which universe his brick-like mobile phone would anachronistic by being too futuristic.
We pick up exactly as we left off. Toast is not in Tinseltown for this first episode, but still in London. The episode starts with him in a sound studio –Danny Bear and Clem Fandango still at the controls – as he embarks on a mammoth reading of the audiobook of the latest JFK conspiracy porn. In a brilliant casting coup, the author is played by Larry David, with all the stubborn intolerance of his Curb Your Enthusiasm persona.
This, unfortunately, is merely a cameo and the episode focusses on Toast's problems with his emotions after even the usually mild-mannered actors' newspaper The Stage runs an article condemning him as an 'unreasonably angry piece of shit'. Eventually he concedes to attend an anger management retreat run by Des Wigwam (Kayvan Novak), just another in the wonderfully sonorous character names Toast and Mathews excel in. This episode, we are also introduced to Neil Double-Decker (which is not pronounced like it appears) and Russ Nightlife (which is, and who is played by Portlandia's Fred Armisen).
Not that Toast stays changed by his experiences at the getaway for long. The whole retreat is a set-up for a couple of character-led sketches. Indeed, much of the episode has much the same purpose, to put this oddly likeable eccentric into situations he can react badly to in his peculiarly absurd way.
With no great change from the Channel 4 series, Toast of Tinseltown might not win this bonkers, larger-than-life creation many more fans beyond its original devoted, but cult-sized fanbase. Nonetheless, it's good to see mainstream TV still has space for this thick-skinned self-centred oddball.
• Toast Of Tinseltown is on iPlayer now
Review date: 4 Jan 2022
Reviewed by: Steve Bennett
Recent Reviews
What do you think?