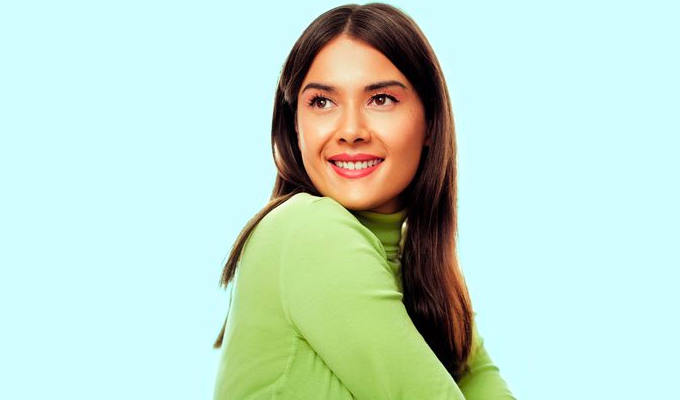 Patti Harrison
London is lucky to be having a visit from Patti Harrison before she makes it huge. The secret's already out thanks to scene-stealing roles in the likes of Shrill and I Think You Should Leave With Tim Robinson - and a starring one opposite Ed Helms in the movie Together Together. The mainstream is now her oyster.
Hollywood's gain will be stand-up's loss. In her UK debut at the Soho Theatre, she showcases a unique, unpredictable and eccentric comic sensibility that delights. Her quiet, hesitant delivery is introspective and earnest, part apologetic but fully self-centred. The softly-spoken style draws the audience in to hear what sounds like honest confessions and personal insights. But any nuggets of wisdom she's learned from life fall hilariously short of profundity.
The show is designed to introduce herself as 'An American Girl'. She even has a painfully awkward and amateurish PowerPoint presentation to that effect, underpinned by cheesy stock music.
We are invited to swear her bastardised version of the US pledge of allegiance (actually to the flag of Puerto Rico in a visual example of the perpetually slightly off-kilter references she revels in) before a convoluted acrostic poem introduces us to the concept of friends.
Each starting letter is a different subversion of the already shaky premise, the humour amplified by her unfailingly perfect timing, which draws laughs from the awkward silences as much as the quirky material. And just occasionally, a slither of her real life slips into the persona, leading to some outrageously inappropriate punchlines.
Then, in the second part of the hour, Harrison showcases her considerable talents as an impersonator of female musical icons, positioning herself as a songwriter pitching absurd tracks for their repertoire.
Thus we enjoy Kate Bush clearing up any misunderstanding about her support for the Conservative Party, Joanna Newsom professing her love for right-wing insurrectionist-in-chief Steve Bannon and a laboured brand partnership between Charli XCX and Toyota – worth it for the repeated rhyme of 'hybrid Rav 4' with 'pussy so sore'. Dua Lipa (see below) and Stevie Nicks each get a look-in, too, whether they like it or not.
While she's great at capturing the spirit of these divas, it's the precisely quirky nature of the lyrics that hit the spot, all delivered with the same faux-earnestness as her stand-up, and again fudging the line between the accidentally and deliberately funny to great effect. Given her knack for mimicry, it's ironic that her eccentricities are inimitable.
• Patti Harrison is at the Soho Theatre at 8.45pm until Saturday. But good luck getting tickets, it's long sold out.
Review date: 11 Nov 2021
Reviewed by: Steve Bennett
Reviewed at: Soho Theatre
Recent Reviews
What do you think?