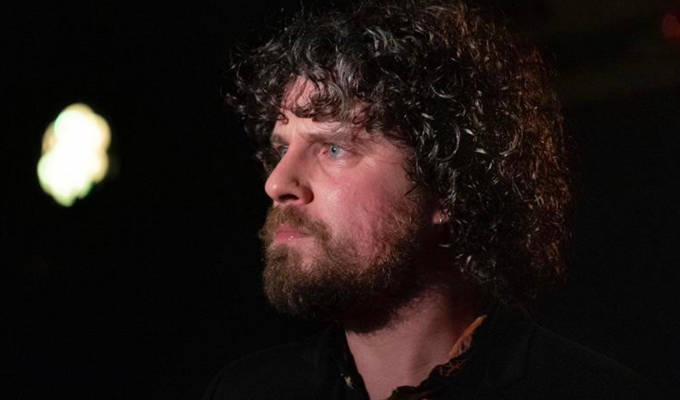 Alfie Brown: Sensitive Man
Never short of artistic ambition, Alfie Brown aims to entwine a great many strands in his new show, offering a wealth of sarcastic insights on ageing, privilege, the commodification of mental health, virtue hierarchies and easily-triggered offence – all while sharing aspects of his personal relationship.
As well as being so wide-ranging, Sensitive Man is often ambiguous in intent, which keeps the monologue fascinating but at the expense of a revelatory coup-de-grace to make sense of it all. Life, unfortunately, isn't that convenient.
But along the way, there are some magnificent comic rants and iconoclastic grandstanding. Becoming incensed at those who buy soup is a masterful display of exaggerated pettiness, while his fierce takedown of Formula 1 – a surrogate for privilege and capitalism in general – is a gem of a routine.
He positions himself as something of a grouch with a heart, yet offering great insight into the human condition. For example, his cautionary tale on the lost opportunities of youth – and how everyone in their 20s squanders time when it is at its most valuable – is tinged with the personal regret of a 34-year-old man.
And it's memorable, too, thanks to Brown's writing, rich with arresting imagery and exquisite phrase-making. The hyper-inflation of people trying to trump each other's mental health issues is rendered equally vividly. It's more contentious subject matter, but Brown's just as likely to be spoiling for a fight, playing devil's advocate, just to rattle some complacencies, as he is to be uncompromisingly sincere.
Brown begins the train of thought that becomes Sensitive Man when his partner revealed she wanted a third child. His unconventional relationship with the comedian, cartoonist and erstwhile Harry Potter star Jessie Cave – and her quirky fan base - is a recurrent theme. But not as much as his other key relationship, with his audience.
The show comes with reluctant footnotes as Brown battles any possible misinterprations of his jokes. There's more than a touch of Stewart Lee with this more meta strand – never more so than when mocking fellow comics who seek the applause of approval for reaffirming the audience's views, whether lazy 'racism is bad/consent is good' sloganeering or the growing band of 'free-speech' merchants.
But it's not a bad influence to have, and Brown adds plenty of his own embellishments to create another impressive, if equivocal, show.
• Alfie Brown: Sensitive Man is on at the Soho Theatre until Saturday, then on tour in 2022. Alfie Brown tour dates.
Review date: 11 Nov 2021
Reviewed by: Steve Bennett
Recent Reviews
What do you think?