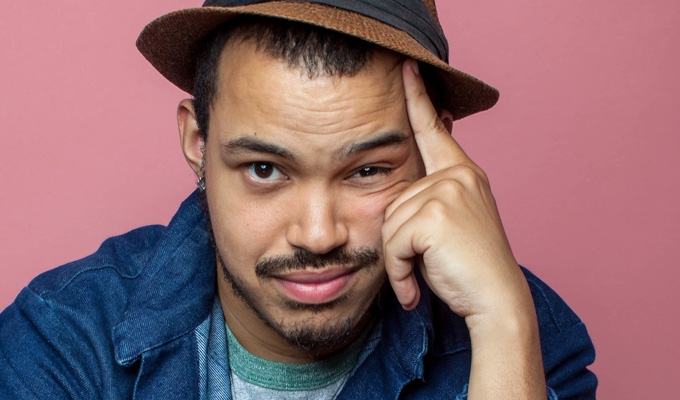 Archie Maddocks: Big Dick Energy 2.0 - the Second Coming
Straight out of the traps, Archie Maddocks admits he regrets the title of this revived 2019 Edinburgh Fringe show – even though he's had a long pandemic to fix it.
Indeed, it is an inelegant title for a man who rarely deals in smut and is far more nuanced than any alpha male swagger the headline suggests. Rather than dominating the room by telling it like it is, he revels in the uncertainty of whether he really believes what he's telling us. Even when the audience response is muted, it feeds into the dialogue he enjoys having with us, teasing people for being too ill-at-ease to laugh.
Tension is a tool for learning, he argues, an indication that you're having hardwired ideas tested that you never thought to question before. At 33, he's learning more about himself and life. He doesn't back away from laying down that same challenge to the rest of us, playfully forwarding hypotheses he may or may not agree with in a bid to test the boundaries – or more likely just get a laugh from the friction.
'It's a wrong opinion; I am aware of that,' he says at one point. Nothing is off-limits: he'll take comedic swipes at God and an even more powerful moral force: David Attenborough.
Sometimes it's clearly just jokes, but other ideas are laden with significance: that 'life's fragile and we don't give a shit', that we're all faking it so reality is futile, or that 'white tears are worth more than black pain'.
There are punchlines for every nugget of philosophy or social comment, however. A cheery humility stops him going the full Russell Brand, and he mocks any sort of certainty, such as the barber who sees racism in the most unlikely places.
Race is the most interesting field he dabbles in, even calling out much of Caribbean culture – being half Trinidadian he's in a place of knowledge that allows him to forward those gags in the spirit of banter.
There are a lot of big, provocative ideas here – and a good smattering of strong punchlines, too (plus a few that are a little more generic, admittedly). Yet the ambitious thinking proves just too bitty – unrelated ideas that fall short of crystalising into anything too profound.
He ends with a segment about R Kelly hiding in plain sight, courtesy of his red-flag lyrics. It isn't the overarching conclusion we need after so many ideas were floated. However, he does offer a red-hot tip for the next international superstar to be exposed. Place your bets…
• Archie Maddocks: Big Dick Energy 2.0 concludes at the Soho Theatre at 9.15pm tonight
Review date: 27 Oct 2021
Reviewed by: Steve Bennett
Reviewed at: Soho Theatre
Recent Reviews
What do you think?