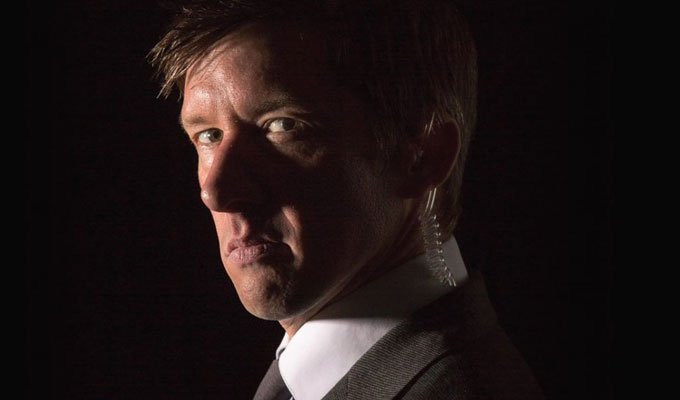 Jonathan Pie: Fake News (The Corona Remix)
On the day of Boris Johnson's spluttering Tory party conference speech comes a powerful invective from the unofficial leader of the opposition.
Oh, for Keir Starmer to be imbued with just one per cent of the passion and conviction Jonathan Pie displays in his powerful, emotive diatribe that stirs the audience and never lets up its apoplectic rage for a second.
The fake news reporter created by Tom Walker certainly has plenty to sink his venomous fangs into, given the incompetence, cronyism and cynicism that's gripped the country – and killed thousands – in the two years since this tour was so rudely interrupted.
With a script now updated to cover Covid, Pie's acrid bile and hilariously acerbic metaphors make a potent mix as vicious as the cruellest political cartoonists and delivered with a mesmerising fire in his belly.
The savage opening salvo against Matt Hancock's sorry record is a brutal, relentless takedown – as one-sided as a crazed fox ripping apart a stuffed toy – and the momentum rarely flags over an invigorating 90 minutes. It's an explosive release of all the anger he believes every one of us should be feeling every day at the injustices of the world.
Nor are the political right the only target for his masterful derision. Having established his political sensibilities, Pie pivots to attack the censorious left with even greater verve. Yet this is no one-note attack on cancel, or consequence, culture.
The show's premise is that Pie has been fired from the BBC after saying something horrific on live TV that fills him with shame. He accepts his fate, but also makes hard-hitting points about the unearned piety (no pun intended) of Twitter virtue-signallers feeling righteous about battles so insignificant on a global scale.
Every word is belted out with the conviction of the most charismatic fire-and-brimstone preacher. But Pie also cautions against the tyranny of certainty, hinting that even he's not sure of all that he advocates with such irresistible force. You can disagree with him, but there's no arguing with the drive of the performance.
He blurs the line between fact and fiction, too, with his description of a Zoom funeral for his father – a man who would rather be right than happy – so heartfelt it seems close to home. Hopefully, the backstory of being driven to drink and despair after a miserable divorce is heavily fictionalised, but it humanises this powerhouse polemicist.
His onslaught is from the heart, but informed by an astute intelligence that allows him to effectively summarise big topics such as the decades of history leading up to Brexit and Trump or the global inequities overlooked by keyboard warriors.
It's a rousing state-of-the-nation address that ought to be compulsory listening for hardliners on either side. Walker might occasionally let go of the funny for politics, but the script is rich with crudely insulting wit. And the intensity of his rage, so impotent against the weight of society and establishment, has an intrinsic dark humour of its own.
• Jonathan Pie: Fake News (The Corona Remix) is on a UK tour until the end of the month, including more dates at the Bloomsbury Theatre. Full schedule
Review date: 7 Oct 2021
Reviewed by: Steve Bennett
Reviewed at: Bloomsbury Theatre
Recent Reviews
What do you think?