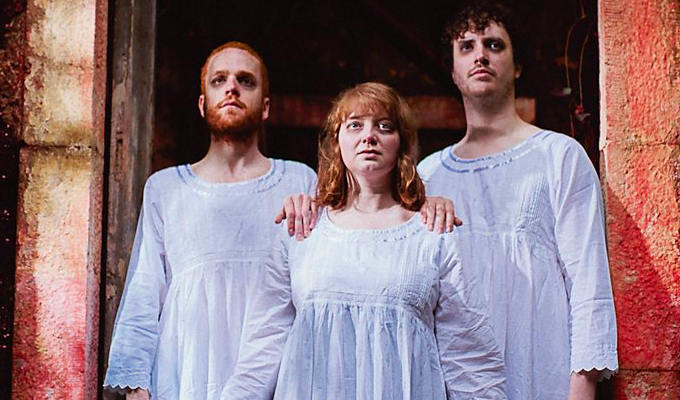 Tarot: Soundbleed
Radio 4 made much of the sound design of the new sketch show from Tarot, boasting of its 'richly soundscaped' production.
To be honest, you'd be hard-pressed to notice. Compared to, say, the complex audio layering of topical mash-up The Skewer, Soundbleed is a fairly conventionally presented series of skits.
But then the group hardly require any technically wizardry to enhance their sharp comedy writing, with the opening episode full of unexpected punchlines and unusual scenarios. A few subtle callbacks also gives the quarter-hour more of a shape than such 'broken comedy' collections usually offer.
A cheery introduction underpinned with a childish tone establishes the easy chemistry between the performers – Adam Drake, Edward Easton and Kath Hughes – which has been forged on the comedy circuit. The team is completed by writers Ben Rowse and Kiri Pritchard-McLean, who also work on Tarot's acclaimed live performances.
The shorter sketches here display a mastery of misdirection with great punchlines, while bolting on odd asides in front of the narrative of other scenes, as with the discussion of a new dog, makes them less easy to predict. That latter skit also describes a grim situation with child-like naivety, which is an appealing combination.
Rewriting a TV script to make it more 'Manchester' offers a witty take on how London-centric the media is. And if that seems close to home, the 'I'll be mother' routine reveals some uncomfortable truths about the cast members themselves.
And the final sketch shows them at their best, taking simple observation – how annoying is it when someone gets a guitar out at a party? – filling the set-up with absurd leftfield asides and then giving an unexpected and daft twist as the punchline.
The only slightly underwhelming scene in this first of four episodes was the none-too-relaxing meditation session – and even then, some of the everyday mantras are disturbing enough to make you judder.
Without over-egging their attempts to be different, Tarot have created a slick, witty and sometimes silly sketch show that stands apart.
• Tarot: Soundbleed is on Radio 4 at 11.15pm tonight
Review date: 6 Oct 2021
Reviewed by: Steve Bennett
Recent Reviews
What do you think?