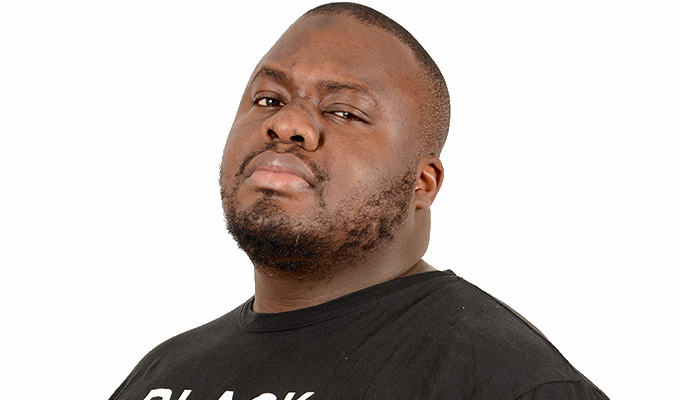 Nabil Abdulrashid: N.A.B.I.L. (Nobody Actually Believed I'd Last)
Maybe Britain's Got Talent isn't the draw it appears, or maybe audiences remain hesitant to go out post-lockdown, but Nabil Abdulrashid could only attract an audience of around 50 to Camberley Theatre last night, despite being the talent show's most (in)famous golden buzzer semi-finalist. But those who stayed home missed a wealth of stories from a life far from the ordinary.
Abdulrashid's family is from the Islamic part of North Nigeria, where corruption – and sharia law – ruled. His father was an old-school communist in thrall to the Soviet Union, but not averse to privately educating his son – no asset when young Nabil wound up in the shadiest estates of North West London, targeted by gangs of various stripes.
He ended up joining one of them, and his nefarious activities landed him in jail, where he discovered a knack for comedy. On release, he set up a project to help rehabilitate offenders and other marginalised people, getting hundreds of back on their feet. Meanwhile, he was rescued through stand-up, despite experiencing as much racism on the circuit as off it.
That is the very short version of his biography – even before we get to him becoming a father and his BGT triumph – so you can imagine how many experiences he has to draw upon for material. And as his first tour since his primetime exposure, he covers all those bases to fully introduce himself to this new audience.
In fact, there's almost certainly too much to embrace in one show, though that's a very nice problem to have. Some subtleties of storytelling are overlooked as we buffet from one extraordinary experience to another. Meanwhile, the humour cand seem slight, given the weight of the subject matter. One of many things this frank comic reveals is his ADHD diagnoses, and the comedy elements can fall short on complexity and depth.
Yet there's no denying it's a fascinating life story, which has left him with no shortage of uncompromising opinions on prejudice, toxic masculinity and the broken criminal justice system to name but three. And it has a redemptive arc a Hollywood screenwriter would envy as the former jailbird becomes the toast of national television and makes his taciturn father proud.
What also shines through is the comic's genuine humanity. He's clearly delighted that he's found a second chance in life, and that positivity underpins everything he does, with his pleasure at being on stage often manifesting in an unaffected chuckle, which makes him an easy comic to like even before he holds you rapt with his various misadventures.
Yes, he has his beefs, but they are all justified. Not least against the embittered comic (whom he names) who diminished Abdulrashid's very existence by dismissing his race as a 'gimmick'. In fact, with such a wealth of genuine first-hand experiences he can draw upon without need for embellishment, Abdulrashid is one of the least gimmicky comedians around.
»Nabil Abdulrashid: N.A.B.I.L. (Nobody Actually Believed I'd Last) tour dates
Review date: 17 Sep 2021
Reviewed by: Steve Bennett
Reviewed at: Camberley Theatre
Recent Reviews
What do you think?