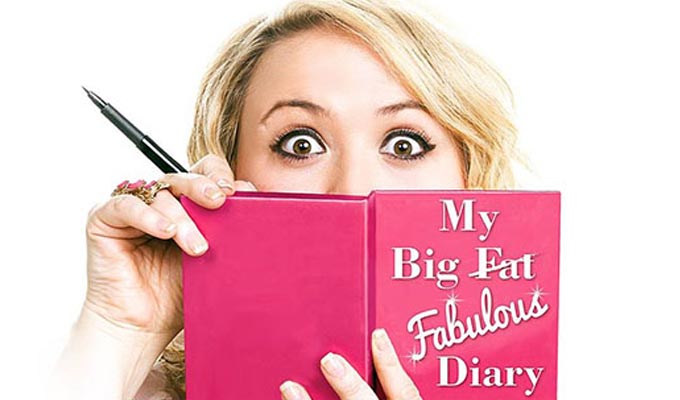 Leah MacRae: My Big, Fat, Fabulous Diary - The Best Bits
Leah MacRae is known for her role in the Glaswegian soap River City and the supporting character of Julie in Gary: Tank Commander. That might not be the obvious career build-up for an actress to take a one-woman show on the road, but MacRae already proved her pulling power with a string of sell-out dates pre-pandemic.
Her appeal is easy to see – and hard to resist – in the slimmed-down Edinburgh Fringe performances of that show. She is at once down-to-earth and bold and brash, a supercharged, starry diva with a voice that could almost crumble the castle above her – yet eminently aware of the kiss of death for any working-class Scot: to be considered 'pure full of yerslef'.
She takes to the stage in a neon pink tartan three-piece as Diana Ross's I'm Coming Out fires up the socially distanced crowd. Then she unleashes her full force-of-nature personality with teasing, confident but self-aware banter.
Eventually, she settles into the show's premise, teenage diaries that transport the audience back to the late 1990s with schoolyard rivalries, the hurry to get into that first bra, and life-changing crushes. Hers being on a lad who worked in Starbucks and played in a band… swoon! She still sings a song to his attributes today – Taylor The Latte Boy - although, of course, he broke her heart.
Her stories are almost irrelevant, and the writing is solid rather than dazzling. But MacRea's vivacious, powerhouse charisma is irresistible, backed by a knack for physical comedy and an instinct for what the audience wants.
The set pieces are interspersed with looser chat about life now, complete with plenty of quips about her appearance that are both self-mocking but defiant, displaying that inherent contradiction again. The message, which is lived rather than laboured, is to take pride and confidence in who you are, even if you might want to make changes.
And the voice! Did I mention her voice? Rangy and powerful, she exhibits its full power with the showstopper, a potent rendition of Defying Gravity from Wicked.
In fitting with the tone of the whole show, it's corny as all hell, but devastatingly effective. MacRae knows she's a megastar; she's just waiting for the rest of the world to catch up to the self-evident fact.
• Leah MacRae: My Big, Fat, Fabulous Diary - The Best Bits is on at Multistory at 4.30pm today.
Review date: 29 Aug 2021
Reviewed by: Steve Bennett
Reviewed at: MultiStory
Recent Reviews
What do you think?